I originally wrote this article when I had been living in Bali for a year. Now, after several more years in Bali and having explored many more of the beautiful islands of Indonesia, I have updated this article to be more up to date, removing links for places that closed during covid, and added some of the new places that open up seemingly everyday across Bali. I hope it helps you build a perfect week in Bali, enjoy!
——
Having lived in Bali for more than a year, having explored almost every part of the island, and having shown friends around for vacations, I am finally sharing the perfect one-week itinerary for first-time visitors!
My family just came to visit me for one week in Bali from New York. In the run up to our trip, I spent ages trying to squeeze as much as there is to see and do in Bali, into just one week. I wanted it to be the perfect combination of adventure, relaxation, unique sights and trying new things, so if this is what you're looking for – keep reading!
Quick Facts About Bali
Official Language is Bahasa Indonesian (selamat pagi = good morning, teri makasih = thank you)
Official Currency is Indonesian Rupiah (IDR) – 1 USD is approximately 14,624.00 Indonesian Rupiah as of May 2022
The capital of Indonesia is JAKARTA, not Bali 🙂
Bali is an Indonesian island located in the westernmost end of the Lesser Sunda Islands, lying between Java to the west and Lombok to the east.
It is one of the country's 33 provinces with the provincial capital at Denpasar towards the south of the island.
Bali is the home of the country's largest Hindu population and is one of the largest tourist destinations in the world, with a whopping 6.3 million visitors pre covid 2019.
Bali is known for its natural beauty, with its beaches, rice terraces, and coral reefs being popular attractions.
The island's economy is primarily driven by tourism, with agriculture, forestry, and fishing also being significant industries.
Bali is renowned for its arts and culture, with traditional dance, music, and art being an important part of the island's heritage.
The island is home to several UNESCO World Heritage Sites, including the Jatiluwih Rice Terraces and the Temple of Borobudur.
Here is exactly how we spent one week in Bali:
Day 1 – Arrive in Bali and go straight to Ubud
Ubud is a town on the Indonesian island of Bali, located in the Gianyar regency in the central part of the island. It is well known for its arts and culture, as well as its natural beauty, making it a popular destination for tourists.
One of the main attractions of Ubud is the abundance of art galleries, studios, and workshops, showcasing traditional and contemporary Balinese art. Visitors can also witness traditional Balinese dance performances, such as the Legong and the Barong, or attend classes to learn about Balinese music and art.
In addition to its arts and culture, Ubud is also known for its natural beauty, with lush rice paddies, forests, and temples scattered throughout the town. The nearby Sayan Ridge offers stunning views of the surrounding landscape, while the Campuhan Ridge Walk is a popular spot for a leisurely stroll.
Ubud is also home to several notable landmarks, including the iconic Pura Taman Saraswati temple, the Ubud Palace, and the Monkey Forest Sanctuary, home to a large population of monkeys.
Tourists can indulge in a range of activities in Ubud, such as yoga and meditation classes, cooking courses, or traditional Balinese spa treatments. The town is also a hub for wellness and spiritual retreats, attracting visitors from all over the world.
It's such zen, yoga, meditation, jungle vibes, and what I imagine most tourist think of when they hear Bali. It's such a unique, magical place, and lands the first spot on this itinerary.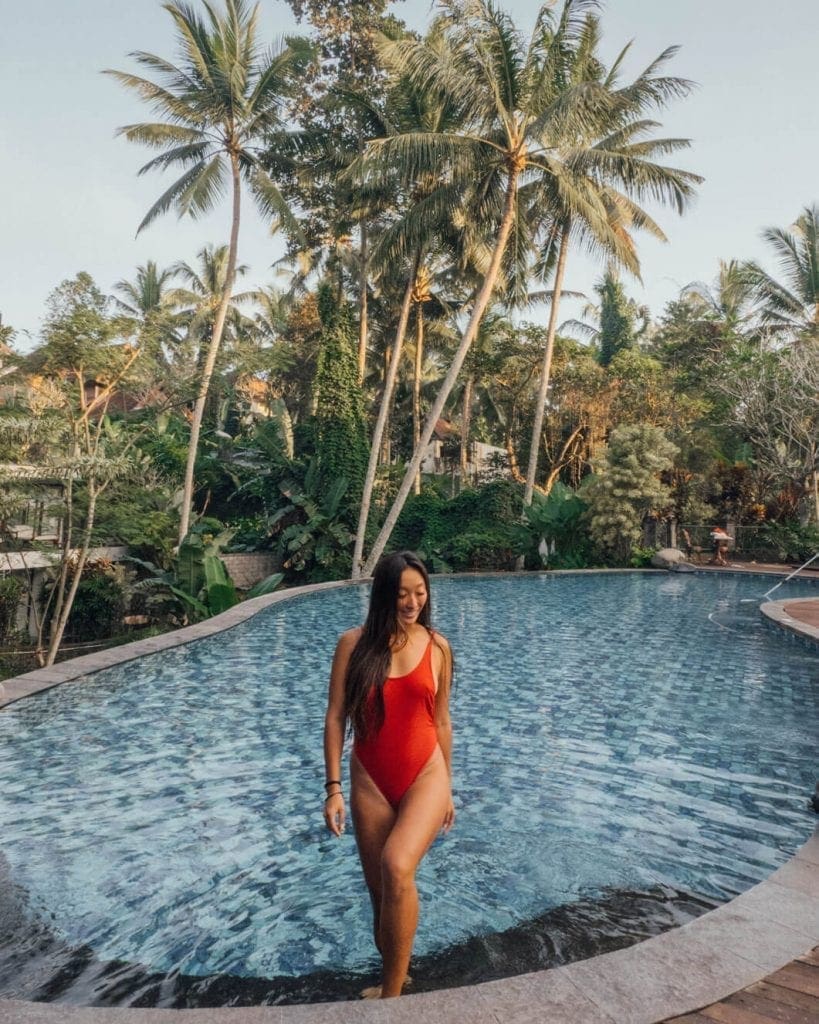 Staying in the center of Ubud is a lot more convenient if you don't know how to ride a scooter. After checking in and getting settled in, walk around the area where you'll find lots of shops and places to eat. If you have jetlag and need a pick-me-up, try Luwak coffee native to Bali! It's made from digested coffee cherries found in the poop of civets 🙂 After a long journey there is no better way to relax and recover than visit to spa, or even just a float in the pool at Plataran Ubud
Where to eat in Ubud:
Watercress
Milk & Madu
Luwak Coffee Bali
Where to stay Ubud:
Day 2 – Explore Ubud
One of the best places to have breakfast is at The View Restaurant inside Plataran Ubud. It's a breakfast buffet with local and international options, but the best part is the insane view overlooking rice terraces and their infinity pool. When you're done, hire a driver to take you around all the first-timers must-see attractions in Ubud:
✅ Tegallalang rice terraces
The Tegallalang Rice Terraces are a series of terraced rice fields located in the Tegallalang district of Bali, Indonesia. The terraces, which are carved into the hillside, offer stunning views of the surrounding landscape and are a popular tourist destination. The rice terraces are irrigated using a traditional Balinese irrigation system known as the subak system, which is a cooperative irrigation system that has been recognized by UNESCO as a World Heritage Site. Visitors to the Tegallalang Rice Terraces can observe the traditional rice farming techniques and take in the natural beauty of the area. The terraces are also a popular spot for outdoor activities such as hiking and photography.
✅ Tirta Empul water temple
Tirta Empul is a Hindu water temple located in the town of Tampaksiring in Bali, Indonesia. The temple is known for its holy spring, which is believed to have healing properties, and is a popular site for religious ceremonies and rituals. Visitors to the temple can participate in purification rituals by bathing in the spring's pools and fountains. The temple complex also includes shrines, courtyards, and gardens. Tirta Empul is considered a significant cultural and spiritual site in Bali and is a popular tourist destination.
✅ Kanto Lampo waterfall
Kanto Lampo Waterfall is a popular tourist destination located in the Gianyar Regency of Bali, Indonesia. The waterfall is known for its picturesque surroundings, which include lush vegetation and a natural pool at the base of the falls. Visitors to Kanto Lampo Waterfall can swim in the pool, take in the views from the observation deck, and enjoy a refreshing dip in the cool waters. The waterfall is easily accessible by car or motorbike and is a popular spot for picnics and outdoor activities.
✅ Ubud Art Market
Ubud Art Market, also known as Pasar Seni Ubud, is known for its selection of traditional Balinese handicrafts, souvenirs, and artworks, including paintings, sculptures, textiles, and handicrafts made from local materials such as wood, stone, and shell. Visitors to the market can browse the stalls and shop for unique souvenirs, observe local artisans at work, and learn about the traditional crafts and techniques of Bali. The market is open daily and is a popular spot for tourists and locals alike.
✅ Monkey Forest
The Monkey Forest of Ubud, also known as the Sacred Monkey Forest Sanctuary, is home to a large population of long-tailed macaques, which are considered sacred by the local Balinese people. Visitors to the forest can observe the monkeys in their natural habitat, take guided tours, and learn about the conservation efforts to protect the monkeys and their habitat. The forest is also home to several ancient temples, which are considered sacred by the local community and are open for visitors to explore.
✅ Yoga
Ubud, Bali is known as a popular destination for practicing yoga and wellness. There are many yoga studios and retreats located in the area, offering a variety of classes and programs for all levels of experience. It can help to reduce stress and promote relaxation and inner peace. Additionally, taking a yoga class in Ubud can be a great way to immerse oneself in the local culture and learn about the traditional practices and philosophies of yoga.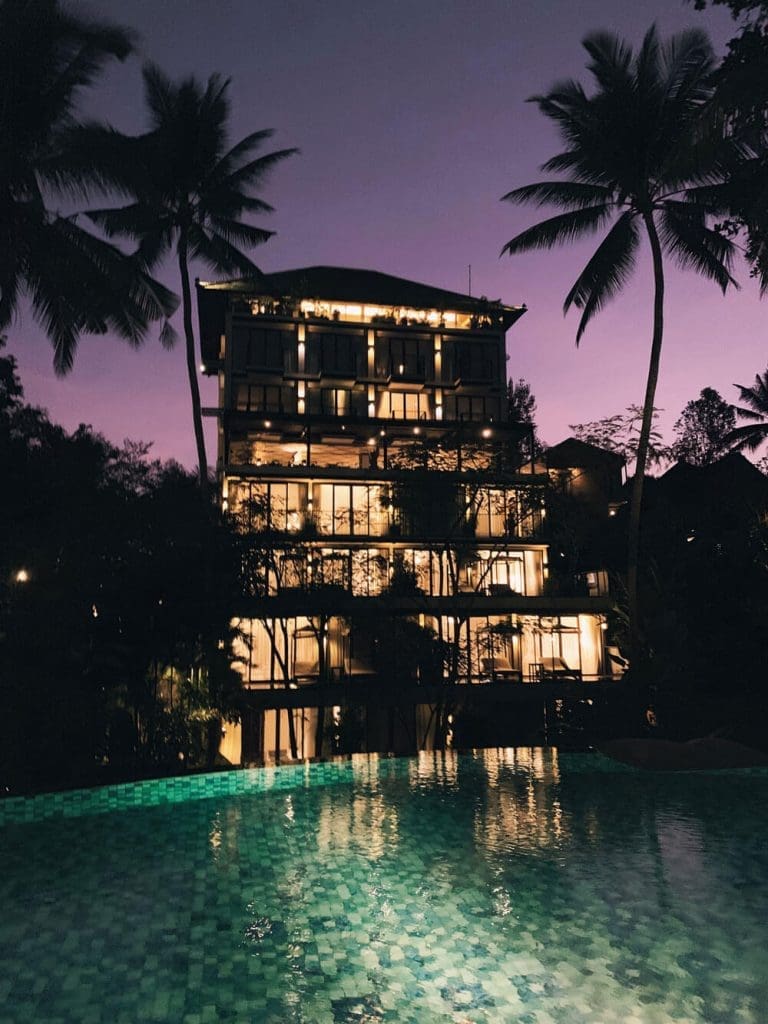 Day 3 – Day trip to Nusa Penida and drop off in Seminyak
On the third day, arrange a day tour to Nusa Penida inclusive of round trip ferry tickets and hotel pick up & drop off.
Nusa Penida is a small island located off the southeast coast of Bali, Indonesia (1.5 hours by speedboat). It is known for its rugged, natural beauty and is a popular destination for travelers seeking adventure and secluded beaches. The island is home to several small villages and is largely rural, with most of the population engaged in agriculture or fishing. The island is also home to a number of temples, including Pura Penataran Ped, which is considered one of the most important temples on the island. Nusa Penida is accessible by boat from Bali, and there are several options for transportation and accommodation on the island. It is a popular spot for activities such as snorkeling, diving, and hiking, and is known for its beautiful beaches, such as Kelingking Beach and Atuh Beach.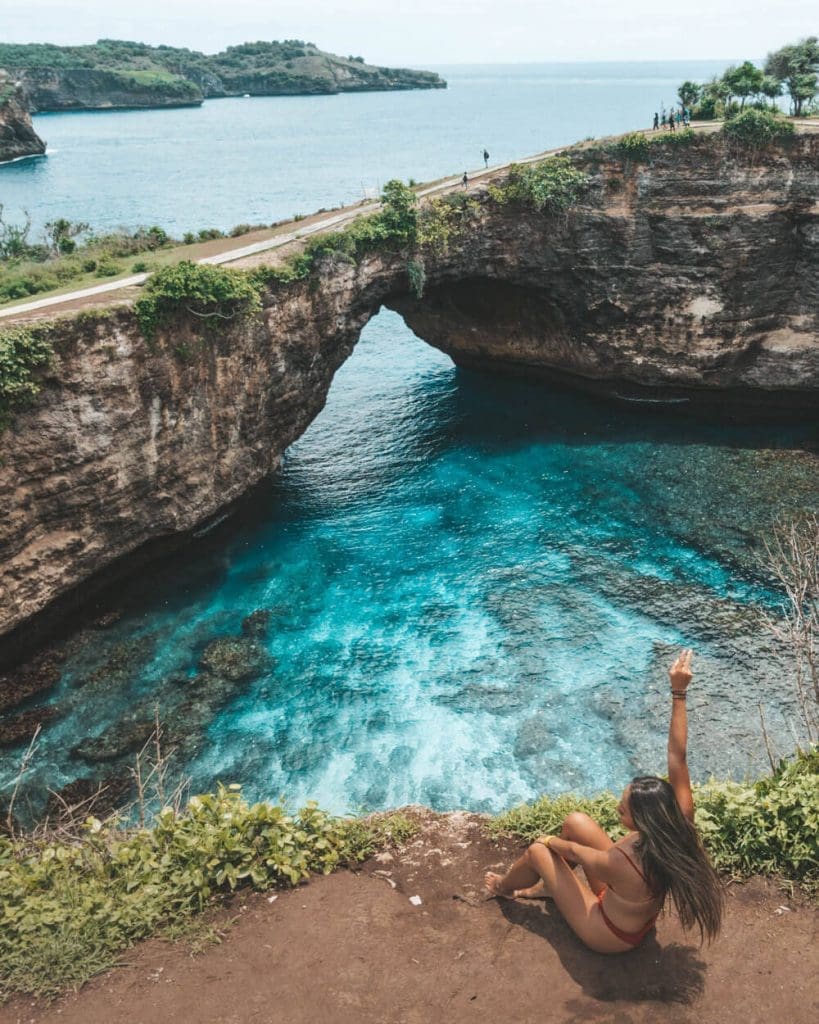 The tour service will usually pick you up from your hotel and drop you off at the port, where you will take a 1.5 hour speedboat ride to Nusa Penida. Your driver will meet you when you arrive and start your tour of the island! It's also possible to rent a scooter but the roads are super bumpy so keep that in mind if you're not completely confident in your abilities.
✅ Kelingking Beach
Kelingking Beach, also known as Dinosaur Head Beach is named for the unique rock formation at the top of a cliff overlooking the beach, which resembles the head of a dinosaur. The beach itself is a small, secluded cove with crystal clear water and white sand. It is a popular spot for swimming, snorkeling, and diving, and the views from the top of the cliff are stunning. To reach the beach, visitors must hike down a steep path through the jungle, which can be challenging but is worth it for the beautiful views. There are no facilities or vendors at the beach, so come prepared with plenty of your own water and food.
✅ Broken Beach
Broken Beach, also known as Pasih Uug, is a natural rock arch. The arch is formed from the collapse of a large limestone cave, creating a bridge over the crystal clear water below. The beach below is a popular spot for swimming and snorkeling, and the views from the top of the arch are breathtaking, making for beautiful photo opportunities. The area is also home to a variety of wildlife, including monkeys and rare species of birds.

✅ Angel's Billabong
Angel's Billabong is a natural rock pool formed by the ocean's waves crashing against the cliffs, creating a small lagoon that is perfect for swimming and soaking up the sun. The area is surrounded by beautiful natural rock formations and is a popular spot for taking photos. You should be extremely careful when entering the pool as the rocks can be slippery and the waves can be strong.
After a long day of exploring, take the last boat back to Bali where a van will drop you off at your new accommodation in the busy area of Seminyak.

Where to stay in Seminyak:
Day 4 – Surf Lessons in Kuta & Explore Seminyak/Canggu
Seminyak is a popular beach resort area located on the western coast of Bali, Indonesia. It is known for its upscale hotels, luxury villas, and high-end shopping and dining options. Seminyak has a vibrant nightlife scene, with a number of clubs, bars, and restaurants catering to a trendy, international crowd. The complete opposite of Ubud! It's located between the super touristy area of Kuta and the more hipster Canggu filled with digital nomads, so you can easily get around all three areas! The area is also home to a number of famous beaches, including Petitenget Beach and Double Six Beach. In recent years, Seminyak has become increasingly developed, with the construction of new hotels, restaurants, and shops. Despite its reputation as a more expensive area, there are still options for budget travelers, with a range of guesthouses and hostels available.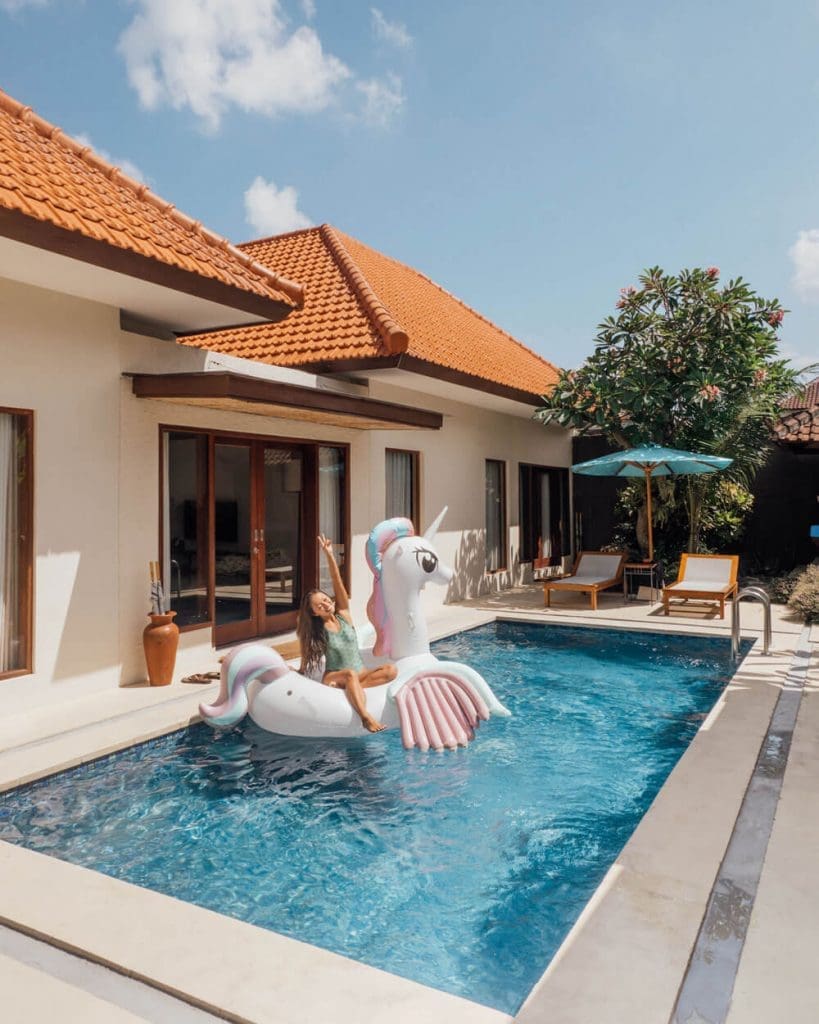 ✅ Surf OR CrossFit
On Day 4, I highly recommend surfing or CrossFit. If you've never surfed before, Kuta beach is THE best place to learn. I took my parents and younger brother surfing for their first time and everyone was able to stand up! It costs around 300k for a lesson and board rental, and the instructors are all very experienced. For CrossFit, head over to S2S in Canggu for an intense workout (all levels welcome!) and an awesome community. They host weekly dinners and Saturday morning beach workouts too!
✅ Shop/Explore Canggu
If being active is absolutely not your thing, you can walk around Seminyak and go shopping, or check out the nearby Canggu where a lot of digital nomads (including myself) are based. It has a very charming vibe with lots of cute cafes and beach clubs.
✅ Sunset + Party
Also be sure to watch sunset from the beach or at a beach club by the water!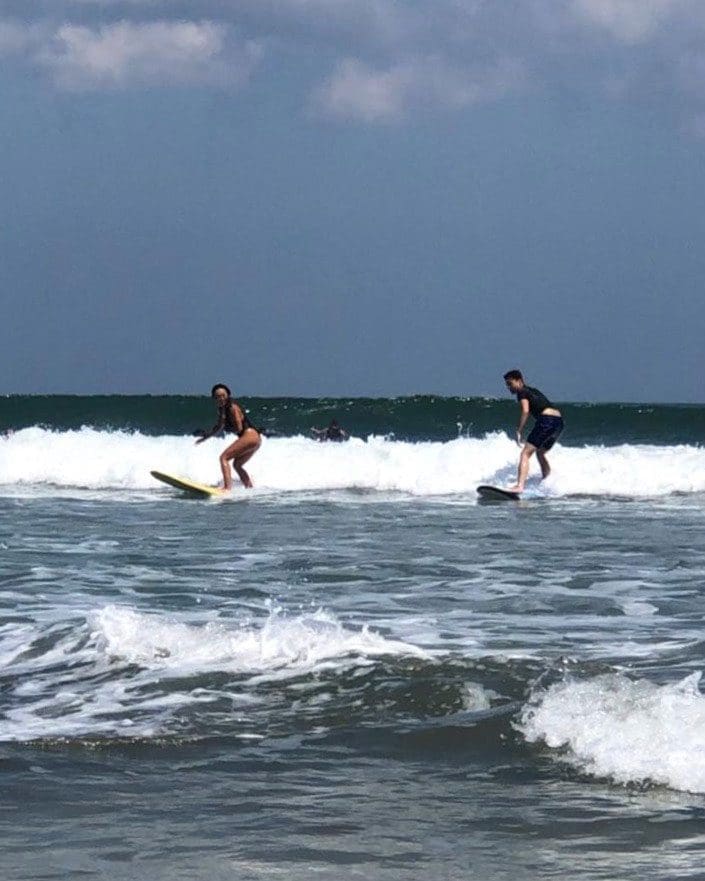 Where to eat in Seminyak and Canggu:
Cafe Organic
Balibola
Mama San
KYND community for vegan food
Where to party in Seminyak:
Motel Mexicola
La Favela
Jungle
Da Maria
Where to party in Canggu:
The Lawn
Old Man's
Vault
Black Sands Brewery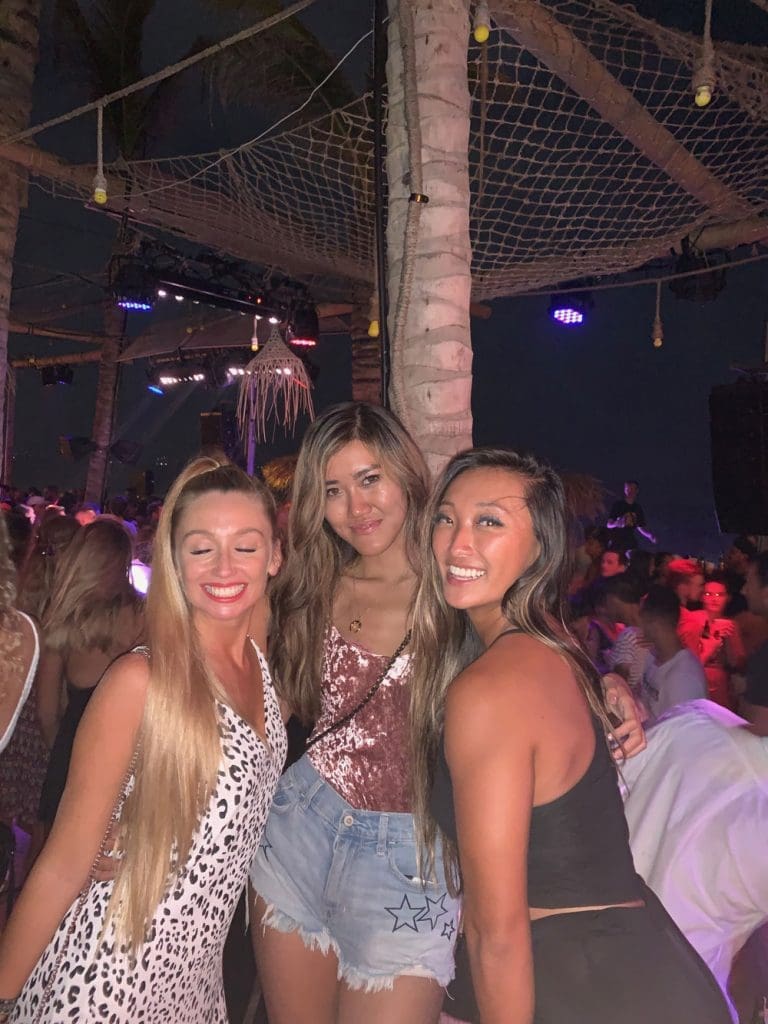 Day 5 – Explore Seminyak and Head to Uluwatu
When you're done shopping and getting massages in Seminyak, it's time to make your way down to my favorite part of Bali – the bukit! The Bukit Peninsula is located in the south of Bali and is known for its rugged coastline and stunning beaches. The area is home to some of the island's most popular surf breaks, as well as a number of secluded coves and bays that are perfect for swimming and sunbathing. The Bukit Peninsula is also home to a number of luxury villas and resorts, making it a popular destination for travelers looking for a more upscale experience. In addition to its natural beauty, the Bukit Peninsula is also home to a number of cultural and historical attractions, including ancient temples and traditional villages. Commonly refered to as just Uluwatu to travelers, the Bukit Peninsula is a must-visit destination for anyone looking to experience the best of what Bali has to offer.
If you like seafood, ask your driver to stop at the Jimbaran Fish Market where they have fresh catches every single day that can be cooked right in front of you while you watch the sunset from your table on the sand.

Where to stay in Uluwatu:
Where to eat in Uluwatu:
Casa Asia for pizza
Bukit cafe for healthy food
Ours
The Loft
Shaka Riki
Where to party in Uluwatu:
Singlefin
Savaya
Ulu Cliffhouse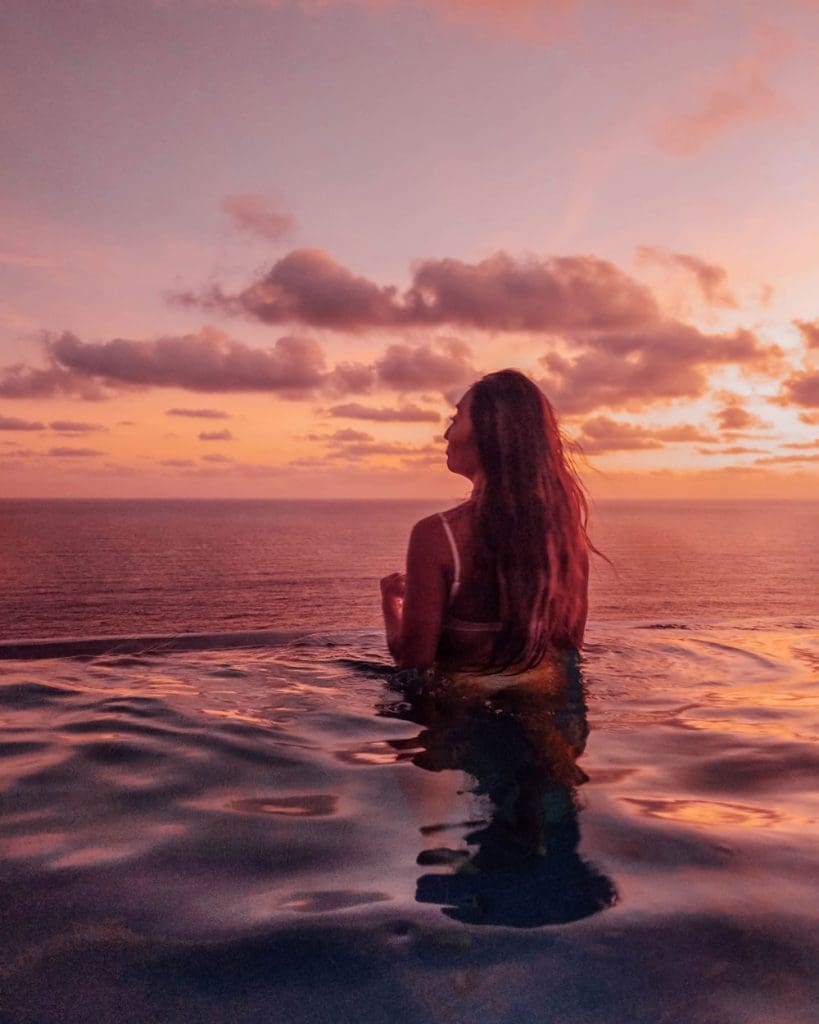 Day 6 – Full Day in Uluwatu
✅ Surf
Some popular spots include Uluwatu, Padang Padang, and Dreamland Beach, which offer a range of breaks for surfers of all skill levels. The Bukit Peninsula is also home to a number of surf schools and rental shops, making it easy for travelers to get their surf on. Whether you're an experienced surfer looking for a new challenge or a beginner looking to catch your first wave, the Bukit Peninsula is the place to be.

✅ Beaches + Beach Clubs

✅ Watch Kecak Dance at Uluwatu Temple
(every night at 6pm – make sure you get there at least 30 minutes before to buy tickets and get seats!)
The Kecak Dance is a traditional Balinese dance performance that takes place at the Uluwatu Temple. It is also known as the "monkey dance" due to the chorus of monkey-like sounds made by the performers. The dance tells the story of the Hindu epic Ramayana and features a large group of men dressed in traditional garments and painted with black and white stripes. The performance is accompanied by the chanting of the Kecak chorus and the traditional gamelan orchestra. The Kecak Dance is a popular tourist attraction in Bali and is often performed for visitors in the evening. It is a unique and authentic way to experience Balinese culture and traditions.

✅ Watch sunset from a cliff overlooking the ocean
On your last full day, take it easy at one of the beaches (Dreamland, Padang Padang, Bingin), go out for a surf, or check out a beach club (Ulu Cliffhouse or Sundays Beach Club).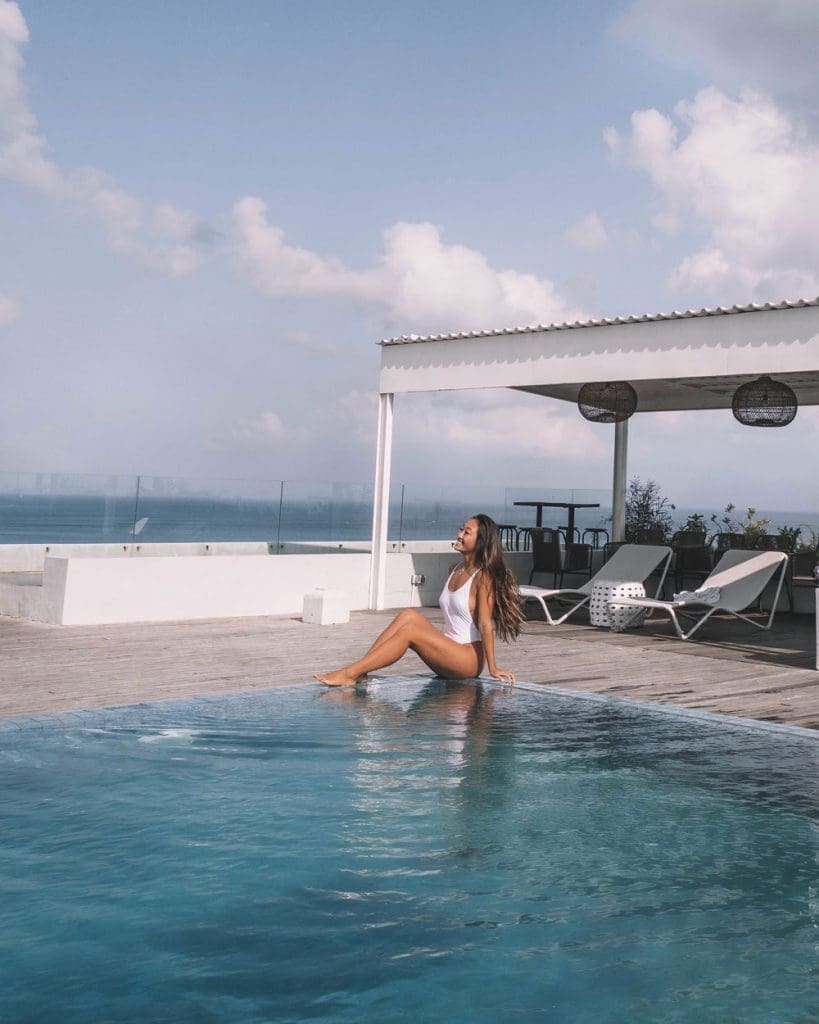 Day 7 – Leave to Airport
Depending on the time of your flight, you can check out another beach or beach club if you'd like to end your one week in Bali. My family and I chose to visit the GWK Cultural Park that just opened featuring a giant statue in the middle, but I honestly would not recommend going here as there's nothing really to do and I found it overpriced. Stay with the beaches and sunshine instead!
Important Tips For Your Trip To Bali :
Respect local customs and traditions: Bali is a predominantly Hindu island in a predominantly Muslim country, so it's important to respect local customs and traditions. This includes covering up at temples, removing your shoes before entering someone's home, and not touching people's heads.
Be aware of your surroundings: Bali is known for its natural beauty, but it's also home to some dangerous wildlife. Be cautious around the water, as there are crocodiles and box jellyfish in certain areas.
Stay safe: Bali is generally a safe destination, but it's still important to be aware of your surroundings and take basic safety precautions. Avoid walking alone at night, keep an eye on your belongings, and be aware of the potential for scams and pickpocketing.
Stay hydrated: Bali's tropical climate can be quite humid, so it's important to stay hydrated. Drink plenty of water, and avoid consuming too much alcohol, as it can exacerbate dehydration.
Use sunscreen: The sun in Bali is strong, so it's important to use sunscreen to protect your skin. Reapply it regularly, especially if you're spending a lot of time in the water.
Respect the environment: Bali is home to a number of beautiful natural areas, so it's important to respect the environment and leave it as you found it. This includes not littering and not disturbing wildlife.
Get vaccinated: Bali is located in a tropical region, so it's important to be up to date on your vaccinations. This includes vaccines for diseases like hepatitis A and B, typhoid, and rabies.
Use insect repellent: Bali is home to a number of different types of insects, including mosquitoes. Use insect repellent to protect yourself from bites and the diseases they can transmit.
Get travel insurance: It's always a good idea to get travel insurance before embarking on a trip, and this is especially true for destinations like Bali where the healthcare system may be different from what you're used to.
WEAR A HELMET ON YOUR SCOOTER: Roads are busy, accidents are common. Don't be stupid.
Prices are negotiable: Almost everything is negotiable in Bali and it's often expected. Don't be afraid to get into a bit of haggling. This goes for when your out shopping in markets, booking a tour, or getting a taxi.
Don't drink the tap water: The tap water in Bali is not treated to the same standards as in many other countries, and can contain impurities and contaminants that may cause illness. It is safer to drink bottled water or water that has been properly purified.
Getting Around Bali :
Hire a driver: One of the most popular ways to get around Bali is by hiring a driver. This allows you to have someone who knows the island well and can take you to all the best places. You can negotiate a rate with the driver and they will usually be able to take you wherever you want to go.
Rent a scooter: Another popular option for getting around Bali is by renting a scooter. This can be a great way to explore the island at your own pace, but it is important to be careful as the roads can be busy and traffic can be chaotic.
Take a taxi: Taxis are widely available in Bali and can be a convenient way to get around. Be sure to agree on a price before setting off, as there have been instances of tourists being overcharged.
Use public transport: Bali has a public bus system called Trans Sarbagita, which operates in the main tourist areas. There are also bemos (minibuses) and metered taxis that operate in some areas.
Walk: In some areas, such as the popular tourist destinations of Seminyak and Ubud, it is possible to walk to many places. This can be a great way to explore the local area and experience the culture of Bali.
Gojek: Download the gojek app on your phone and get registered. From there you can use GoRide which is like the Uber of scooters in Bali. Just drop in your pickup and drop off locations and a driver will come pick you up within minutes and take you to where you want to go. Easy as that. Rates vary depending on time of day and distance, but it's typically very cheap/
As we were traveling as a family we hired a driver for most of our days. If you need transportation contacts, or have any other questions about Bali, feel free to DM me on Instagram!
And there you have the perfect one week in Bali itinerary.
It's packed with things to do and places to see, and really only scratches the surface of this special island. Hopefully, you are able to take this outline and customize it to plan YOUR perfect trip!
Disclaimer: This post was written in collaboration with the accommodations recommended. As always, all opinions, words, and thoughts are completely my own.