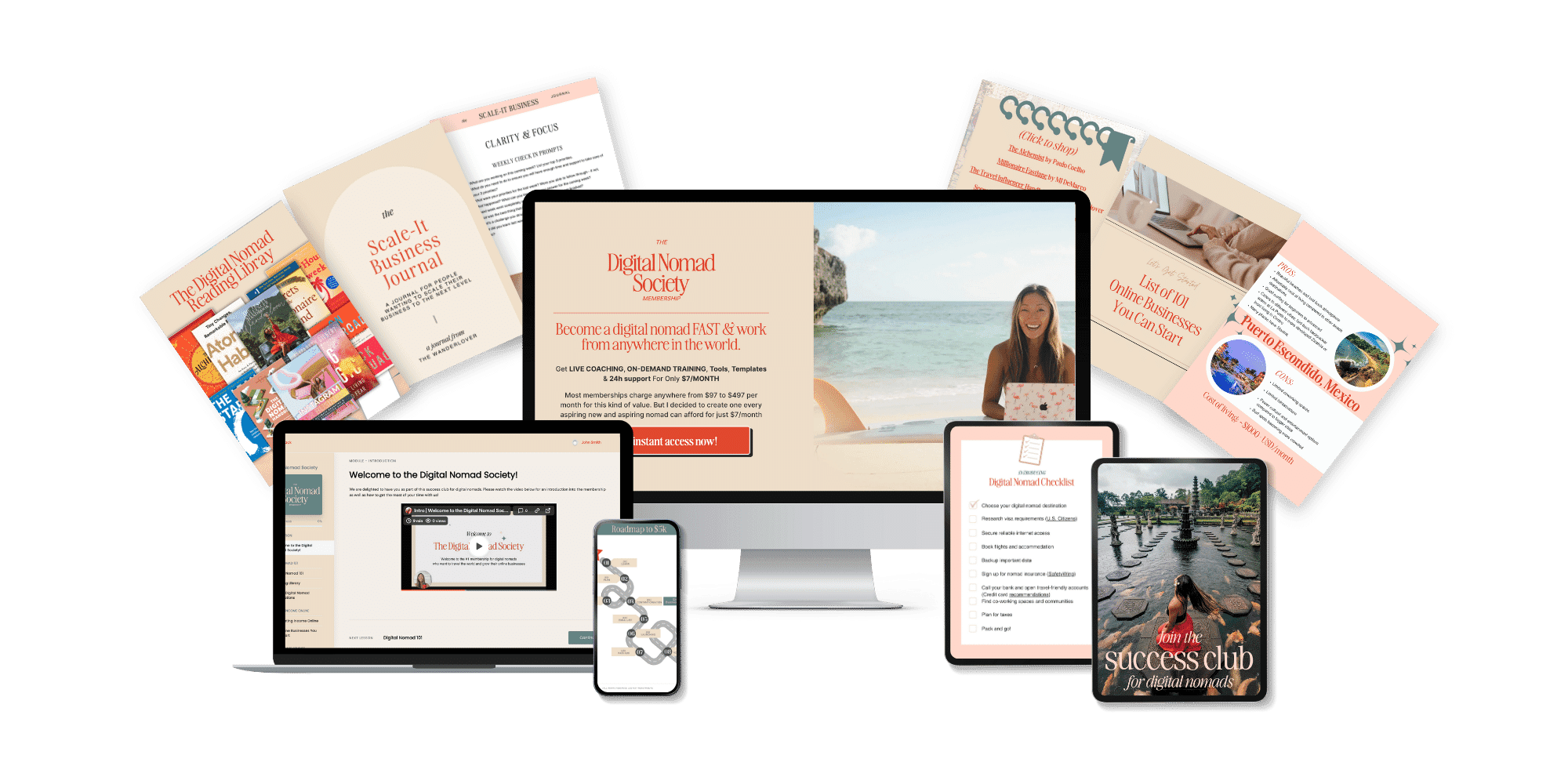 Digital Nomad Society
MEMBERSHIP
Join 188+ new and aspiring nomads!
Learn how to become a digital nomad FAST and be location independent!
Get live coaching, on-demand training, tools, templates & 24h support. Most memberships charge anywhere from $97 to $497/month for this kind of value, but I decided to create one that all new and aspiring digital nomads can afford for just $7/month!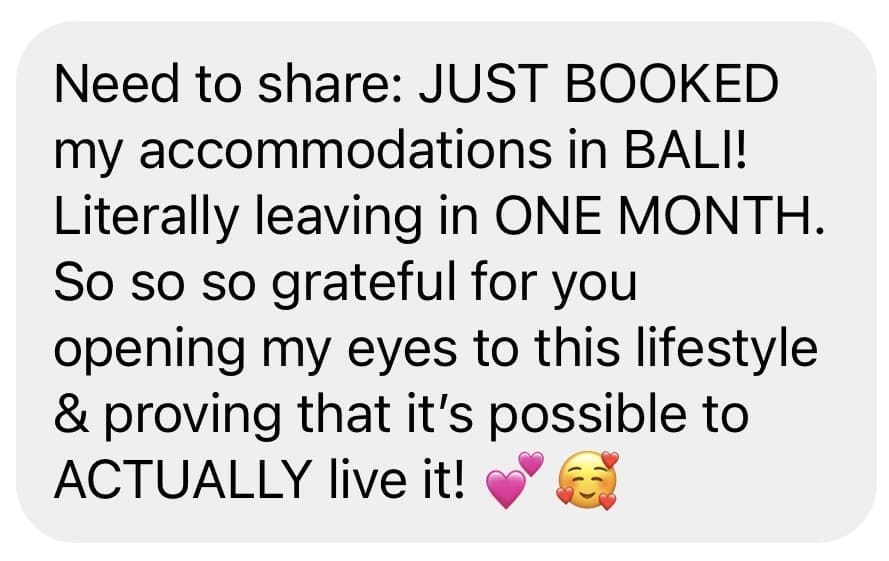 What if you could use a tested signature process
to plan out your transition into a digital nomad lifestyle
✅ You feel confident in knowing how to be able to become a digital nomad
✅ ​You know exactly where to travel to next and how to go about the logistics
✅ You understand how to make income online
✅ ​You make a great living online from helping others through your business
✅ You have a community of like-minded entrepreneurs around the world
"The Society is worth much more than the monthly price"
I have loved joining the Digital Nomad Society! Danielle is such a generous coach and inspiring leader in the group. The society is worth much more than the monthly price just to access the live calls! Being part of a travel loving, freedom thinking community is so important to thriving in business – the members are kind, supportive and positive, plus Danielle makes you feel like anything is possible (and it is)!
– Kylie H, Artist and Designer

Introducing
The location
independence path
The exact steps to becoming a digital nomad with your own impactful online business so you can make a great living and work from anywhere.
I'LL BE HONEST WITH YOU
Getting to this point wasn't easy
When I started out as a digital nomad, I got side-tracked for a couple of months.
Everyone I met seemed to be either on vacation or living off of their savings, and it was difficult to balance work and travel, as many of my new friends weren't building online empires.
Because I didn't have a balance, I would always feel like either I was not doing enough for my business, or that I was missing out on life.
After purchasing my fair share of products and coaching ranging form $27 to $12,000 I finally realized 2 things:
1) There is no secret hack to overnight success as a full-time digital nomad
2) You (and your income) are the average of the 5 people you spend the most time with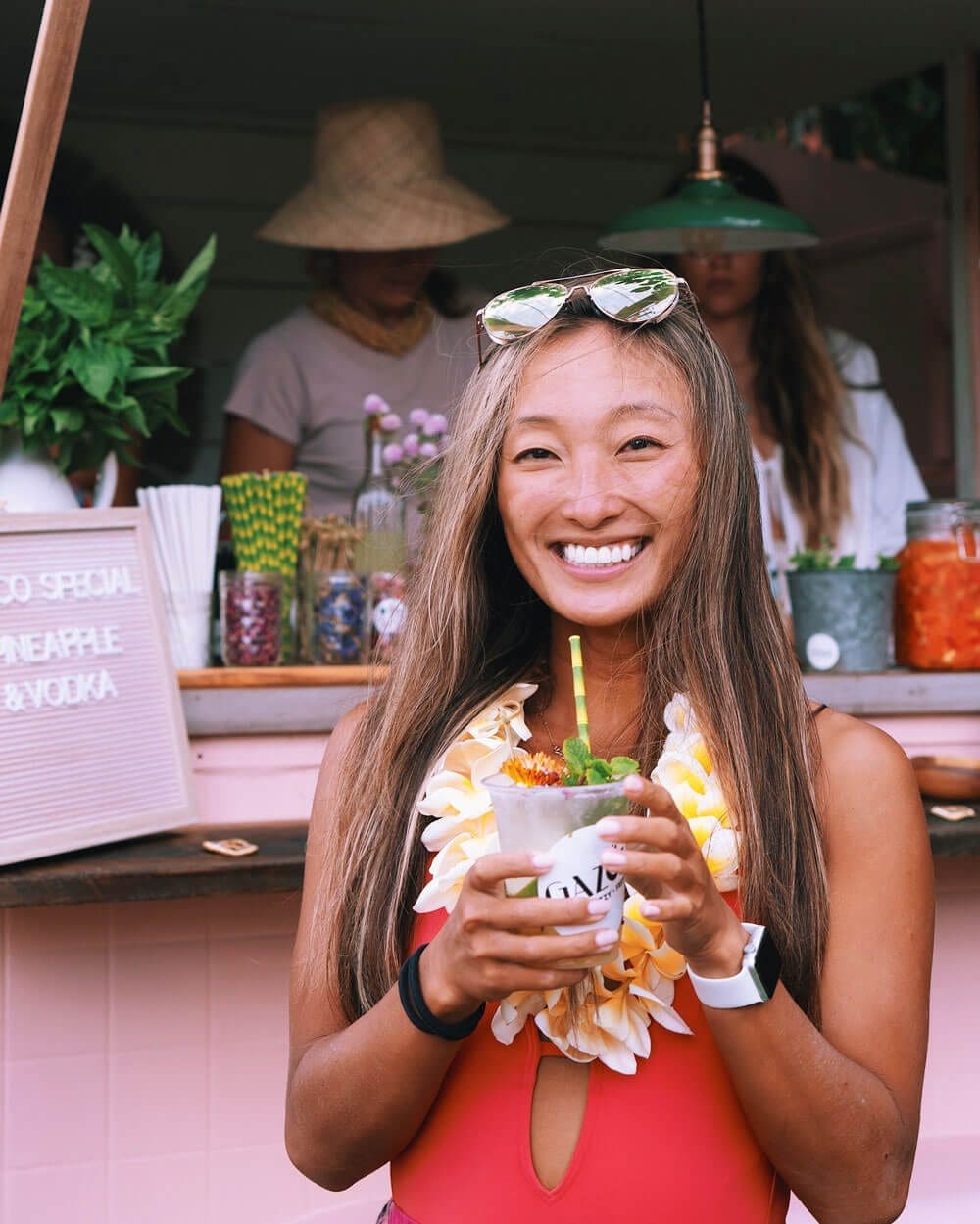 And that's when I finally realized…
Growing my online business was the key to full-time travel.
I went all in on The Wanderlover, surrounded myself with ambitious, like-minded individuals, found my mentors, and doubled my online business income.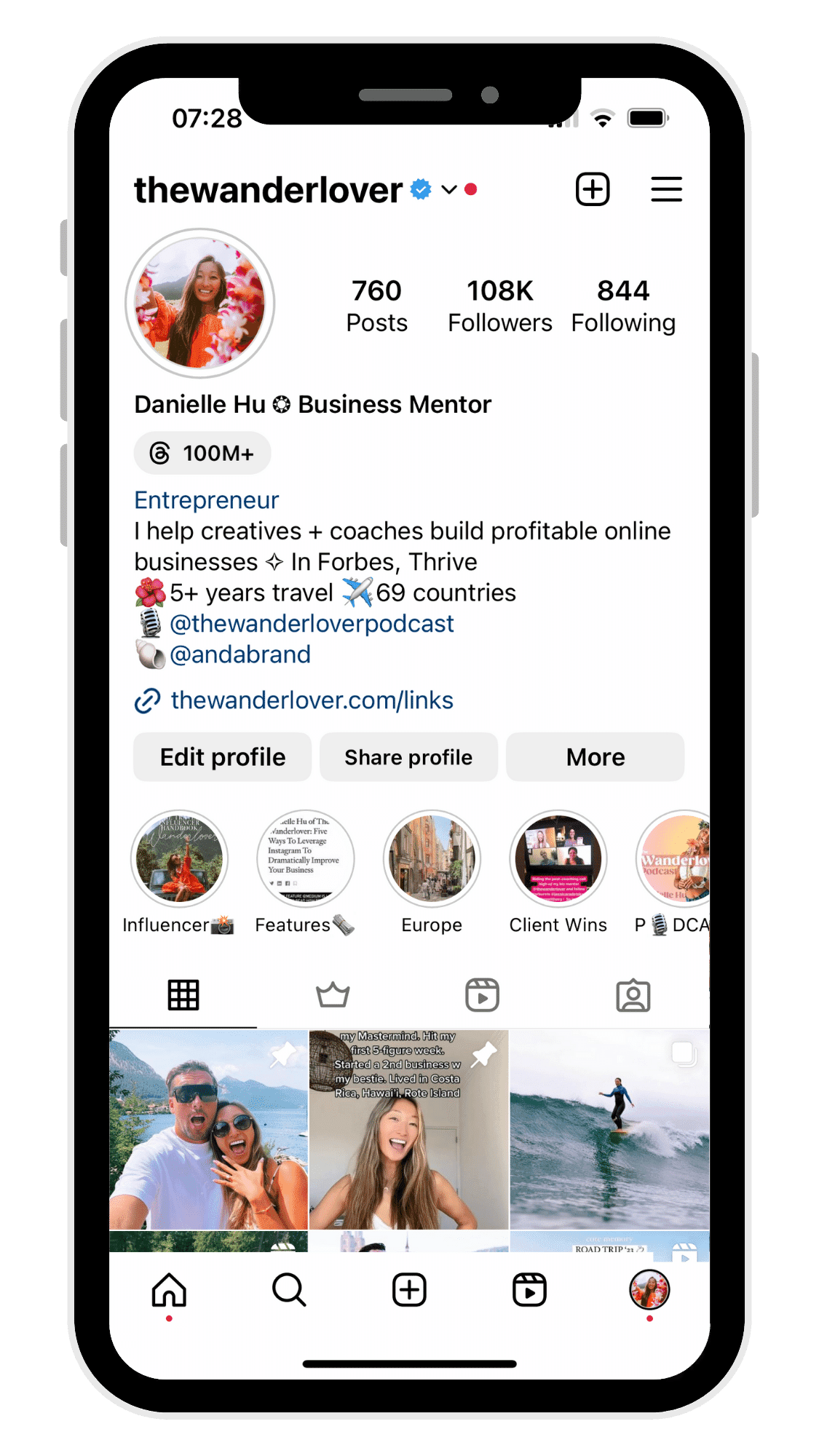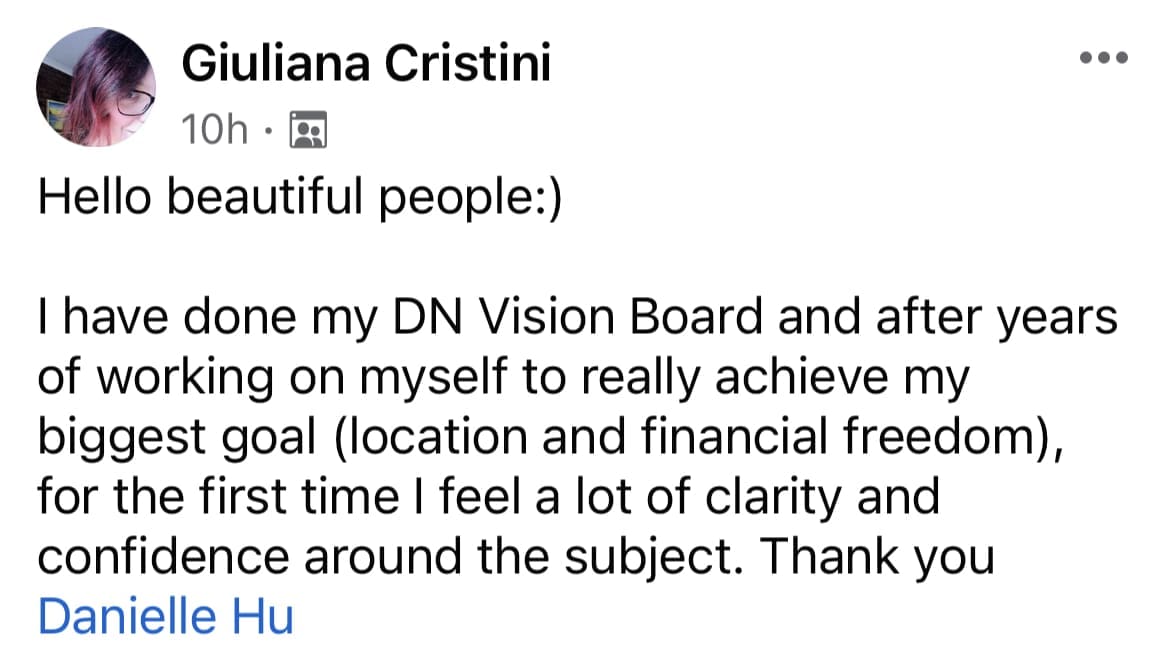 Now I have a multiple 6-figure coaching and content creation business that supports my lifestyle wherever in the world I want to go, including daily surfs in the tropics.
But the formula doesn't only work for me. It also works for my clients and members. When you check the testimonials below you will see Natalia for example.
She quit her job and traveled South America using my exact method using my exact method.
Or Sophie who became a full-time traveler and business owner.
Or Kristen who booked a one-way flight to Bali.
So, how do you do it too?
"I quit my corporate job!"
I wanted to make change in my life towards living my dreams of working from anywhere and doing a job that I love and have created for myself. Danielle helped me make this my reality!
– Sammy B, Social Media Manager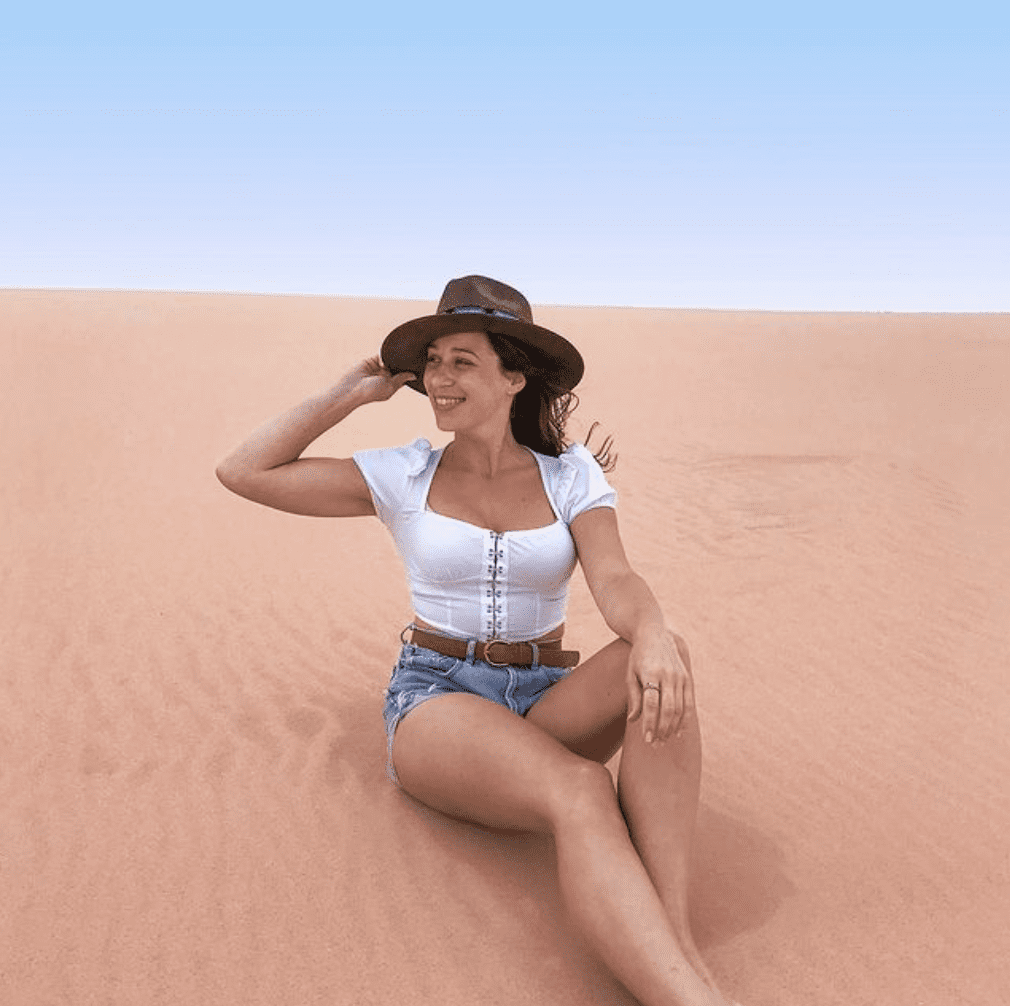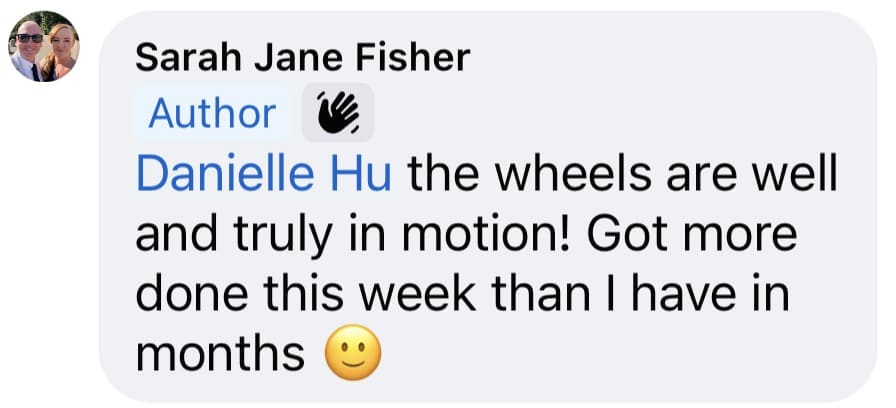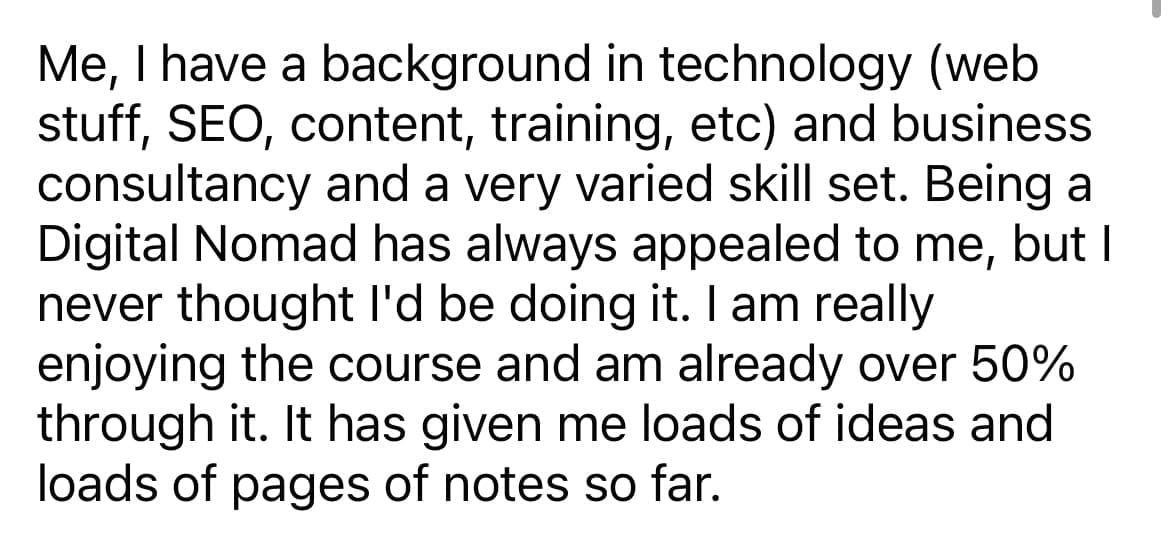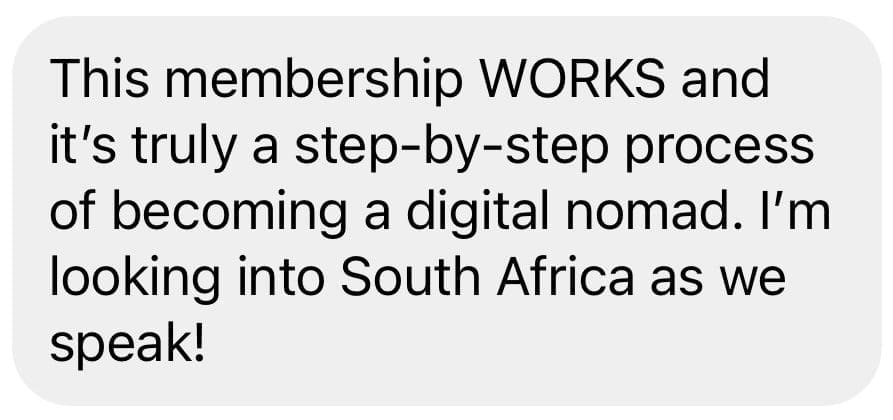 JOIN THE
Digital Nomad
Society
MEMBERSHIP
Get live coaching, on-demand training, tools, templates & 24h support for only $7/MONTH.
Learn and plan out your digital nomad transition. Surround yourself with a like-minded community. Start and scale your online business so you can travel the world.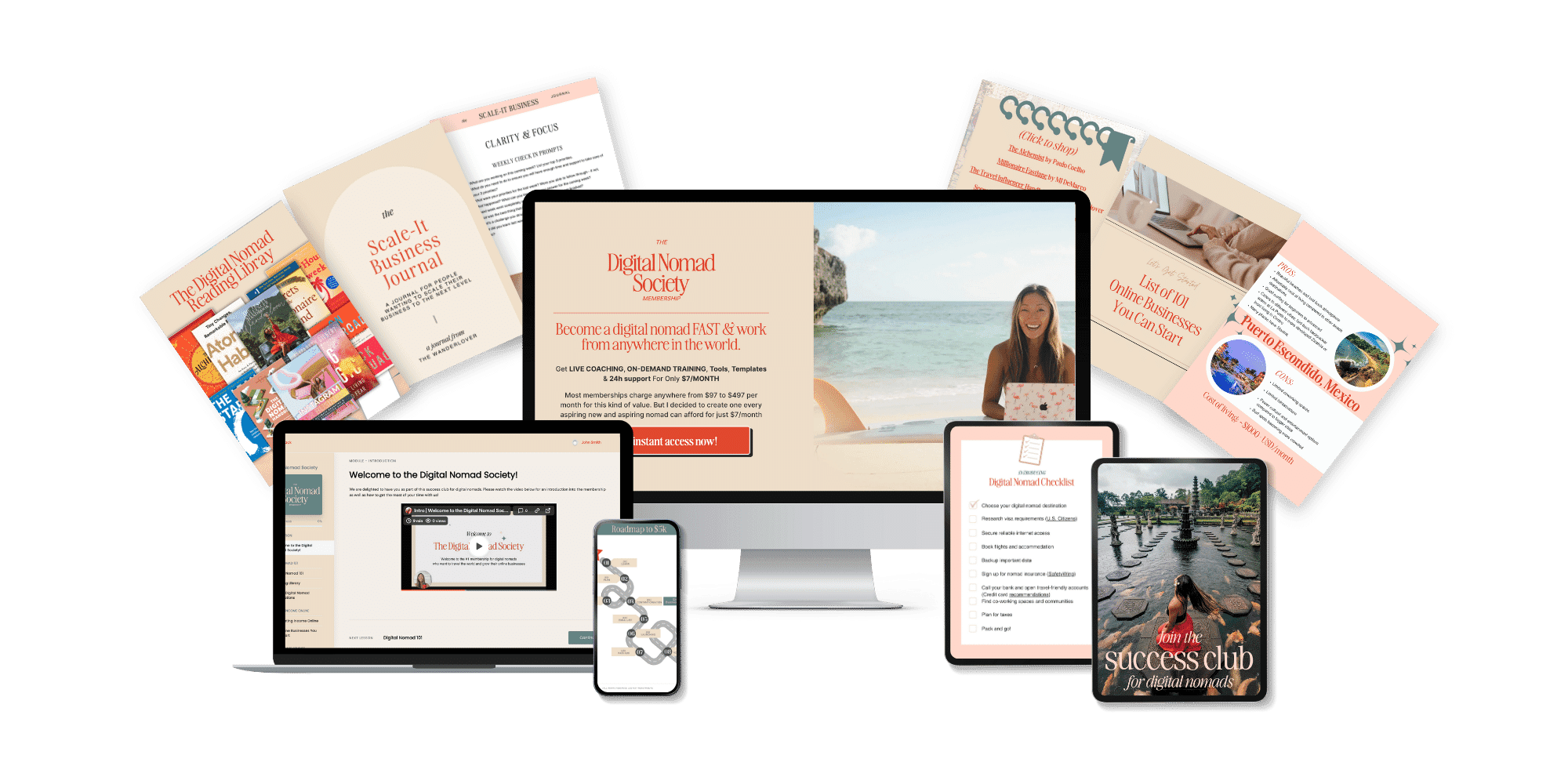 Peek into the lessons inside 👀
✔️ Digital Nomad 101
✔️ Generating Income Online
✔️ 101 Businesses You Can Start
✔️ Success Case Studies
✔️ Your Digital Nomad Vision
✔️ Taxes as a Digital Nomad
✔️ Creating Your Offer
✔️ 0 to Nomad Action Plan
✔️ Balance Work and Life
✔️ Grow Your Business
… And more!
When you join the Digital Nomad Society…
You get everything you need to decide where in the world to go first and how to get there.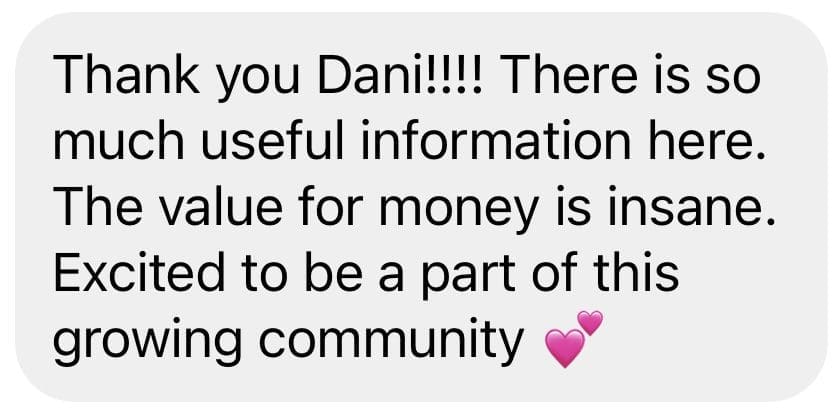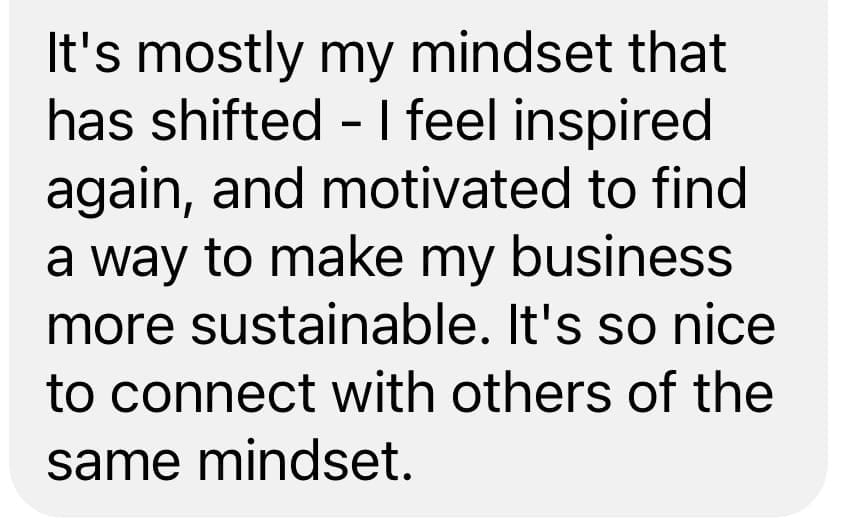 You'll get instant access to:
✅ 9 bite-sized modules that provide you with the step-by-step strategy
✅ Insights from 5+ years of experience around taxes, finances, and work life balance as a digital nomad
✅ ​An ever-growing resource library with coworking locations around the world, workbooks, templates and planners
​✅ Access to the inner circle Facebook group with other digital nomads for accountability, connection, advice, and support
​✅ Feedback on your offers, worksheets and strategy in the Facebook inner circle group
​✅ 2 Live Coachings Q&As every month
​✅ New templates, resources and tools every month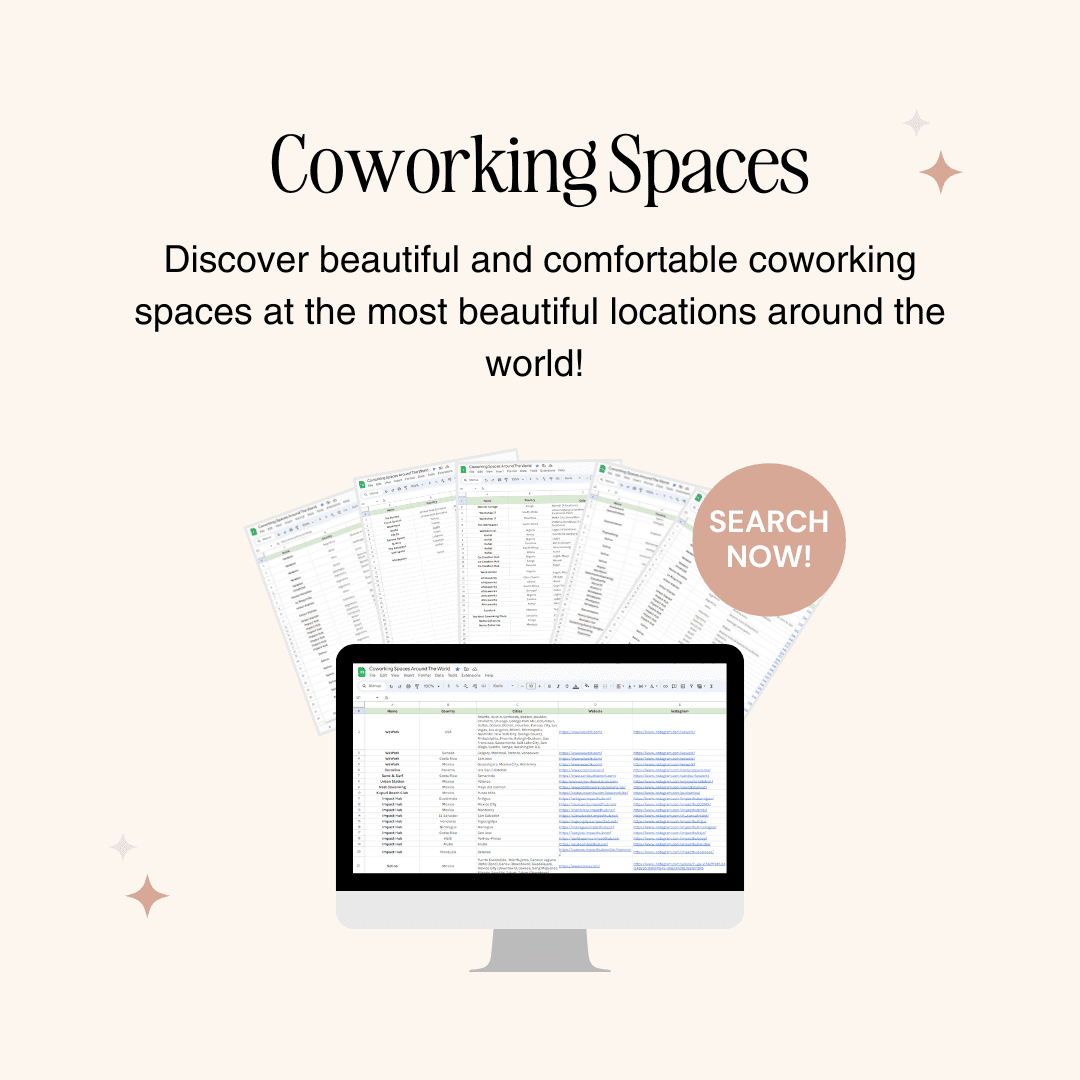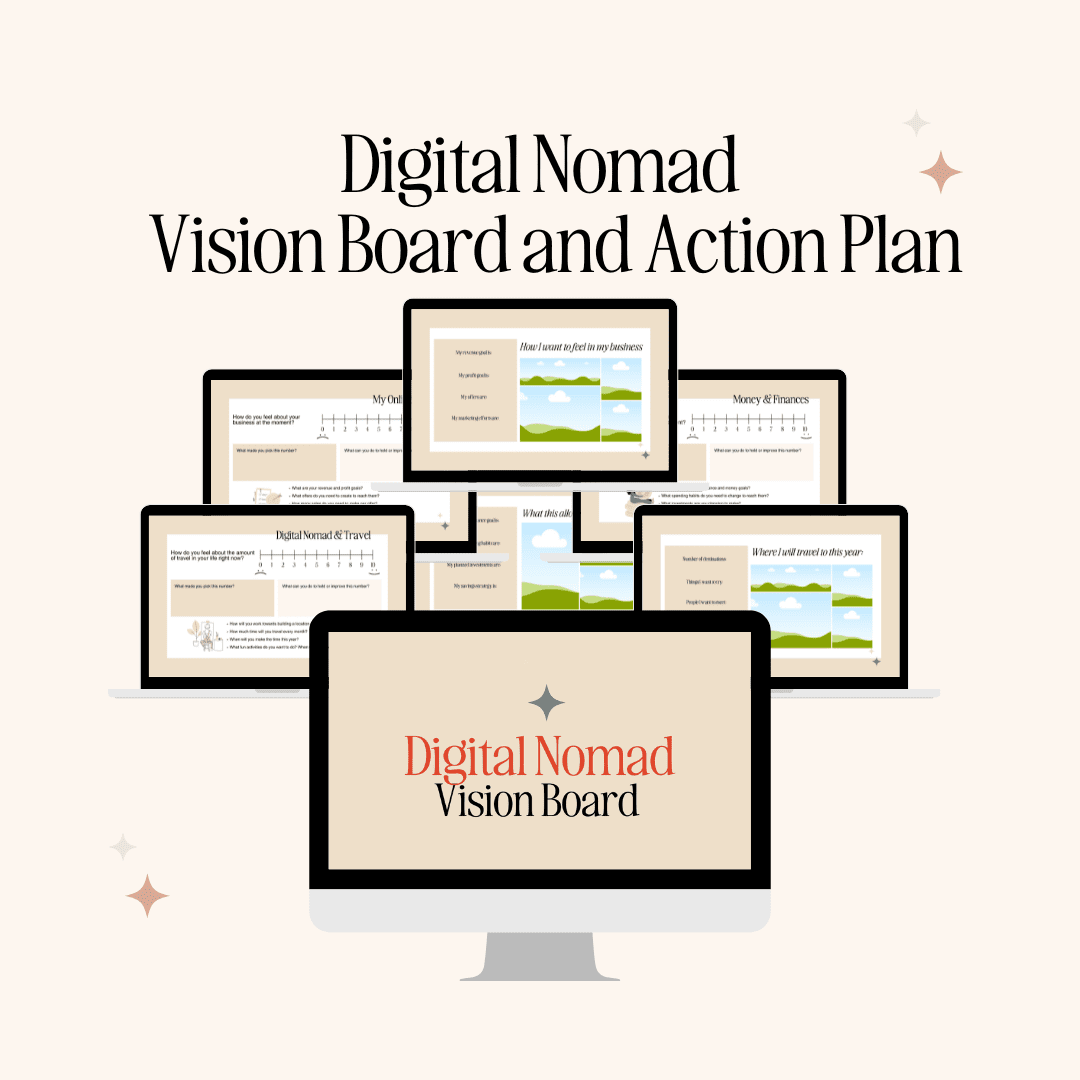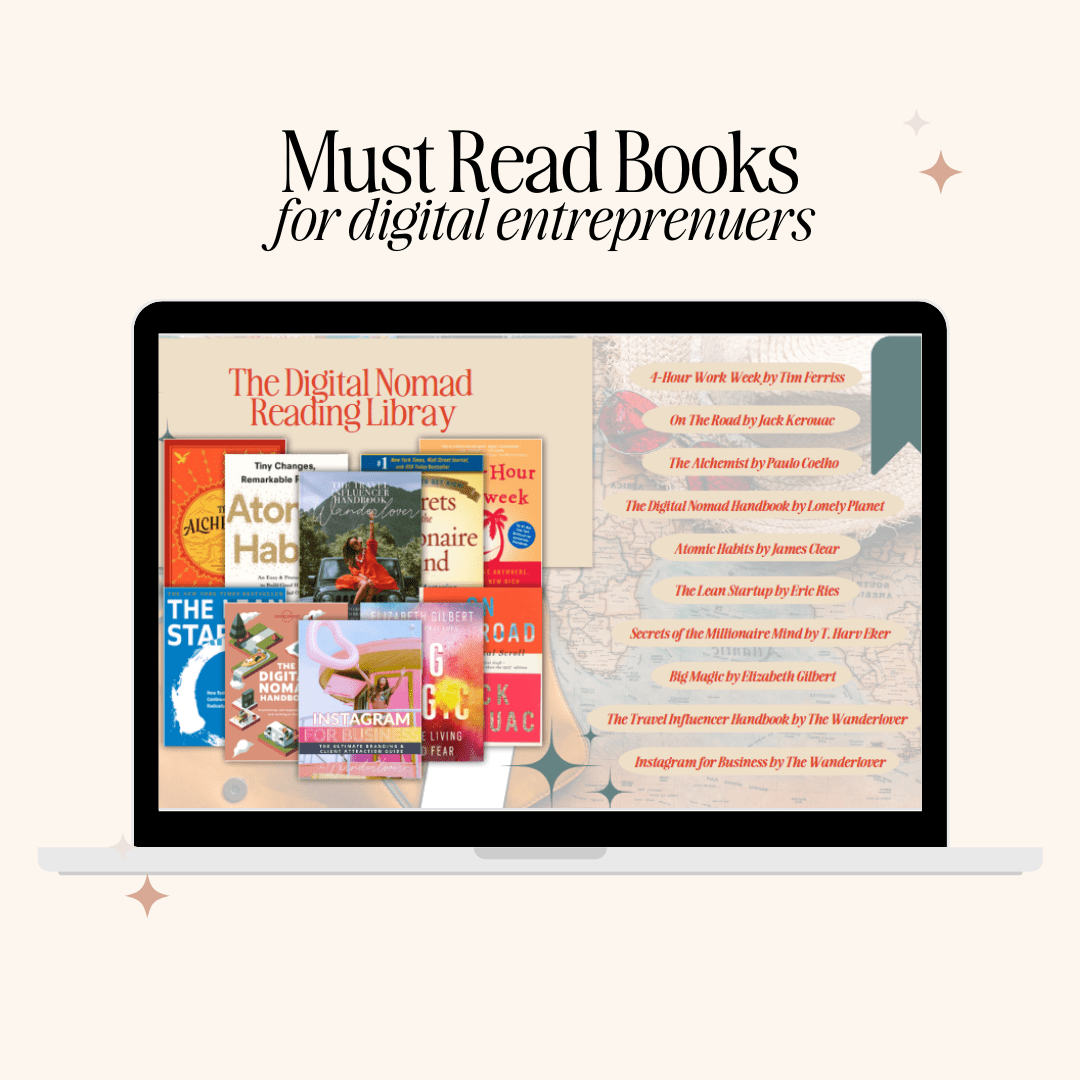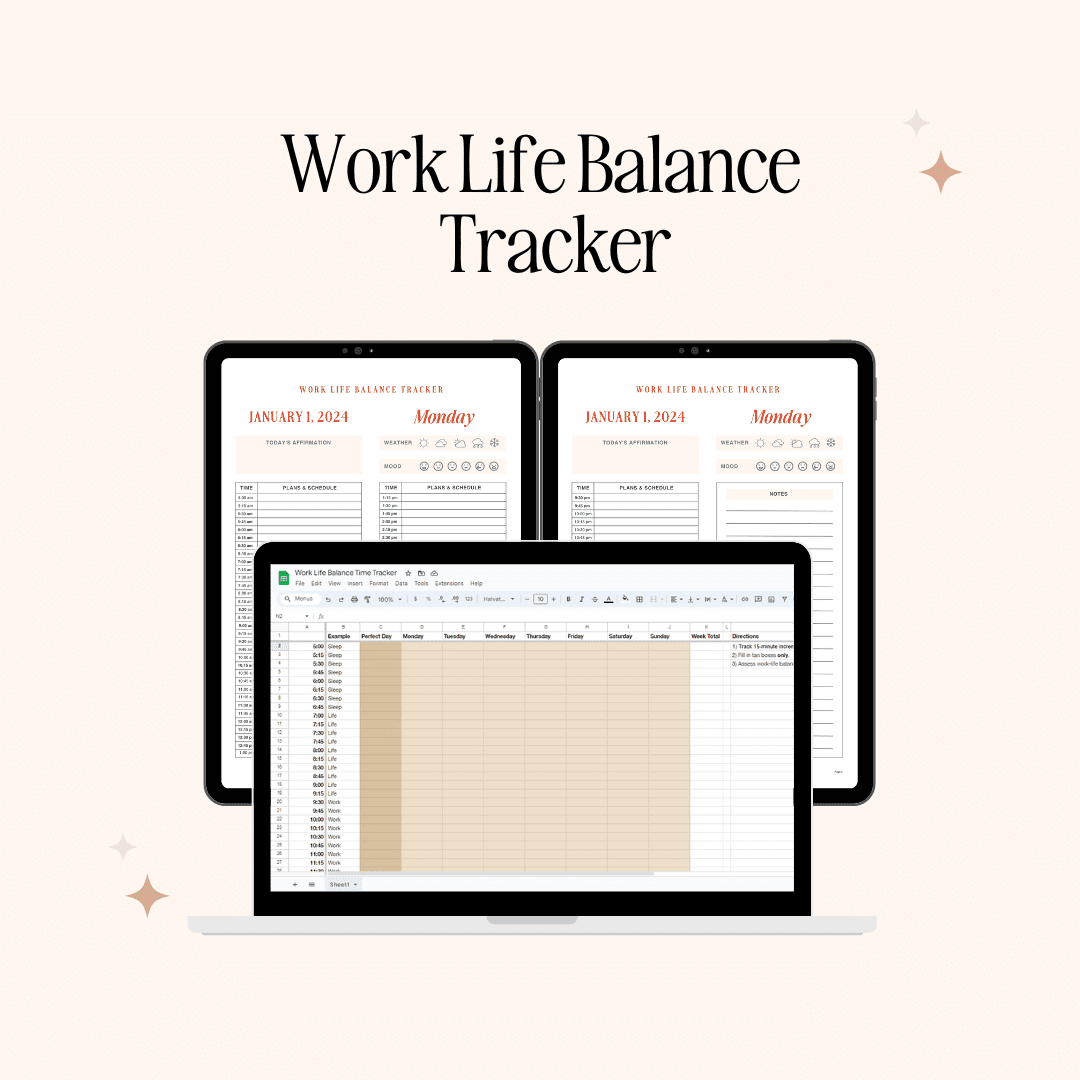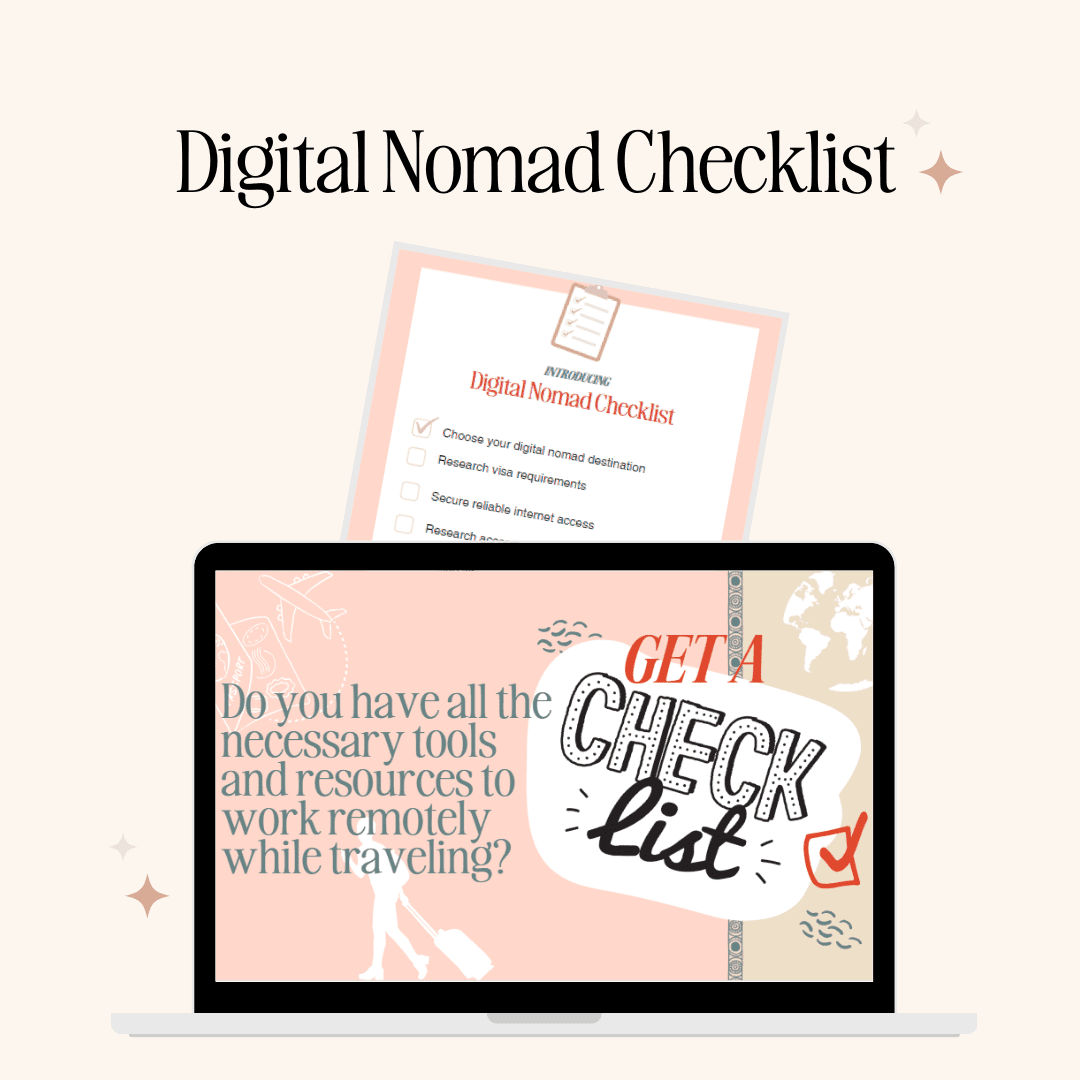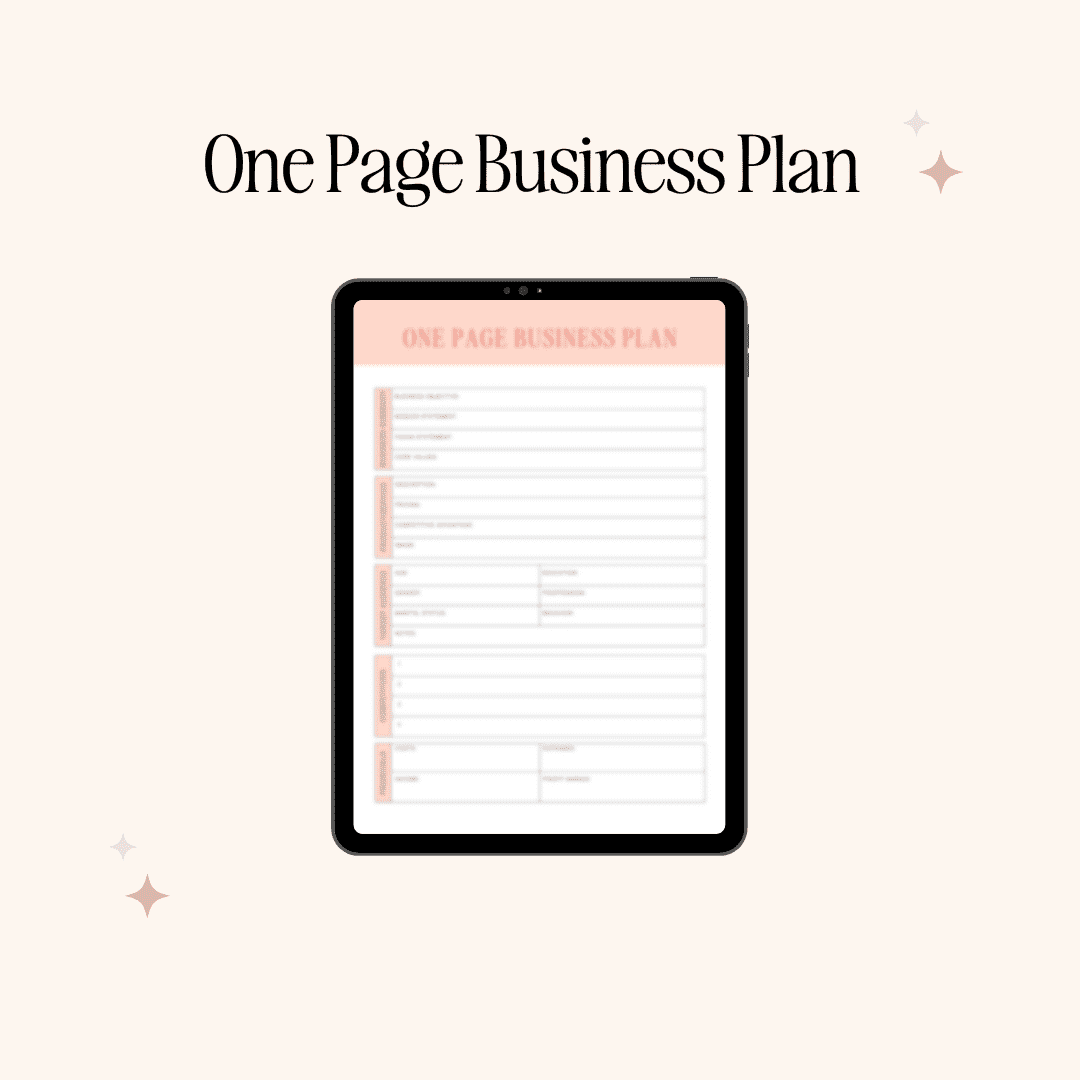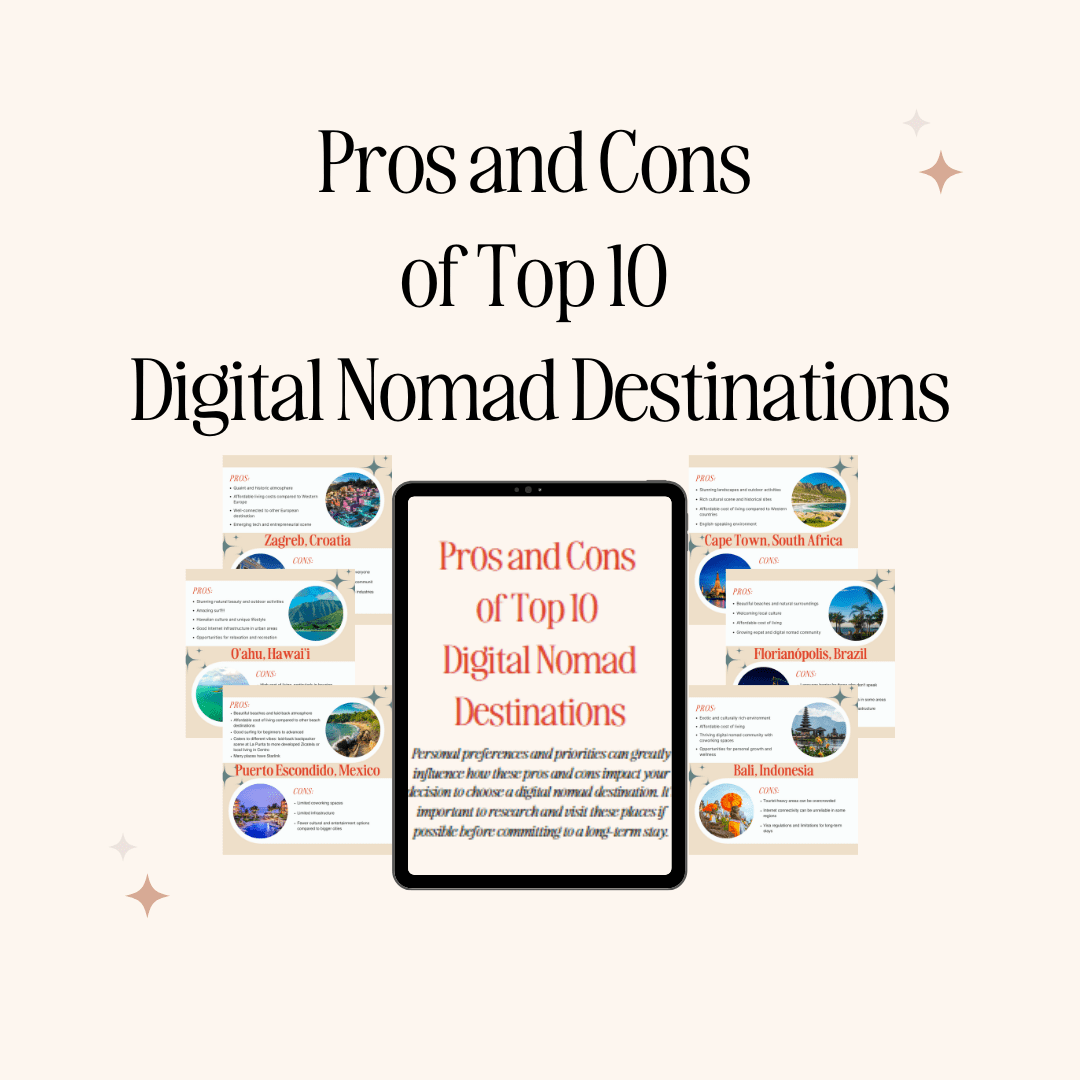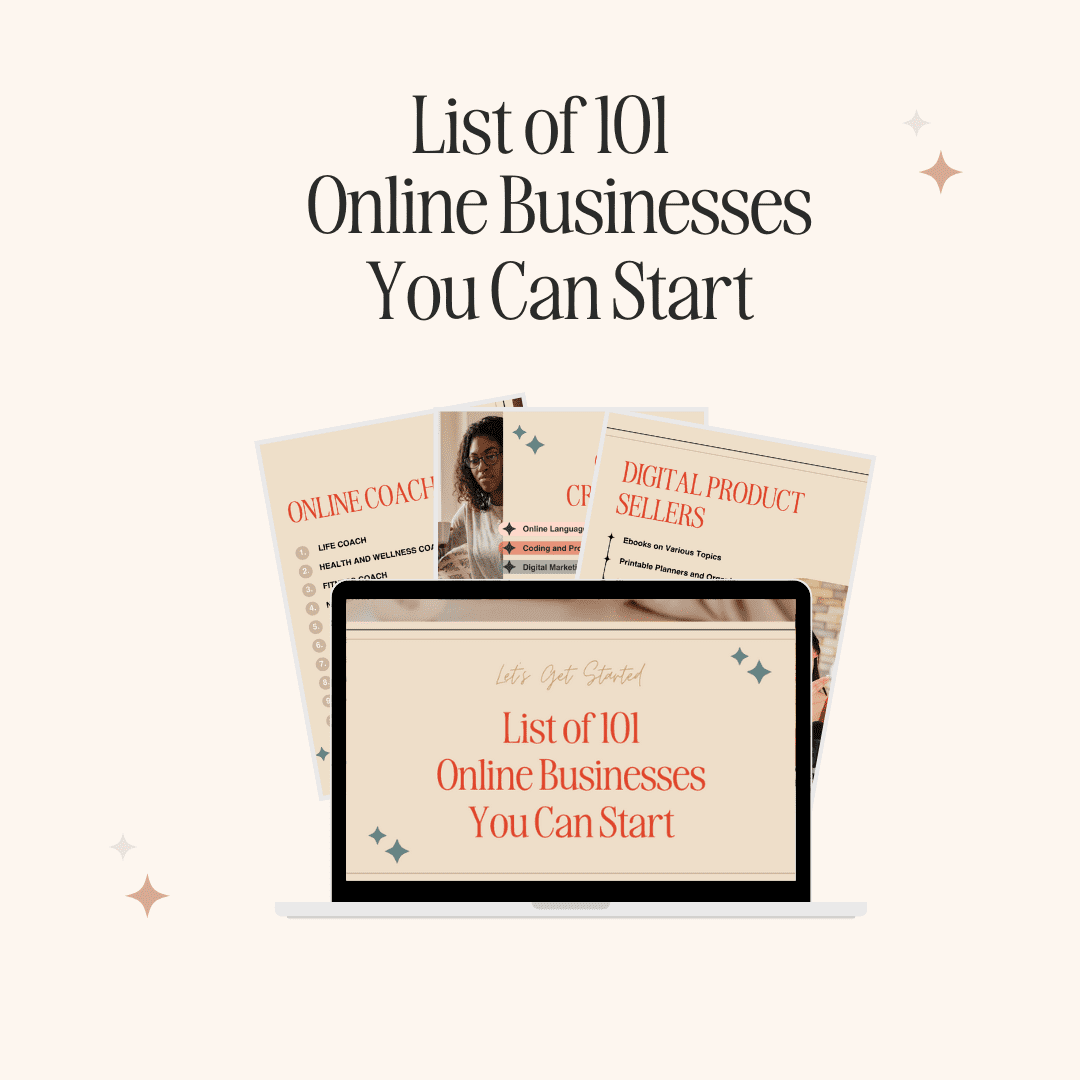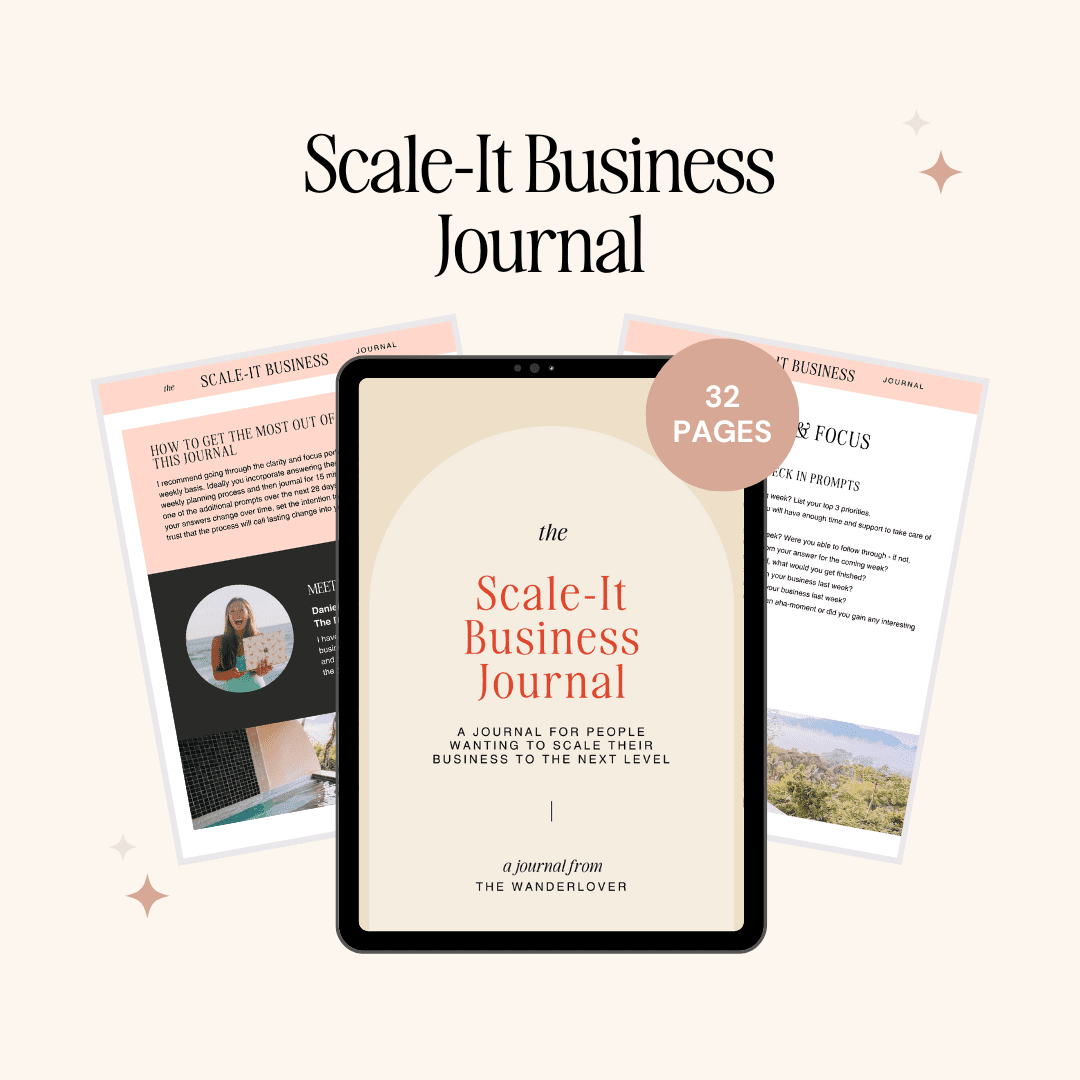 + New resources, trainings, modules added every month.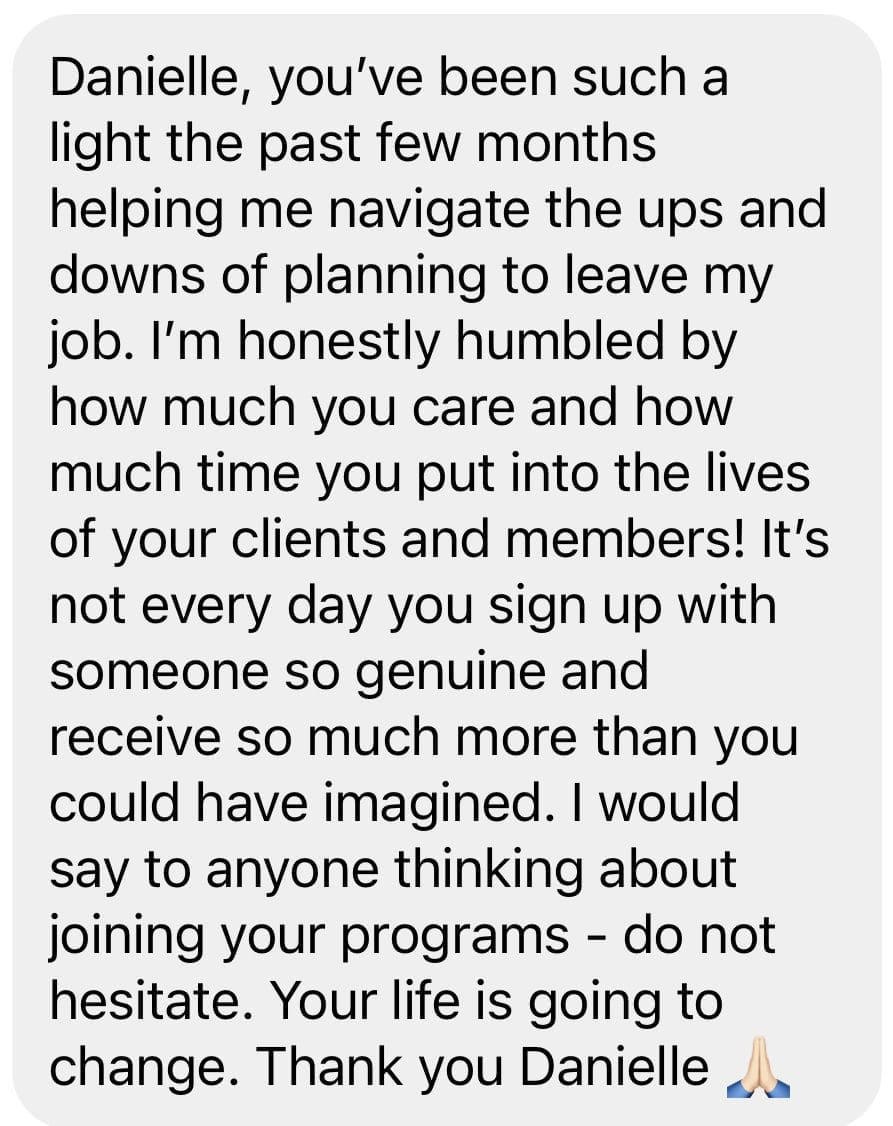 Stop fighting alone. Become part of a powerful community and always be up to date with the latest travel updates and advice from members live around the world.
The opportunity to practice your business skills and receive powerful testimonials
The opportunity to meet up with other nomads around the world



I am so convinced of the method and tools shared in this society because…
They helped me to completely change my mindset and create the life of my dreams
I have a question for you…
What if I can help you to get just 1 step closer to becoming a digital nomad?
I love celebrating our members' wins…
But I also love that YOU will soon realize how different your life can and will look in a year's time.
Do you think that this can help you to get just 1 step closer to living the life of your dreams?
🤔🤔🤔
The Digital Nomad Society is for two specific people…
#1
The aspiring digital nomad that wants to make it happen fast and doesn't know where to start
#2
The digital nomad that feels stuck and wants to make their lifestyle sustainable and network with an ambitious community on the same path
If you can check one of these boxes, you're in the right place!
You don't need to wait another day wondering how to make your dreams a reality.
Say goodbye to
paralysis by analysis!
With a step-by-step action plan and inspiration from other nomads around the world, you will know exactly how to make take action towards your vision board life. You will be a magnet for people that are also looking to be the best versions of themselves learn how to make money online while traveling!
Go from being confused and chasing shiny objects ➤➤➤
to being crystal clear about how to become a digital nomad.
Stop trying different monetization methods that are location-dependent, expensive or simply don't work anymore and ➤➤➤
have a simple, clear strategy for a business that you can work on from anywhere with wi-fi
Stop fighting alone ➤➤➤
get support, feedback, accountability, networking/partnership in
our amazing members-only community.
Frequently Asked Questions
Q: I want to be a digital nomad and I'm just getting started. Will this work for me?
A: Yes, this works especially well if you're new.
Q: Can I cancel at any time?
A: Yes, you can cancel at any time.
Q: I've been a digital nomad for a while now. Will I still find value?
A: Yes, this success club will provide you with resources, planners, community, support, networking, accountability, and partnership opportunities that will help you to get your life and business to the next level.
Q: Can I wait and join next month?
A: Yes, you can but the price might increase.
Q: How much support is included?
A: There is a 24h written support included which means that you will get all your questions answered within our members-only support group within 1 day.
Q: Does this only work for influencers?
A: No, this works for all kinds of coaches, content creators, and business owners that want to sell digital products and services and make a great living online.
Q: I am not tech savvy. Do I need a bunch of tools to make this work?
A: No, this is very beginner and budget-friendly and you don't need to be good with tech or buy any software.
Q: When will I get access?
A: You will receive an email with all the details immediately after your purchase and will get access to our inner circle group within 24 hours.
Q: Is there a money-back guarantee?
A: Yes, there is a 7-day no-questions-asked money-back-guarantee.