Fed up with the usual 9 to 5? Sick and tired of being stuck in an office all day? If you're a digital nomad in search of a beautiful and exciting place to work, Bali ticks all the boxes. Increasingly popular amongst freelancers and other creatives, this paradisiacal destination promises white sandy beaches, unique cultural experiences and great company. With an abundance of cafes and coworking spaces that are conducive to getting the job done, Bali offers the perfect combination of work and relaxation.
For me, Bali is more than a postcard destination. It's an entire lifestyle with a wonderful coworking community at its heart. In a destination like Bali you can experience the work-life balance you have always hoped for. Spend your mornings working with clients and your afternoons surfing the waves. Network with like-minded professionals one day and get to know the locals from a traditional warung (cafe) the next.
When it comes to coworking in Bali, there are plenty of options. Shared spaces are a great way for digital nomads to connect, collaborate and create. As an entrepreneur myself, I have been lucky enough to work from where I want, whenever I want. Here, at the Wanderlover, we want to make that goal a reality for you too. To get started, I have rounded up my favorite Bali coworking spots. All you need to do is book that flight.
BeWork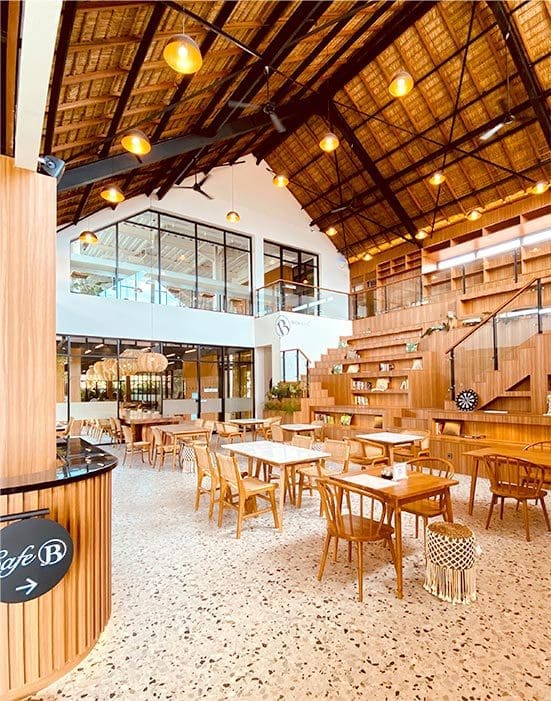 Focussing on community interactions, this gorgeous space welcomes traveling professionals, small businesses and entrepreneurs to kick back, work and relax. With a large open-air studio space on the top floor, meeting rooms, focus rooms and a casual working space, indoor and outside workspaces, a pool, there is something to suit every mood and work style.
When you enter you walk into the cafe where you can get a coffee or some food and talk with friends and other digital nomads before heading into the dedicated workspaces spread over 2 floors. The organizers at BeWork offer the perfect combination of work and relaxation with yoga training, salsa classes, pilates, surfing, crafting lessons and unforgettable day trips. What's not to love?
Outpost Canggu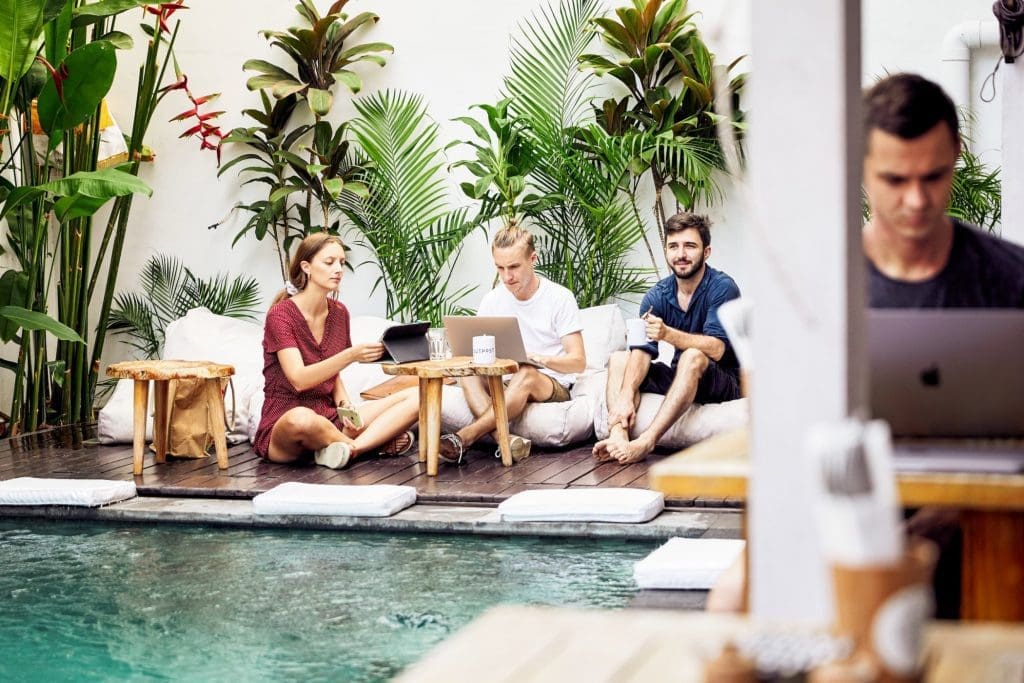 Set amongst the tropical scenery of Canguu, famed for its stunning beaches and incredible surfing sports, Outpost Canggu is a unique concept offering entrepreneurs high-end accommodation, chic coworking spaces and a friendly laid-back charm.
If you've just arrived in Bali and don't know where to begin, this place will have you set up in no time. Alternate between virtual meetings and cooling dips in the pool, or take a surf break at the beach, just five minutes away. Meet fellow professionals at the bar and chow down on nutritious delicacies at one of two restaurants.
Tropical Nomad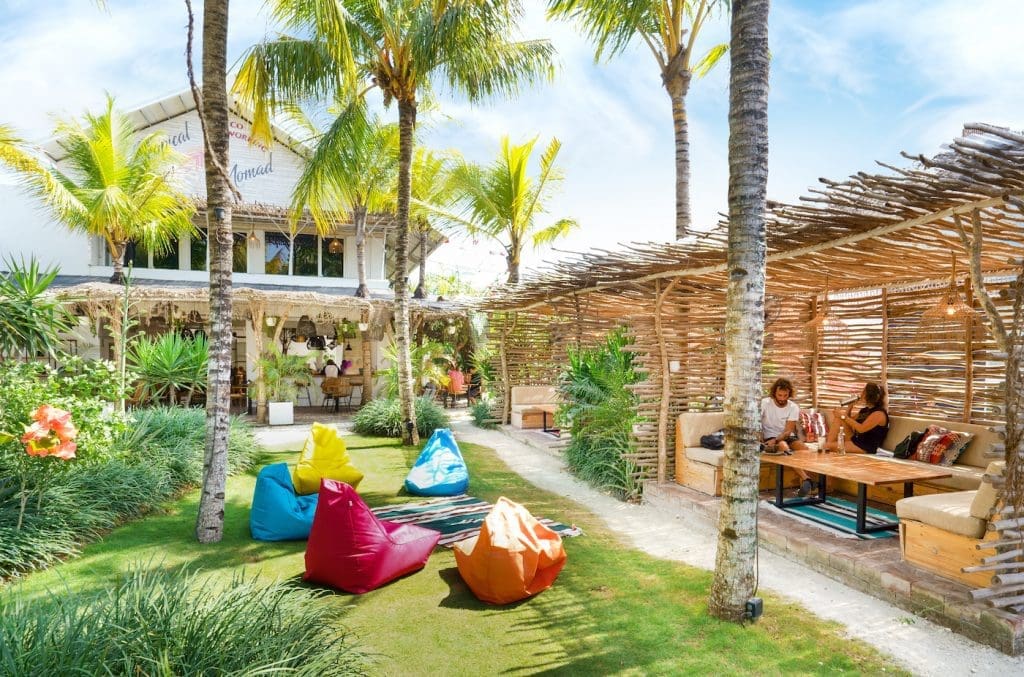 Surrounded by rice fields, Tropical Nomad offers an authentic escape for entrepreneurs. With a tropical setting indoors and out, this popular coworking space has everything you need. Connect with fellow entrepreneurs at the cafe, chill out in the garden or get down to business in the open-concept workspace.
Putting your well-being first is a sure way to improve your overall performance and the team at Tropical Nomad certainly knows how to create a good life-work balance. You will also find a fitness center and dedicated surf racks so you can hit the waves straight after work.
Dojo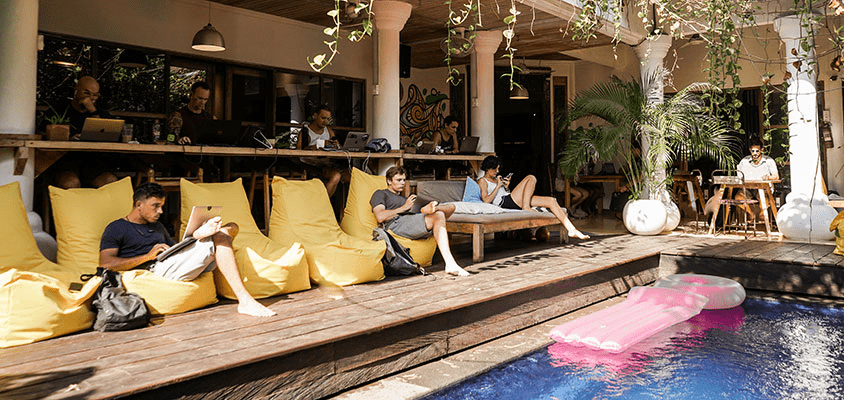 With an outdoor pool area, yoga classes, and trendy accommodation, you could easily be fooled into thinking that the Dojo is just another hip hotel. In fact, it is a wonderful coworking space with fantastic coliving options tailored to the needs of digital nomads.
If you're new to Bali, it's a great way to meet like-minded professionals while slipping into your new work routine. Just a short walk away you'll find the sandy shores of Echo Beach along with local warungs, shops beach clubs and surf shops like Boardriders. Yoga classes, surf lessons and cozy sun loungers will leave you feeling refreshed and ready to conquer.
Kinship Studio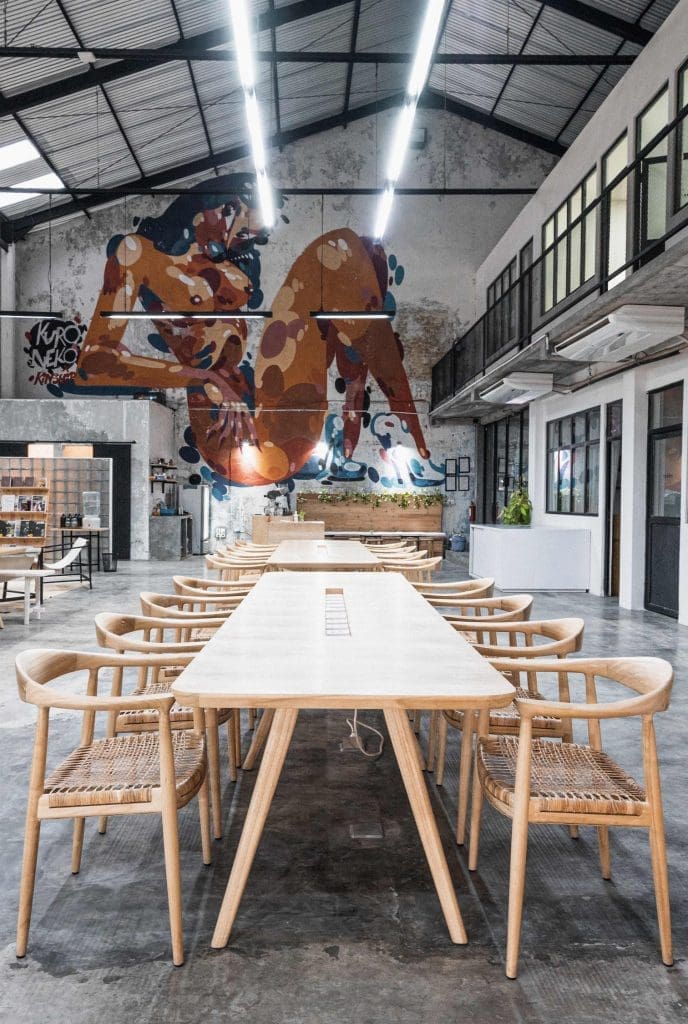 Designed specifically for creatives, the Kinship Studio is a collaborative property with a shared working space and a selection of private studios. From photography to ceramics, this space caters to everyone looking to create. With access to regular workshops and events, it is a wonderful place to learn, connect and exchange skills.
So there you have it. My top 5 coworking spaces in Bali for Digital Nomads.
If you are considering coming to Bali, know that there are plenty of coworking spaces to choose from. Literally hundreds of them. Beyond its beautiful scenery and great surf, the island also boasts a unique cultural experience filled with like-minded people looking to connect, collaborate and learn from one another. With strong and stable wifi, you can feel rest assured that you will get the job done.
Another useful thing to know is that the cost of living in Bali is very low compared to the US and other Western countries. This means that you can live quite comfortably on a budget, saving you more money to spend on the things you value. If you are just visiting Bali for a short time and want to explore as much of Bali as you can in just 1 week, you can check out my blog "The Perfect One Week in Bali Itinerary for First-Time Visitors".
As an entrepreneur in Bali, you can create the work-life balance you've been longing for. So, if you're ready for a change and want to experience life as a digital nomad, then it might just be time to make the move.
Have you checked out any of these spots? Got any of your own favorites? Let me know in the comments 🙂
Share on Pinterest