There are so many beautiful beaches in Florianopolis, Brasil. The island is the capital of Santa Catarina, a state located in the southern part of the country. There is a busy city center in the middle of the island, and isolated beaches along the coast. My boyfriend and I first arrived here six months ago for the annual celebration of Carnaval, and ended up staying through the coronavirus pandemic. During this time, we started learning Portuguese, and most importantly, explored almost all the beaches in Florianopolis!
Fun Facts about Brazil: 
The official language of Brasil is Portuguese
The currency is Brasilian Real (BRL) – pronounced 'hey-al'
'Beach' in Portuguese is 'praia'
The national drink of Brasil is the caipirinha, a cocktail made of cachaça (sugarcane liquor), lime, and sugar – You can find these drinks being sold on many of the beaches in Florianopolis!
Weather in Florianopolis:
Summertime in Brasil is November – March, and temperatures range from 80s to 90s. The water is warm enough to surf in a bikini. During the winter months between June – October, temperatures are 60s to 70s and a wetsuit is definitely required!
Best Time to Visit Florianopolis:
Although it gets crowded with tourists during the summer months, I personally find it to be exciting and lively. Try to make it here for Carnaval in February, where it's sunny every day and the water is warm.
Another thing to note is there is tainha season between May and July where many beaches are closed due to the fishing of the traditional fish tainha (Mullet). While it's definitely an interesting sight and there is an endless amount of cheap fish being sold almost everywhere, if you are there to surf, I would not recommend visiting during this time as there are enforced restrictions on most beaches.
So what are the top 5 beaches in Florianopolis?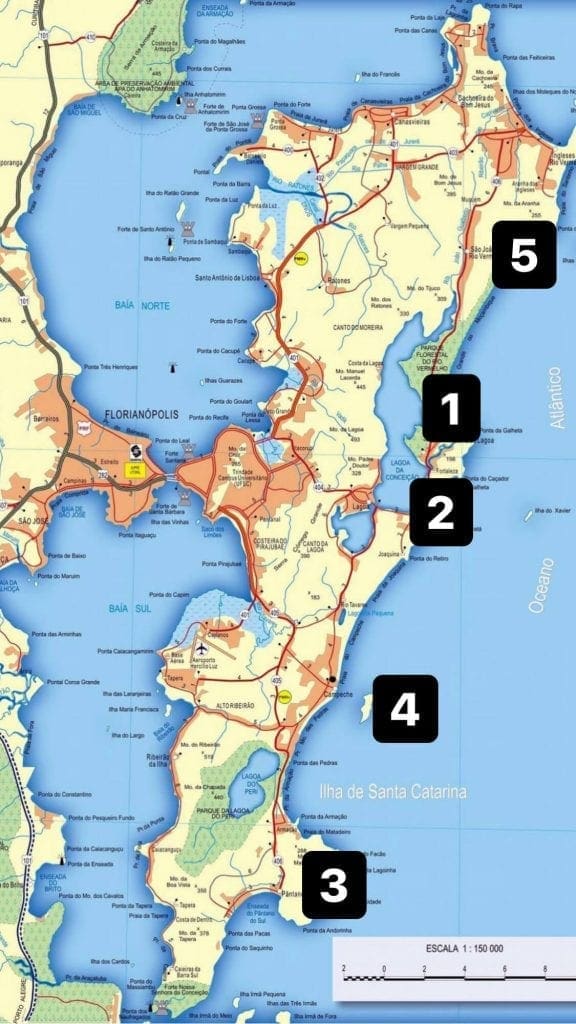 I've marked my top 5 favorite beaches in Florianopolis on a map. There is public transportation around the entire island, and roads are nicely paved. I would recommend dedicating a day to each of the beaches and locations because some of them require time to get to! 
Here are my top 5 favorite beaches in Florianopolis, Brasil (in no particular order):
Barra da Lagoa
Praia das Aranhas
Praia da Lagoinha do Leste
Ilha do Campeche
Praia Mole
Read on to learn why these beaches make the top 5.
1) Barra da Lagoa
Barra da Lagoa is located in the middle of the island and is the perfect place to learn to surf! During the summer months, the beach is packed with people, vendors selling acai, caipirinhas, island clothing, and surf lessons. It's one of the most lively beaches with a lot of restaurants, cafes, and shops nearby as well.
Towards the southern end of the beach is an easy walking trail that takes you to natural pools, where you can explore and enjoy your day on top of the rocks.
Barra da Lagoa is also walking distance to Project Tamar, a non-profit organization to protect sea turtles along the Brazilian coastline. You can see them frequently release sea turtles into the ocean!
2) Praia das Aranhas
Praia das Aranhas is located on the north side of the island. It is only accessible by 4×4 or walking. If you do want to go by 4×4 make sure you know what you are doing! The sand is extremely soft and so it is very easy to get stuck. It's the perfect spot to relax for the entire day if you can get to it! It is a secret little slice of paradise. There's never many people and most days are suitable for intermediate surfers. Other days the waves can get big! Look for a hiking trail along the north side of the beach where you can get the most incredible views of the beach, like the picture above.
3) Praia da Lagoinha do Leste
One of the most famous hikes on the island is the Lagoinha do Leste trail, and before you hike up to the top there is a beautiful beach where you can also surf. Because you have to hike 30 minutes to the beach itself, it is secluded and less crowded than a lot of the other beaches on the island.
During the summertime, there are beach vendors selling beers, water, and snacks. Make sure you hike to the top of Lagoinha do Leste while you're there! It's one of my favorite views.
4) Ilha do Campeche
Ilha do Campeche deserves a place as one of the best beaches in Florianopolis, although technically it is a half hour boat ride away from the island itself. There are boats running frequently from Praia do Armacao and there is no need to book in advance! The water there reminds me of the Caribbean, it's crystal clear blues.
There are two restaurants selling food and drinks, and hiking trails that take you around the island. Only one beach facing Florianopolis is open to the public, as much of Ilha do Campeche is protected!
5) Praia Mole
Praia Mole is another stunning beach in Florianopolis, surrounded by rocks and hiking trails. The surf is consistent all year round, and the beach itself is one of the biggest. There are various restaurants, beach bars and places to park nearby.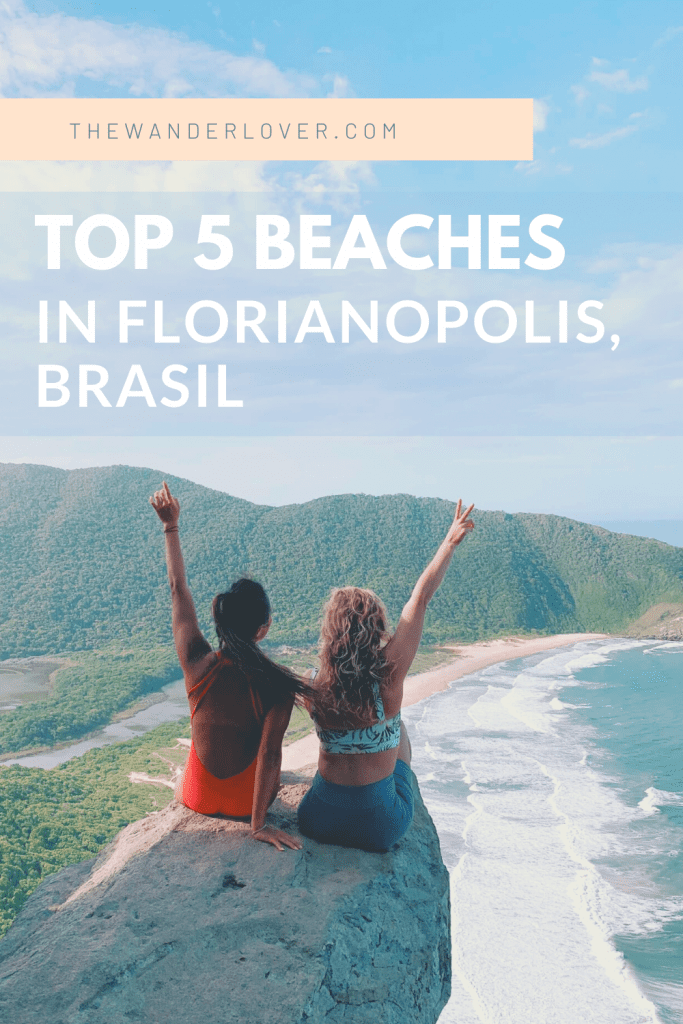 Out of the numerous beaches in Florianopolis, Brasil, these 5 are definitely my favorite. Have you been to this beautiful island? Let me know below!
Like this post? Pin on Pinterest ♡