Small Business owners should always be optimizing their digital marketing to bring in free, organic traffic. This week SEO expert Ragz Thompson, founder of Fern Colab talks us through how you can optimize your businesses' website and blog to bring more traffic to your business.
Get in Touch with Fern Colab: grow@ferncolab.com
Check out their Website: https://ferncolab.com
Follow on Instagram: https://www.instagram.com/ferncolab/
✧ Subscribe on YouTube! https://www.youtube.com/thewanderlover
✧ Free Class: How to Build a Successful Online Business that Allows You to Travel the World
✧ Enroll in Wanderlover Business Academy 2.0
Prefer to read? Here's the blog version…
Hi my loves. Today we are talking all about increasing your traffic reach and authority online by really diving into your SEO strategy with guest expert Ragz Thompson. Ragz is the founder of Fern Colab, a growth agency specializing in S E O web design and digital marketing. We hired them to create blog posts for the Wander lovers. So I obviously recommend them and can't wait to share his knowledge with you all. Welcome back to the show Ragz.
Ragz:
Hello, thanks for having us back. It's good to be here again.
Dani:
And full disclosure guys, we are in Mexico and there's a lot of wildlife, like we have a parrot downstairs, we have birds chirping, so if you hear any of that in the background, just pretend like you are in Mexico with us.
What is SEO?
Dani:
So I guess to get started, for our listeners who have no idea what SEO is, can you please explain what is seo?
Ragz:
Good question. SEO stands for search engine optimization and it's ultimately what you are doing to optimize your website and the content to improve its visibility and ranking on the search engines, right? So when someone searches on Google, you know, it gives you that, the big list of stuff, getting your content on that list and ultimately getting it higher, right? So the goal of SEO is to make it easier for search engines like Google being Yahoo to understand what your website's about and help it show content as relevant for a user's search query, right? So when someone searches for 'the best places to go in Bali', SEO is what puts that content there in that list.
Utilizing SEO As A Small Business Owner
Dani:
Yeah, so as human beings, we've all probably searched on Google at least once in our lives, maybe a few times per day. And as online business owners, this is something we really need to focus on because we get to put our business out in front of all of those searches, right? So can you please give some reasons why small business owners like us need to know about SEO and really optimize SEO online?
Ragz:
Yeah, ultimate really helps you improve your online visibility, right? And it opens up your business or gives you the potential to attract new customers and new leads through your website. At the end point, you're not paying for it because it's organic traffic, it's free. And so the more free and organic awareness you have is gonna help you grow, right? So I guess if you're gonna break it into some points, you would say like you have increased visibility, so you're showing up for more search queries and you're putting yourself in front of more people. Just in general search terms, it's very cost effective. Cause typically you're not paying per lead.
Ragz:
So you are, you're talking like once you're out there and it's organic, it's just free traffic, right? So the more you have, the better. It helps you build your like trust your credibility and authority. So you know, if you are showing up in Google and more people are seeing you more often, that's obviously helping you build your business name, right? And then long term SEO is just, it's always there. So content that you post today will be there in 10 years and you can update that and renew that and just kind of keep that ball rolling a bit, right?
Dani:
Yeah, I love that last point of how your content is forever searchable. So it's different than Instagram or TikTok where you have to constantly be on the content creation quote unquote hamster wheel versus SEO is really a strategy that is long-term and it is sustainable. So you don't have to focus on creating new content every day, although consistent content is really important, right?
How To SEO Optimize A Website
Dani:
So my next question for you Ragz is how do our listeners even start to optimize their seo?
Ragz:
If you're starting off with scratch, one of the really most important things you're gonna wanna do is get some form of analytics and tracking set up, right? So go to Google Analytics, set that account up and connect your website to it. What that does is it will, if you're not already, it will start collecting data about the people that are coming to your website, where they come from and just overall numbers, you know, so before you can really do anything of seo, you need to start collecting information, right? We need to know how many people we've got now so that we can compare it in 30 days or 60 days or one year and see how effective the stuff that we're doing is, right?
Ragz:
So once you've got tracking in place, the next bit would be your make sure that you've like submitted your site map, which is a site map is basically your website broken down as a map and you wanna submit that to Google or Bing so that Google has the map to your website, right? To do that, you'll go to Google search consult, and you create your account. You'll link your website similar to the way that you've done with Google Analytics and you'll see there submit a site map option. And once you've done that, Google then knows the route around your website, right? That's really, really helpful in there as well. It will also highlight any sort of issues that you've got.
Ragz:
So if there's something stopping your website from showing on Google, you can get a lot of that information from Google Search Console, right? So now you've got analytics and you've got that's submitted to Google. The next bit would be really to think about your content overall, you know, like what keywords that you're going to be chasing after. And then you've gotta do some keyword research, right? So you need to identify like the primary keywords related to your products and services because you're gonna want to use them throughout your website in so on like in the content, in the titles, in the descriptions.
Ragz:
And you wanna use different variations of it so that your content speaks about your offering. Okay? So once you've got some keywords down, next steps is gonna be to put them throughout your content right on from there. You need to think about your website load speed. So just make sure your website's loading fast, Google likes that. Lastly, think about getting back links to your website, right? A backlink is other websites or other places that used your like point back to your website, right? So they can be links on other blogs on people's websites like, but basically the more you have of those that come from like good quality sources, it kind of helps Google look at your website and say, oh that's valuable.
Ragz:
You know if people are re referencing that, this must be correct.
Dani:
Awesome. And it's really, really important to note that SEO applies to not only your website overall, but also to the content pieces that you post in terms of blog posts and landing pages, right?
How To Optimize Blogs For SEO
Dani:
So those are all really good tips about how to get started with optimizing your whole website. Now do you have tips for, let's say someone wants to publish a blog post. How do they optimize that individual post for seo?
Ragz (9m 24s):
Yeah. Well blog post is like considered like your more your dynamic content, right? So your, your main page is like your homepage, your about page, your product pages, contacts, et cetera. They're like your static pages, they don't change that much. So your blog posts are all pieces of information that expand your search term relevance. So people searching for something will probably find your blog posts before they find your product or your service. So the way to think about each blog post is how does that help drive traffic to your money makers or the pages that you really want people to go to.
Have A Strong Title
Ragz:
So before hitting publish some things that we should be doing, I would say the most, one of the most important ones is to have a very good title, a very compelling, you know, CLICKWORTHY title for your blog post. If you know when you're on Google where you search something, you've got like the the blue section at the top, which is a bit shorter, then you have a little description underneath, right? Your title's that blue bit and if it doesn't, if it doesn't make me want click it, you're not gonna get that traffic, right? So piece one would be to get your title really nailed down, get a good title. And a good way of doing this is to use Answer the Public, which is a website from Neil Patel, and what you can do in there is drop in like the keywords that your blog post is about, you know, and what it will give you is a whole bunch of different questions that people are searching for online. So real data of like what people actually search for that you can then use to form your title, right? And that title is then more relevant to what people are actually searching for. Okay?
Add Internal Links
Second part would be to make sure that you are adding some internal links to your blog posts. So an internal link is generally a hyperlink in the text of yours.
Ragz:
So you know when you see the the blue word highlighted and you can click on it and it'll take you to somewhere else on the website. That's an internal link. What we want to bit start doing from very day one is kind of building a network that goes down and deeper into your website. So if you've got a particular sentence where you mention something that you've also talked about in another blog, maybe in more detail, you would link a couple words from that. So you're linking blogs to other blogs within the context and that's an internal link, which is really, really helpful. You also have external links, which are links to other websites that are also very helpful, but you don't wanna have too many in your blogs, right?
Ragz:
So, but by adding an external link you can kind of show that you've re, you've researched, you're referencing other sources of information so that it kind of builds up yours as a credible piece of information.
Dani:
Yeah. And it's really important to note that even though you have a website, you might have some blog posts, Google might not be ranking you if you are not optimized when taking into account all of these tips that Ragz has shared. So the earlier you learned this, the earlier you start implementing it, it will set you up for success. And you don't have to make the same mistake I did where I had to retroactively go and get Ragz to fix all of my old content and blog posts. If you can implement all of these from the beginning, it will be a lot more beneficial and you're gonna get a lot more traffic straight away.
Ragz:
Definitely. Yeah. It's very like SEO is so broad, so massive and it goes on forever and ever and ever. Like yeah, if you've got, you can imagine going back through a hundred blog posts trying to optimize them versus getting good ones from day one, right? It's just so much easier if you start start on the right foot.
How Fern Colab Optimized The Wanderlover
Dani:
Yeah, for sure which is a beautiful segue into our last topic for this episode, which is the workflow that you guys help with at The Wanderlover in finding our blog topics, writing our blog content, sticking to a posting schedule. So I would love to pull back the curtains and share with our audience what exactly goes into your work for us and how it's just made our lives so much easier and automated the whole process. How does that sound?
Ragz:
Yeah, I guess so that's, I try, cause there's quite a lot of stuff and I wouldn't wanna b blabber on too much for the Wonder Lever. I guess it's like, it's kind of like our fully managed SEO things, right? So you just say where we wanna be going and we want to be getting more organic traffic, you just want overall more and like then we have some pages that we're directing traffic to. So like certain funnels our, our job is kind of creating the content and like the doing all the technical SEO parts that drive traffic towards those things. So yeah, with the blog we kinda, we think long term, so we are trying to plan out like six months to one year in advance with the kind of keywords that we're going after and then we start creating content around them, right?
Ragz:
So we obviously have like your core pieces, which would be your landing pages or what we could call pillar, pillar pieces, right? And they're the bits that we're trying to direct traffic to.
Dani:
And so the process, it's really helpful because you guys literally have a full view of our content strategy like a year in advance and you create all of the blog posts to support that. I'd love if you can maybe share with our audience how exactly you find the different topics to talk about. Is it usually what's trending or is it more based on the overall strategy?
Ragz:
It's very difficult to find trends ahead of time, right? So you've kind of, we know like what you do, we know what competitors do. Like we obviously spend a lot of time researching what other players in the field do well cause there's a lot you can learn from that. So for you, like we've, we work, we work in a particular niche because we wanna, we don't wanna go straight after like the people that Tony Robbins goes for, right? Like you can't compete with superstars like that in a way. So when the, in terms of like searching the content, we're looking for stuff that we can outrank for like probably stuff that they haven't written about or created content around and changing words changing like the particular search queries and stuff and just giving ourselves a better chance.
Ragz:
And so tools like we mentioned earlier, like Answer the Public are really helpful in a way because we can go out there and see what people are searching for in the real world and then we can take those keywords, we run them through like our, our tools and we get a bunch rooted keywords and they can be long tail and short tail and like there's a lot of mo kind of moving parts in just like the planning of content. But we are always looking for a way that we can outperform other pieces without going into like direct competition with people that are much bigger or better in their place.
Dani:
Yeah, and it's just really helpful to have a team to help you really be the big fish in a small pond instead of just randomly writing some posts and being a small fish in a big pond and trying to get people to notice you.
How You Can Work With Fern Colab
So given all the technicalities of SEO and what goes on in your website on each post, can you please share with the audience what your current packages are for ways that you can support other business owners who want to really improve their SEO and rankings?
Ragz:
So we, we have like a few different things. Like we try to accommodate for everybody, you know, like wherever they are in their journey. So we typically start out with a 30 day audit and fix, which is where we'll look at the, the technical side of things like what's holding you back right now and we'll fix all of those. So if you haven't got your website submitted to Google properly, we'll see that, we'll handle that and we'll resolve that. If there's stuff on your website that's hiding content or you have the wrong heading structure on pages, we'll fix all those things, you know? And what that does is gets everything set up so that you're ready to go in the SEO world normally with that, we'll and like some content recommendations, you know, we'll say you should write articles around these keywords, but we try to give a lot of value to those packages as our typical starting point.
Ragz:
And then from there we move on to like our monthly management things where we'll be we, we start at like a six month period and we'll say these are our goals and we'll do everything for your SEO O over that period to reach these goals, you know, and that will include everything in the audience and fixes. Plus we'll strategize content, we'll brief, we'll create like the outlines, then our writers will write that content. We post everything and that's kind of like your hands off done for you SEO thing. There's like two versions of that and like one will either give you the kind of content brief, so what you should write about or we'll do the writing for you now. So there's two different ones there.
Dani:
Awesome. Yeah, I cannot recommend Fern CoLab enough. It, they've been just super helpful in doing everything for the business. So it's great to be able to trust an agency and just let the content deliver on autopilot. And so if our audience wants to learn more, wants to get in touch, how can they reach you guys?
Ragz:
Yeah, they can head to our website. We share a bunch of tips and how-tos there, we have our contact forms and you know, just reach out everyone, social media or our emails, which will be on our website.
Dani:
Awesome. So I will share those links in the episode description. They are a wealth of knowledge and if you guys have any seo, website branding, digital marketing questions, Ragz is your go-to guy. Thank you so much for being on the show
Ragz:
No worries. Thanks very much.
Dani:
I'll see you all in the next episode. Have an amazing week.
Share On Pinterest!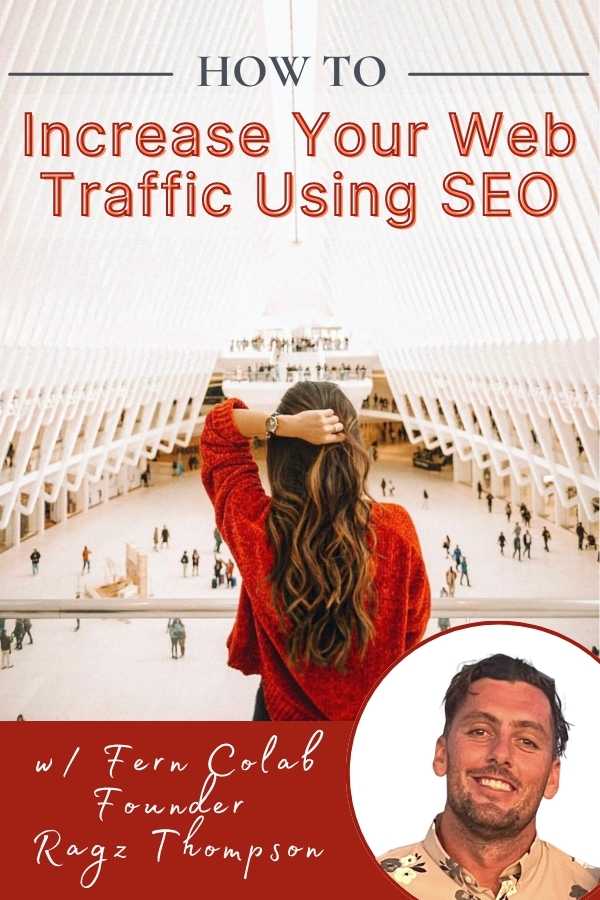 If you've enjoyed this episode, it would mean so much if you could leave a review on Apple Podcasts. This helps us spread The Wanderlover mission to those who need a dose of inspiration today.