We are the sum of the 5 people we spend the most time with. It may sound cliche but in this weeks podcast episode we explore this and how important community is in supporting and dictating your future. Doors to the Momentum Mastermind community are now open and I share with you the support you receive in this community that will help you make 2023 your best year in online business!
Quick Links
✧ Enroll in Momentum Mastermind
✧ Join the FREE Wanderlover Community Facebook Group
✧ Try ClickUp for Your Business
Prefer to read? Here's the blog version…
Navigating An International Lifestyle
Hi everyone. Welcome back to the podcast. Today has been such a crazy day. It's one of those days where so much has happened and I have a million thoughts going through my mind at once, and I just need to remember to bring it back to center and focus on what I can control.
I woke up this morning and I got an email from the Visa Application Center here in Mexico City saying that my Visa application for the UK got rejected. I had planned my Mexico City trip to accommodate for the wait time in getting a decision. I even paid extra like $300 extra for priority services and to just get this refusal letter was very disheartening. It's not the end of the world. I'm very fortunate that the majority, if not all of my prior Visa applications have all been accepted. So this was just a shock to me.
So I got that news. I then went to go get my nails done because I had a nail appointment and that was just so needed, and then I went live in the Wanderlover Community Free Facebook Group. If you're not in it already, just click the link in the episode description and come join us. We are an amazing group of new entrepreneurs who love traveling, who love growing and scaling businesses, so we would love to invite you in. I then had a client call and now I am recording this episode. So it's just been a whirlwind of news and trying to manage it and also self-care and find my peace and ultimately knowing that everything is going to work out and everything is going to be okay.
So some of you might be wondering why exactly do you need a visa to enter the UK As an American, you can enter Visa free as a tourist for up to 90 days, and I'm gonna share this with only my podcast listeners, but rags and I actually want to get married in the next six months. So I applied for a marriage visitor visa. This grants me a six month stay and I am able to get legally married in the United Kingdom because Ragz (my boyfriend) is British and I'm American. It's actually extremely difficult to find a way to get married. It's not like marrying someone from your own country.
We've had to do a lot of research, spend a lot of money, apply for visas that didn't get approved because if you choose to get married on a tourist visa, they can support you because you are actually entering into a partnership and not entering the country for tourism purposes. So we're very careful about that. The other thing is we do eventually want to get rags. His green card and the American processing green card processing system is extremely complicated. If you, if let's just say we went to Vegas and got married there, it would be very difficult for him to prove that he didn't need a visa for that or else, you know, you have to wait two years for a fiancé Visa.
All things being considered, this was the best way we found that we could do this all properly and our visa got rejected. So I'm entering as a tourist and I need to reapply and hopefully it will work out by the end of the year where I get approved. So follow along because it is not an easy process. I can't apply while I am in the uk. I also am gonna be in Europe for the summer, so I'm thinking about applying somewhere in Germany where they have an office. So yeah, stay tuned because it's going to be another whirlwind of potential life changes, location changes, and making this all work.
It's really exciting though because I am a firm believer in investing energy and investing time in every area of your life, friendships and relationships included. So I'm just really excited, although Ragz hasn't proposed yet, but I'm really excited to be figuring all of these legal matters out and to be reaching the next stage of commitment in our relationship. For those of you who are also dating, maybe you're married to a foreign national, I, I feel like you could relate in some regard. Maybe your country isn't as strict, but it's definitely something that is very unique to Navigate. And while I've been going through all of this, one thing that has actually inspired the topic of today's episode is finding your community who gets you so that they support you instead of using your precious time to ask you questions and get caught up to where you currently are.
I think that's the main thing I've noticed between explaining our situation to someone who understands international relations and international travel and having experience and having friends who also went through the same thing versus other people who are asking somewhat basic questions like, why do you need a visa to get married? So there definitely is a huge discrepancy, which brings me to today's podcast episode of Community and why you need one to reach your next milestone in business. 
Why Community Helps You Reach New Levels In Your Business
So first and foremost, depending on when you are listening to this episode, wait list for Momentum Mastermind is either going to be open or Doors to Momentum Mastermind is going to be open.
This is a group and one-on-one hybrid business coaching program designed to get you to your first six figures. So if you are an online coach, a creative, or a service-based entrepreneur, you've already started your business, you've gotten a few clients, but you're making under $5,000 a month, then this program is going to help you reach your highest income year. Yet we're starting in July and we're supporting you all through December. And not only do you get group calls, you also get one-on-one calls with me to make sure you are on track and you are executing. I created this container because when I was starting a business, I've taken courses, I've hired coaches, I've joined group programs, and what truly made the biggest difference was surrounding myself with like-minded individuals.
I came from a corporate finance background where when I told people I wanted to start a business and I wanted to travel the world instead of supporting me and again, having the experience and the wisdom to further me on my journey, instead they filled my thoughts with doubt with how are you gonna do that? Are you crazy? What are you going to do with your finance degree? All of those questions, right? So you go back to square one, finding your community is so important because who you hang out with is who you become. It's so cliche, but it's so true. You learn the habits, the mindset, the actions of other successful entrepreneurs.
You see exactly what works and what doesn't and it changes how you design your hours, your days, your weeks, months, and your life. Usually when my clients are trying to scale their business to six figures, it's a simple matter of fact that you don't know what you don't know. So if you continue doing what you are currently doing in your business, it's going to get you to where you are now. And if you want to grow faster, if you want to work smarter and not harder than you need to be learning new strategies and new systems. And I'm just gonna throw in a bonus tip here because I don't think I've talked about this platform enough, but Click Up as an online entrepreneur is life changing.
It's basically a brain dump of every single task you need to do in your life and business and it organizes everything so you can afford or I can afford, or my clients can afford to just shut down and trust that everything is in Click Up. All of their projects are managed, all of their content is managed, and everything is just there so that when you open up your laptop again, you're back on track to where you were. You don't have to start from square at one. If you don't have a project management tool, I highly encourage you to check out, click up, I will include the link in the episode description.
But things like this, right? Like how you structure your business, what you are working on on a day-to-day basis, if you want to get to the next level, you have to be surrounding yourself with people who are also trying to do the same and not hold you back.
This community is also known for breeding, collaboration and growth. So many of our past graduates have met up with each other, gone on trips around the world, booked one way flights to Bali together, and they grow together on this path. They reach income milestones together and they are just so aligned. And my theory about this is because learning entrepreneurship and growing your business ends up being so fun. It's in this environment where you're meeting and working with your business besties, hence why there is so much momentum. So if this feels like something that is calling out to you like you need to be a part of, I would love to have a discussion with you to see if you would be the right fit for our cohort starting in July all the way until December.
What Is Included In Momentum Mastermind?
And if you feel like you need more information on what exactly is included here is the structure and everything you will get. So twice per month, you will be on live group mastermind calls for 90 minutes and hot seat coaching where we go one by one and we work through exactly what is holding you back. You also get a 90 minute one-on-one goal mapping kickoff call with me so that we can come up with a custom action plan for you through to the end of the year to hit your income goals. And every month you get a one-on-one coaching call with me so I can hold you personally accountable. You'll also get monthly co-working sessions dedicated to getting stuff done.
We're just gonna sit down every month and make sure you have at least a few hours to work on everything we plan and execute in between. Our group coaching calls are execution week. So this is when the monthly co-working is going to happen. All calls are going to be recorded and uploaded for you. And in between all of our calls you'll have access to group messaging, voice notes, video sharing, voxer access, so that we are all just one message away. You'll also get access to my network of creatives, coaches, clients, and mentors, and an inside look into all of our businesses ranging from, you know, you're making a few thousand a month upwards to multiple five figures a month and into mine, the behind the scenes look into my multiple six figure fully remote business.
You'll also get coaching modules and the resource library for anything you are working on in between, from mindset to marketing, Facebook ads, launches, spreadsheets, calendars, templates, everything you need, it's going to be there. And not to toot my own horn here, but what I absolutely love about these programs is that we attract online service-based business owners from all niches and industries. So there's never competition. You're never in direct competition with someone. We've had creative agency owners, we've had life coaches, human design readers, fitness coaches, illustrators, web designers, graphic designers.
There are so many ways you can grow and scale your business. And I know this because I have multiple income streams. I have at least seven at this point that I've been able to grow and scale successfully. So with all of that experience plus the experience of coaching people in different industries, I know what works and I'm really excited to share all of this knowledge and excitement with you. There is so much value in this and I truly believe it is the one program that is going to get you to your next milestone, and I am over-delivering. I am so happy to, and I would love to invite you inside. I will link Momentum Mastermind in the episode description, but let me know if you would like to set up a call to see if it's the right fit for you.
You can read all the testimonials and past experience from our past graduates. I look forward to hearing from you very soon. Cheers to your most successful year yet!
Share On Pinterest!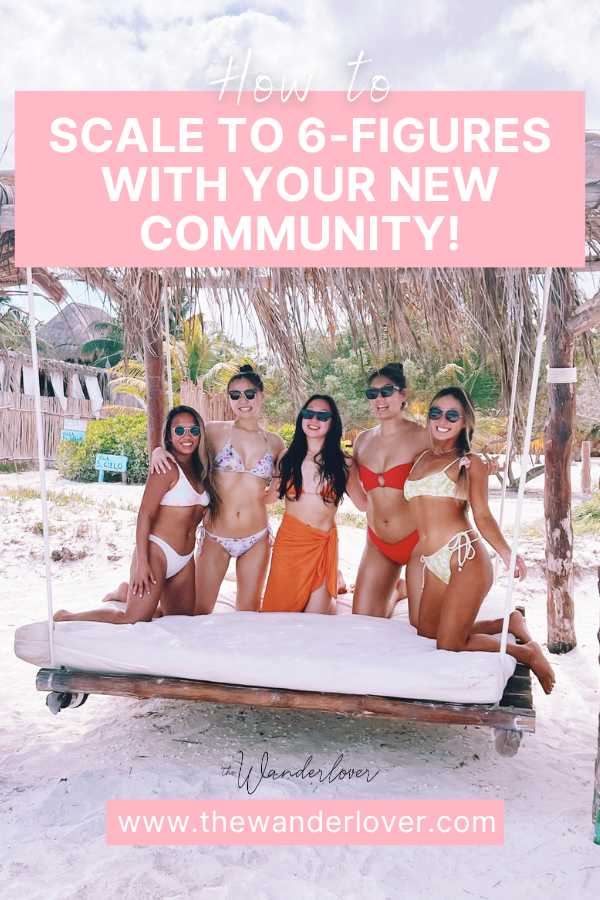 If you've enjoyed this episode, it would mean so much if you could leave a review on Apple Podcasts. This helps us spread The Wanderlover mission to those who need a dose of inspiration today.