I am officially a Mrs but that hasn't stopped my travel bug! A week after the wedding, Ragz and I are already setting off on our next adventure. I can't wait to share with you all the tips on how you too can become a Digital Nomad and have these adventures of your own!
Quick Links!
✧ Join the Digital Nomad Society for just $7/month
✧ Follow The Wanderlover Podcast on Instagram
Prefer to read? Here's the blog version…
Officially Married!
Hello, my loves Welcome back to the Wanderlover podcast. This is the first episode I am recording since getting married, I am officially a Mrs!.
I am still buzzing from all of the wedding excitement, and I don't think I realized because we planned the wedding so fast as in less than three months, but I felt a giant weight being lifted off of my shoulders as soon as everything went according to plan, and it was one of the best days of my life. But I think because there was this expectation, because there's just so much going on with wedding planning, I didn't realize until it was over that wow, like we actually did it! (Want to know how I planned it in 3 months? Check out the story here!) And now I feel like I don't have that much to worry or stress about anymore, which is great, but at the same time I'm like, can I do it again?
It was amazing. So for those of you who listened to the episodes from the past few weeks, you'll know that before the wedding, I went up to London to meet up with my parents, my brother and my brother's girlfriend, and that was such an amazing trip in itself from Cornwall. So we've been in the southwest of England and that's where the wedding was. But then I went into the big city. It was my parents' first time in London, and it was also my first time hanging out with my brother's girlfriend, Mackenzie. And she is amazing. I am literally obsessed with her and I just think they are so cute for each other. I am really grateful that I was able to spend time with them before the wedding and show them around London.
We did a lot of walking. We also did a hop on, hop off tour bus around all of the famous landmarks, and we were able to take a cruise up and down the Thames, which was really nice. We got dinner in Chinatown because I was craving authentic Chinese food, and we also did another dinner at the Shard on the 36th floor, and that was a really cool experience in itself as well. While this was all happening, I was getting messages from Ragz who stayed back in Cornwall to help get ready and to help prepare for my family visiting that it was Thunderstorming and there were really intense floods in parts of the southwest, and we were expecting to need to move our entire wedding reception and ceremony inside, and we were literally planning for the worst.
At that point, I was honestly kind of bummed because we had plans to have the ceremony outside in their amazing garden. There's so many different plants and animals and flowers and rose gardens and just so many different colors. We had an amazing marquee that we were going to decorate really beautifully, and I was just imagining everything happening inside. And I was like, no, we worked so hard on this. But when the day came, it torrentially rained in the morning while I was getting my hair and makeup done, and then it completely cleared up. So we were able to do everything according to plan. We had the ceremony outside, we had the reception out in the marquee, and I think my favorite part was just getting to spend so much time with my family, Ragz family, and all of our friends visiting.
It was the first time that my family met Ragz parents. And despite being from completely different worlds like city versus rural, Asian American versus British, I think everyone got along so well. And it just shows that no matter what your upbringing is, you can connect and have the same energy as other people know that there is a commonality between every family and every person, no matter how different they may seem. I honestly could not have asked for a better day slash night slash week. We ended every single night at like the or 4:00 AM just playing mafiaa, which is one of my favorite card games that I played with my friends.
Growing up, we would just always have these giant Mafiaa game sessions in my basement, and it's just something that I think is so special and it was really meaningful to have everyone at our wedding play Mafia until like 4:00 AM. It's also surreal to think not only am I married, so now when I send out emails and dms, I, I have to say my husband and I, and that's gonna take some getting used to, but also it's surreal to think that when we are driving just down the street of this little village in Cornwall that my parents, my brother, my friends from New York have been here.
Yeah, everywhere we go, I just have such amazing memories introducing our friends and family to pasties, taking them around Cornwall, we went to St I's and Port Levin introducing them to the pub culture. And my heart is just so full from watching my two worlds kind of like collide and it just being so memorable, so special, and I will honestly cherish these memories forever.
Our Spanish Adventure
And now that the wedding is over, we are about to embark on our newest chapter of our Digital Nomad Adventure. Our next stop for the next few weeks is Northern Spain.
So we're going to be exploring a brand new part of Spain that we've never been to before. Last year when we were driving from England through France Spain to Portugal, we were in Basque country, so we went to the cider houses near San Sebastian, but this time we are taking the ferry, the car ferry from Plymouth in England to Santander in Spain, and then we're gonna be driving West. So we're going to be driving through Ria Asturias and then ending up in Galicia, which is on the Atlantic coast right above Portugal.
I feel like at least as an American Northern, Spain doesn't get as much recognition or marketing as Southern Spain and other parts of Spain. So I truly feel like it's a hidden gem, and I'm really excited to bring more awareness to this part of Spain because it's one of my favorite countries. And last year when we were in Northern Spain and went to the cider house, we had so much fun. So the day we arrive is actually going to be Ragz' birthday, and we are of course going to a cider house. And for those of you who don't really know what I'm talking about, because I didn't either before I went, they have such a huge cider culture in Asturias in Basque country. And you go to these cider houses known as ciderias, they have floor to ceiling vats of cider, and someone pokes a hole through this new, never before opened or tasted vat of cider.
And you get this cup and you have to stand there as the cider's like spewing out through this little hole, and you have to catch the cider in your little cup and people are just in line trying to catch the cider. And also you make a ton of new friends. So that is the experience we are going for. We're going to spend a few nights in O V A though and then go to Heon. And then for the majority of the next few weeks, we're going to be spending our time at a hotel that is literally on the beach or apartment has a balcony that overlooks the surf, and it's one of the most famous surf spots in gia.
So I'm gonna be back on my surf every day grind and waking up to the sound of the ocean, which is so amazing. And I'm honestly spoiled because it has just been my reality for so much of the past few years. Being able to literally step outside, be on the beach, and then go surfing. (Check out my top 5 digital nomad destinations for surfers here!)
How To Become A Digital Nomad
And this process of finding accommodations, finding places in the world that is just so fun and aligned to how I want to be spending my time. I teach this process in the Digital Nomad Society, and I'll kind of walk you through how I go about this process myself. But basically the three phases that we teach in the society, learn, plan, and go.
Learn
So you do your due diligence, you learn from other people, you have a sense of what you want to achieve or what you wanna experience for yourself, and you find the places in the world that align with that. A lot of times, new destination inspiration can come from just talking to other people.
So on our last members meet and greet and Q&A session in the Digital Nomad Society, we were talking about destinations that some members have never even heard of. We were sharing resources that some members never even heard of, and they're like, oh my God, I can actually go to so many more places because I didn't know that these tools were accessible to me. And so learning as much as you can about yourself, about what you want to do is the first step.
Plan
And next we plan exactly how you're gonna get there and how you're gonna make it work for yourself. So at least for me, I find the destination we knew we wanted to go to Northern Spain, and then we plan, okay, where are we going to stay?
Are we going to be right next to the beach? And if so, which beach? How long do we wanna stay for? And when exactly can we take a car ferry from England to Spain? We plan it all out. And this has been narrowed to a science that we can do in a few days time. I think this full Spain trip took a few days max because we are just so aware of the tools that are available to us and we know the exact type of experience we are going for. I also thought it would be super fun to reach out to some luxury hotels in Northern Spain to help them promote their property (I go through step by step how to get paid to travel here). And that is looking like it's going to happen sometime in November. So it's just really fun that I'm able to also create content not only for my page, but also for these hotels as well. And all in all, I can confidently say that the next month and a half is looking exactly like how I dreamt for it to be. Every single activity, every single location has been carefully thought out.
Go
And the last phase, so after we learn, after we plan, we go, we go full force. There is no turning back. We make the most out of every experience, and we kind of curate our day to days as we are traveling to be aligned with what we want to do or to see for the day in the Digital Nomad society. We make sure that we are feeling balanced with our work and life.
Connect With Other Nomads in The Digital Nomad Society
And so in the society, I give you a time tracker where you can literally see how much time you are dedicated to work and how much time you are dedicated to life. And you can track that over time to see what works best for you. If this lifestyle sounds like it is calling your name, if this is something that you want to make your reality, I personally would love to invite you into the digital Nomad society, or you'll be surrounded by other members, aspiring and current digital nomads who are working to make this a reality for themselves as well.
The synergies on our bi-weekly group calls the comments, the support that you'll find in the community is unparalleled, and I'm constantly adding in new trainings and new modules and new resources so that you feel fully supported and for you to make it your reality ASAP. After our last call, Amy, one of our members was like, 'Just got off the live training with Danielle. It was incredible. I wasn't expecting it to be so informative, informational, inspiring, all of the things. Thank you, thank you.'
I make sure that each member is fully supported. You literally have access to me as well as the modules, trainings, templates, and our community. So you get all of this for $7 a month. There is no strings attached. You can cancel at any time. Our next call is next week. So If, you join by then. I hope to see you on our next group coaching call while I am in Spain. So wherever in the world you are, you are welcome to join us and if you have any questions, just message me on Instagram. Have an amazing travel filled week guys. I am sending love to you all.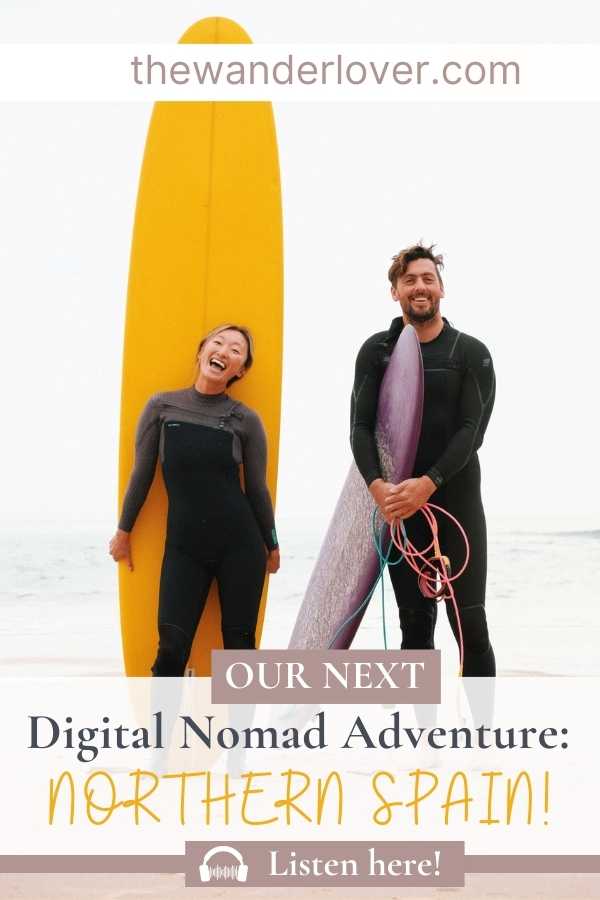 If you've enjoyed this episode, it would mean so much if you could leave a review on Apple Podcasts. This helps us spread The Wanderlover mission to those who need a dose of inspiration today.