Introducing the newest version of The Wanderlover Business Academy! This self paced 8 week course (with free group coaching!) is for you if you want to change your reality and create a business, but you don't know how. The Academy 3.0 is a step by step guide that has helped many others before you achieve 5k months within weeks of finishing the course.
Quick Links
✧ ENROLL in Wanderlover Business Academy 3.0: an 8-week online course to start your online business: https://thewanderlover.com/business-academy
✧ Subscribe on YouTube! https://www.youtube.com/thewanderlover
Prefer to read? Here's the blog version…
Hello, hello everyone. We are officially live with Wanderlover Business Academy 3.0. Woo! I cannot believe this is the third time we have released the Academy.
So much has changed since two years ago when I announced the first edition of the academy for the first time. And since then, we have so many students seeing insane results with their lives and their businesses booking one-way flights, moving to Bali, hitting 5K months. And that is what the academy is all about. It's not just another business course. I really designed it with you in mind. The Travel loving, freedom loving entrepreneur. It is the course for new coaches and creatives. And if you sign up in the first 48 hours, you will get a completely free one hour goal mapping strategy session with me so that we can plan out exactly what the rest of the year will look like for you.
Types of Location Independence
In this episode, I want to share why the Business Academy is your key to starting an online business and hitting 5K, 10K months and hitting six figure years and beyond. And I wanna start by explaining the concept of location independence. For those of you new to the show. Hi, my name is Danielle. I have been traveling around the world full-time for the past five years, growing my online business, working with clients and customers from around the world, and hitting multiple six figures, replacing, exceeding, and multiplying my annual salary of when I used to work for a large trillion dollar bank in New York City.
So I can fully attest to the power of starting and scaling an online business because there truly is no limits. It's not like you're capped by an annual salary, you're not working for anyone else. And this all started because I had this vision in mind for my life. I knew I wanted time freedom, location freedom, and financial freedom, and how I filtered out my options. I asked myself like, if I wanted to travel and not have to report to anyone, what could I do? And I kind of saw all of my possibilities in this matrix dependent on whether I would be working for someone else or working for myself. So being an employee versus an entrepreneur. And then I saw all of my potential opportunities as being location dependent, as in I had to stay in one place or location independent where I could work from anywhere.
Full-Time Location Dependent Work (Corporate)
Before when I was working for a bank in New York City, I was working for someone else and I was confined to New York City because I had to go into the office five times a day. And so that really limited the ability to travel for me and the ability to take vacations for an extended period of time. One of my biggest things was like, I hadn't visited Australia at the time, and I thought, okay, I have 10 days of the year vacation, and if I wanted to make a trip to Australia, I would have to use all of those days for this one trip.
I would probably spend, you know, three days flying to and from there, and I couldn't take a vacation for the rest of the year. Like what kind of life is that? And then I started calculating like, okay, in two years time I get five more vacation days, and then in five years time I get this many more vacation days. But it was so much time for so little trade off, I was making really good money. So finances weren't a problem, but I was really tied with my time and my location. And keep in mind, I came from a finance and economics background. So everything I do is very calculated. The risk is calculated and I had to weigh out all of my options.
But it's really cool because once I had those filters of how I wanted to take that next step, a lot of these opportunities, it was so easy for me to filter out. Like for example, when I approached my mentors, my friends, my coworkers about wanting to shift careers, some of them would mention, why don't you go work for a startup? Because you get more flexibility with your hours, you get more vacation days. But still, it wasn't giving me that location independence that I was seeking, right? So do you see how when you have those clear filters, it's really easy to know what exactly would be the right next step for you?
Remote Work
The other option with more flexibility is to work remotely. So still be working for an employer, but because of the power of the internet, you can be working and be based anywhere. There is internet. But what I've found and the people I've met on my travels, what I've found to be true is that you're usually confined to your employer's working hours.
So let's say you're working New York hours, there's only so many different time zones you can locate yourself in before it becomes like nocturnal for you, for example, right? Like I wouldn't have been able to spend a year in Indonesia probably if I was working New York hours, and that was something else I took into consideration.
I didn't like the idea of still having to request vacation days. I didn't like the idea of having to still report to a boss. So that didn't sit well for me, although it was a really valid option at the point as well.
Entrepreneurship
The next step, if you don't want to work for someone else, you can become an entrepreneur. But entrepreneurship has so many different industries and so many different ways you can work for yourself, ranging from starting a restaurant or becoming freelance or starting your own boutique or starting your own online shop. Or what we teach you in the academy to do is to start your own online business as a coach and creative, this is the business model that I teach because it has just worked so well for me and for my clients.
And being able to build your own personal brand online is invaluable. You can take it anywhere in the world with you. You can take it along with you as you pivot through different chapters of your life. And it is truly an investment that you will make back over and over and over again.
My Journey To Entrepreneurship
It took me many years of trial and error to get to this point. Like you guys know, I used to work in finance for a big bank because I thought financial freedom would give me happiness and it really was lacking in many other areas. Before that, I was a teacher assistant for Cornell University for many of their online certification classes, and that's when I was able to work while I studied abroad in Hong Kong. So I was seeing a biweekly pay check. However, it was so difficult for me to navigate working and studying abroad, especially in Hong Kong where the time difference was very, very large. And I actually got penalized a few times because I would miss out on my shifts.
And that's when I realized like, oh my gosh, this is really stressful. I want to be able to travel and explore, but I'm really confined to the time. And then afterwards, I played around with becoming an entrepreneur, but not being location independent. I was drop shipping, I was doing Amazon F B A, I opened my own online shop where I held inventory. And because of the shipping costs, because of the overhead and having to pay Amazon a huge percentage of my sales, it wasn't completely scalable and it didn't feel right to me. And as you can tell over time with lots and lots of trial and error, building your own online business, growing your soul aligned audience, and emphasizing the profitability of an online business where you don't have the overhead costs, you truly have so much control.
And I encourage all of my clients and all of the people in my audience to really think about this. Because for example, I have friends who own restaurants, right? And they will work 8, 10, 12 hours in their business, but they can only scale it to a certain extent. They can only scale it to the capacity, how many people can fit in their restaurant and how many hours they are open in a day, and how many deliveries they can make in a day, right? So there are a lot of confines.
Who The Wanderlover Business Academy 3.0 Is For
We need to take advantage of the internet and all of the opportunities that are on there for you. And I will teach you how in the academy. It is for you if you have the drive, the passion, and the desire to make money working from anywhere.
But you are struggling to turn your ideas into a sustainable business if you are ready to monetize and share your gifts with the world. But you need systems and infrastructure and accountability to be seen. If you desire to build your brand online. Let's say you've already kind of tapped into entrepreneurship, so as a coach or photographer or fitness trainer, or you are a nutritionist or a human design reader, all of these things can be brought online and I want to show you how. And if you are committed to making your first $5,000 month alongside a community of like-minded travel loving entrepreneurs who get you, then the academy is for you.
What's New In 3.0!
I'm so excited to announce 3.0. We added in so many more resources and video tutorials. The most exciting thing is in the beginning, in the first module, I actually include a 5K roadmap. It's basically like a checklist of every single thing you need to hit your first 5K month so you know exactly what you can expect and what you will be working on in order to hit that milestone. There are contract templates for you to use, there's ads tracking templates for you to use. And what's also really exciting is I added in a full email template library. So with welcome sequence automations, with book a call automations, beta call automations, all of these things that you might be thinking like what exactly are these?
You are going to learn and within eight weeks you're going to be implementing them for yourself. How the program is structured is you have video lessons every single week, and you also have a workbook for you to work through and execute on. I include all the execution items in boxes, so you really have no excuse other than to do exactly what is in front of you before moving on to the next lesson.
The Modules
We first go through Wanderlover concepts. So this is my proprietary transformational concept system that has helped me and my clients go from zero to 5K months, so I know that this works. Next we go through Online Business Foundation. So this is where we're going to build a solid foundation for your social presence. We're gonna set up your website, we're gonna set up your email list, we're gonna set up your email automations, and I'm gonna teach you exactly how to do so with video walkthroughs. Next, we're going to create your content, and I share with you my content calendar. I share with you my copywriting secrets and I also give you so many caption ideas to work off of. Next we'll craft you signature offer. I'll teach you how to seek demand, how to create and how to price the perfect program as well as set up all the tech on the back end.
The next module is know, like, trust and inspire. This is where you build a loyal, raving community of audience members that want to continuously learn from you and follow you. Soul led launches, we're going to go through launching, online marketing (facebook ads, pinterest etc) as well as scaling to 5k months and beyond. So this includes my passive income secrets, my course creation planner, creating multiple streams of income while receiving everything else you need in terms of mindset and accountability. Like my imposter syndrome 'be gone' pep talk and cheat sheet module. Where every single time you are comparing yourself to others I give you a pep talk and you have a cheat sheet to get yourself out of that funk.
I think the most incredible thing that I still offer is my private facebook community where I do private coaching sessions at least once a month. You can get personally coached by me and all of your questions answered as you work through the modules. And I really love this high touch feel that you still get with me. Although it is an online course, I understand everyone's situation and that everyone's business is unique. Which is why I offer this customized support.
If you click on the link in the episode description, you will see that you have the option to sign on with 1:1 Voxer access with me. This is if you want a bit of private coaching as you will have direct access to me. We can message and voice note in real time so if there is anything that you want help with, I am just one message away.
Member Testimonials
You can really expect expert structure, guidance and support. Our members have literally changed their lives and they've seen such amazing results. One of the members that you will meet said:
"This program truly works. My visibility rates have skyrocketed. I onboarded one client on Saturday and I have three ready to start next month. I started growing my email list and already got one high ticket client from it. I am in the process of writing two e-books and can begin selling those as well. This program honestly truly world. Thank you Danielle for creating it as it trul gave me the step by step process to get my business running. The biggest thing for me was creating a revenues goal sheet and doing the launch because I've never done that before, and I've learned so much."
There are members both old and new in the facebook community that you can learn from and you will get to meet them on our monthly live coaching calls.
I believe in this program so much that I offer a 60 day money back guarantee. If at the end of the 8 weeks you don't see the results, then I will give you your money back no questions asked. Just go through the modules, build it out and I am so confident that if you do the work, you will get there.
So if you're ready and you want your key to starting an online business, scaling it to 5k months and beyond, I encourage you to check out the Business Academy. If you sign up within the first 48 hours I will include a free goal mapping session. You don't want to miss out and you also don't know what you don't know. So if you want to create a new reality for yourself, you need to take different actions and I would be honored to support you on your online business journey.
If you have any questions please don't hesitate to reach out via email or via Instagram. I'll see you inside the academy and cheers to your online business success.
Share On Pinterest!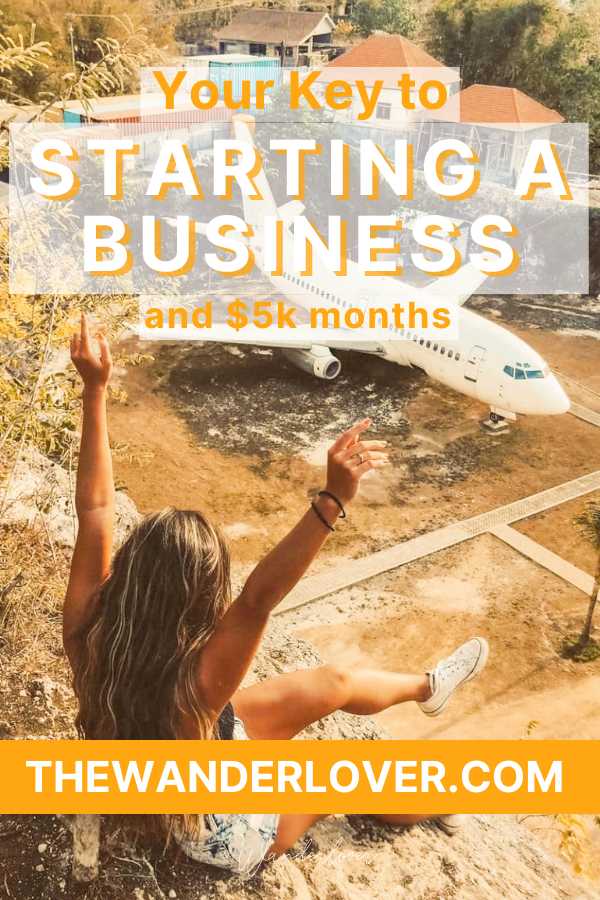 If you've enjoyed this episode, it would mean so much if you could leave a review on Apple Podcasts. This helps us spread The Wanderlover mission to those who need a dose of inspiration today.