This week we cover one of my favourite ways to make passive income in your online business. Listen in to learn when is the right time to start a course (5:00), how to create & validate your idea (7:49) and finally recording it and marketing it to the world! (13:50)
✧ Enroll in Wanderlover Business Academy 2.0
✧ Download My 0 to 6-Figures Case Study
✧ How to Build a Successful Online Business that Allows You to Travel the World
✧ 10% off Passion Planner w/ code DANIELLEH868
Share on Pinterest or Instagram!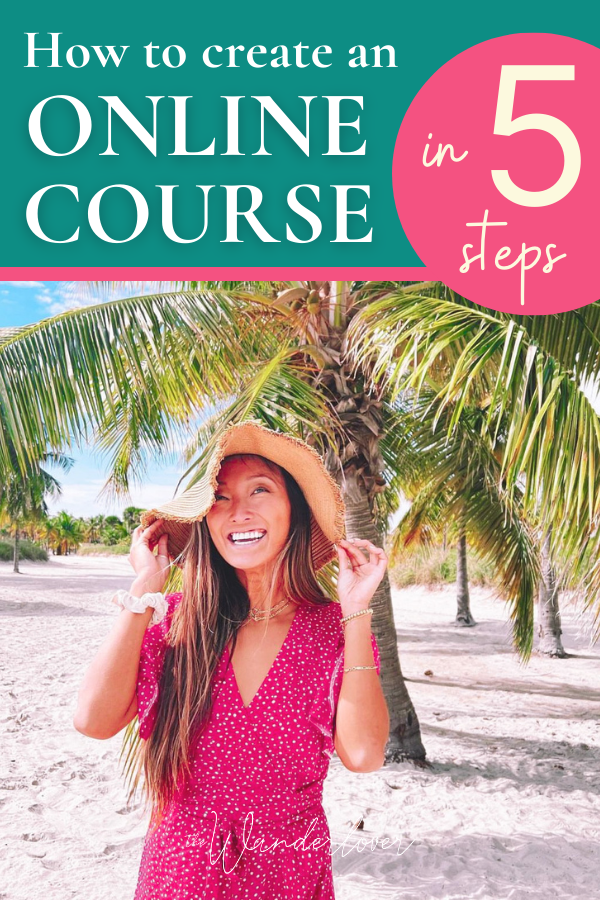 Prefer to read? Here's the blog version…
Introduction
Hi everyone. Welcome back to The Wanderlover podcast. I'm your host, Danielle Hu. You might hear waves crashing in the background right now. We'll see if our editor can edit it out because right now in here, you can hear every wave, which is amazing. Every night we fall asleep to the sound. If you've listened to the podcast for a while now, you'll know that this is the background in many destinations where the same issue has happened for podcasting.
It's not the greatest, but as we say done is better. Perfect. Oh, and I think it just started raining!. So that's another obstacle, but we must go on. September is such an exciting time, we have a special happening here at the headquarters. If you've been procrastinating, starting your online business, it's September and you're looking for a way out. If you haven't made money online yet, and you really wanna make this online business thing work so that you can work from anywhere, but you're throwing spaghetti at the wall and nothing is sticking.
Then check out The Wanderlover Business Academy, where we teach you how to turn your passions into profits online. We're offering a payment plan for the month of September only. So you can get started with full access to all the modules. We'll help you step by step, with what to work on each week. So you have no more excuses, you know exactly what to execute on. And you'll have a roadmap to scale to 5k months by the end of the year, we have a community of other entrepreneurs who have invested in the program and taken action in the facebook group. Then, I do live Q and A, and live coaching every single month.
So you'll be fully supported. If this is something that resonates with you, and this is what you need in your life right now, you can check out the Business academy in the episode description and of course just DM me if you have any questions. We are on track to generate 6 figures with the Business Academy, and it's one of my favourite offerings in my product suite. So after successfully developing this online course and also successfully helping my clients do the same, this week's episode is on how to create an online course.
Why you should build an online course
First, let's start with why you should create an online course. One of my favourite things about introducing an online course to your business model, is that it's passive. You create it once upfront, every time someone buys, you can get enrolments and payments in your sleep so you are no longer tied to anything one on one. You're no longer getting paid for your time. This is independent of your time, and most importantly, an online course allows you to get paid from anywhere so you can work from anywhere. You can sustain your location freedom, independent lifestyle, even when you're not working, or when you're not connected to wifi.
This is my favorite reason. This is why I have an online course. And this why I encourage all of my clients to do the same. With an online course you can also serve many people. You have the ability to serve people internationally. You can market your course internationally and you can reach such a big audience. You can reach the audiences that are ready to learn from you and ready to buy from you .
Last but not least, creating an online course, I believe increases your authority in the market. Because when you are able to teach everything that you learn and package it into a really professional course, then it increases your authority. People are like 'Oh I want to learn from them because they're teaching this'. So it only adds to your brand. I t will only help direct more traffic and more awareness to you, your business and all your other offers.
In the Business Academy we have students from all over the world and it's just really cool how you can see how people run their online businesses differently, but the foundations are the same. The processes are the same. And when you can share things with each other, that is where the magic happens.
With that being said, lets also cover some down sides to creating an online course because it's not always the best option at all times. There is a large time commitment up front. You have to record it, you have to create it, you have to market it and we're going to cover everything in this episode. But because of the time and financial investment in the beginning, I would not recommend it if you don't have other streams of income yet. If you're not already making money, if you're not already testing your business then I would not recommend you focus on an online course right now.
The other downside of creating an online course is that you can't price it as high as your 1 on 1 or group programs. So if you don't have those in place yet and you need a large cash injection in the next month or two, then I would not recommend starting with an online course. But if you know you're ready or if you just want to learn so that when you are ready you know exactly what to execute on, you can book mark this podcast to refer back to. Just to have it in your little handy business tool kit.
So lets get started!
Finding your course topic & validating your idea
The first step is deciding on your course topic and if you know what your place is in the industry, what are you known for and what does your audience struggle with or ask you for advice on. What do they come to you for? If you can clearly answer this question, then it should be really easy what you should package into this offer. Maybe you already have clients who come to you with the same questions. Maybe you have a community, maybe a Facebook group and people are sharing the same struggles over and over. We need to notice these trends and all you have to do is decide that this is exactly what they need, and this is the solution that I can offer,
Once you have your course topic, come up with a name and we want to validate your idea before ANY creating or recording. Do not create a course if you don't have the demand fro it. The last thing I want you to do is spend all this time, mapping out your course, creating it, creating all the assets…and no one buys.
So before we even do any of the work, we want to validate your idea an dthis is done through communicating and asking your audience. Asking the people who are going to buy from you, whether or not they need this. And most effectively you want to get on the phone with the potential buyer.
So anyone in your current audience, you can ask current clients, you can go into facebook groups, you want to go to other places where you ideal client would be. Ask people if they would want to learn this from you. Do your market research and get feedback. We have to make sure there is demand.
So for example The Wanderlover Business Academy was created because I was fully booked out for private coaching. I had the demand for people who wanted to start online businesses. And this is often ties what happens when you start with 1:! Coaching. You reach a certain threshold. And that is when you can decide if you want to create and online course because you have proven there is already demand.
So one you do your research and you have proven that people are going to buy this from you, we are now going to map it out. What is the overall promise or transformation, or what is the information that you're going to share? Where is Point A before taking your course and then after going through the course where are they after?
Recording & Creating The Course
Once you know this you're going to want to map out the steps needed to achieve the desired results. SO what are the modules, what are the steps, what are you going to teach in this course?
So for example, Wanderlover Business Academy helps you go from 0 – 5k months with your online coaching or creative business. The steps that I've developed, that I've worked with my clients through and through again, and proven that there is success…those are the modules.
So for example my steps: Wanderlover Concepts, Online Business Foundations, Content Creation, Content that Attracts a Soul Aligned Audience, Growing Your Audience, Crafting Your Signature Offer, Getting Your Audience To Know Like And Trust you, Launching Your Offer, Soul Led Launches, Online Marketing and Scaling TO 5k Months.
Those are the steps that I teach in The Business Academy that are going to get you from 0 or business idea, to monetisation. Point A is being lost and confused and not really knowing the business side of creativity. And Point B is feeling confident in a CEO position. Feeling confident knowing what to do next and how to run a business so that you are making money, working with people you want to work with. Carring out your soul's work knowing that this is what you want to be doing in life. And of course being able to do this from anywhere in the world.
That is the promise of the Buesiness Academny and I want you to think the same. What is Point A, What is point B, what is the transformation. What are the steps needed to get there?
After you've decided that, you've mapped it all out. You've probably mapped ou tht emodules, the weeks the months. Decide on how long the course is going to be. Is it going to be drip fed week by week? Or all at once, go at your own pace.
Once you know that, lets decide on the structure of HOW you will teach the content. Will you have slides in screenshare? OR will you be talking to the camera? Is it going to be slides only? Is it going to be in emails? And modules aside are there going to be additional workbooks to keep them accountable? Homework maybe? Are you going to include a community? Are you going to create any type of support? Do they get 1 on 1 access to you?
Think about all of these things, but think about how you can best guide your customer to their transformation. You want to make sure they are fully supported, you want to make sure they get results because we are also focused on the results. We want to make sure that our program is working so that we can market it and continue to sell it. We want to be the best in our industry.
After you have decided on the structure of how you will teach the content, we are going to want to record the content! And this is honestly one of my favourite parts of creations. Because you get to just be yourself! And talk about something that you're so passionate about. Talk about something that you spent so much tie learning and now its really a place of service where you can just share it to someone else that is equally as invested, equally as interested in your story and your life. And you're just helping them along! Getting them to their Point B faster than if they were going to do it themselves. And that is the beauty of online coursed. You are carrying out your souls work and reaching the people that need it the most.
Recording does usually take a few days depending on your work set up and work flow. This is also the most time intensive if you are editing the videos yourself. I want to re-itorate, you do not want to be creating an online course if oyu don't have the time of=r money to invest.
SO in addition to creating it you also have to work on the tech behind how you're going to present it, your student dashboard, how your students are going to access the course. The Wanderlover Business Academy is hosted on Thirve, Heart, Learn. I know there are other course patforms like Kujabi and of course there are other professionals who are familiar with the platforms who can help you get the course up and running.
If you don't want to invest in a platform, you can also set up a youtube email series. However you want to communicate the information, find a way that works for you.
After you've recorded, after you've set the tech up, we're going to want to create your landing page. So who exactly is the course for? What is the transformation? What are your clients point A? What are the pain points they are experiencing? And where are they at after working with you and what is their point B.
We're going to want to price your course. We have a full module on this in the business academy. Pricing is such a tricky topic that I can't cover in just episode and there's so many different scenarios on what you want to price and how you're going to price it.
So if pricing is something that you often get stuck on, and you think 'Am I charging too much? Too little?' – we hear you! It's so normal. Let us help you in the academy. We can analyse your individual situation and give you price points that work best for you.
When we have your pricing, we want to get it onto your landing page. We want to have payment options so people can pay you! And once this is set up, its just a beautiful flow because the more people that find out about your business and your offers, the more money that you're going to make.
Marketing
And when we have everything created, everything up. That is only half the battle! Your work is not done! I say this in my previous product episode on how to create an e-book , but once you have it created, you're going to focus most of your efforts afterwards on your marketing. So getting new leads and new eyes to your business and to your offers, every single day.
When you are first introducing it, create a launch plan. We don't want to not only have bells and whistles the first day of launches, but we want to have an extended plan on how you're going to market your course.
In the academy, we teach you how to set up your launch plan, how to run facebook ads and how to run a marketing plan for your business. You can aslo think about introducing a webinar, potentially google ads, pinterest marketing, press features, collaborations. Any thing to get new audience members aware that you have a course to sell.
So with all that being said, marketing is probably going to take the most time after you create the course. However with an online course, it is just so incredibly fulfilling and so freeing. If this is something you want to do, if building your online brand and business really speaks to you and you're like 'Wow, she is living the life, creating courses and making passive sales in her sleep' I want to tell you that you are fully capable of doing so. You just have to start executing in the right direction. If you have all your steps in front of you and you take those steps, you will get to where you want to be.
So if you want a business plan to make all of this happen, please join us in the academy. I take you through what I've taken all of my clients through that help them build their business, leave their 9-5s and start a digital nomad life. Some of them are travelling to Asia this month, others are already in Europe. Your whole life changes when you commit to a new direction.
We guide you through building your brand, creating your offer, pricing. And you get access to me and the community. And if you're listening to this episode thinking 'Hey, I want to create a course but I need to know how to launch it. I need to learn the marketing and the Facebook ads', we help you do that as well.
So any questions, let me know, my DMs are always open. I hope this episode was helpful. I hope you get to create and scale and market and create a 6 figure, 7 figure course that impacts lives around the world.
If you enjoyed this episode, please screenshot share to your stories and tag the wander lover and the wander lover podcast. It really helps us get more and more people aware of different ways that you can live your life and run your business. See you guys in the next episode, have an amazing week.
~~~
If you've enjoyed this episode, it would mean so much if you could leave a review on Apple Podcasts. This helps us spread The Wanderlover mission to those who need a dose of inspiration today.