Everyone tells you that planning a wedding is a HUGE stressful effort…yet I've even found it fun and I organized it within 3 months! This is how I did it and how you too can make organizing your wedding a stress free event as digital nomads or as partners from two different countries.
Quick Links
✧ Join the Digital Nomad Society for just $7/month
✧ Follow The Wanderlover Podcast on Instagram
Prefer To Read? Here's The Blog Version…
It's Wedding Week!
This week is wedding week! I am getting married on September 20th, 2023. This year has just blown by, so much has happened and so much is changing.
Within three months, I am going from a girlfriend to a fiance, to a wife. A few of you have asked me if I am excited to be Mrs. Thompson. and full disclosure, I am not taking Ragz ass last name. I will obviously answer to Mrs. Thompson and I will identify as Mrs. Thompson, but legally I will still be Danielle Hu. In this episode, I'm going to be speaking about something that is just so top of mind for me because I have been in the trenches of wedding planning for the past few weeks.
This episode is going to be teaching you how to plan a wedding in three months as a Digital Nomad if you want to do the same. This episode is also going to help those of you who are maybe dating someone international and you might have to legally get married in a different country, which is a whole process that I went through that I will share more about in this episode. And it's going to help those of you who want to plan your own wedding. So I did all of this myself. I don't have an event planning background, but it's all come together so beautifully and If, you want to plan your own wedding without a background in event planning, you can totally do it as well. 
Choose A Country – Which Isn't Actually So Simple!
So the first thing that really helps, and I think it just sets the foundation, is to confirm with your partner what country to get married in.
Legally, I am American and Ragz is British, and if we wanted to get married in America at a courthouse, we would've had to apply for a fiance visa. And the whole process takes up to two years, which was just way too long for our liking. On the other hand, in the UK applying for a British marriage visitor visa where you can stay up to six months and you can legally get married in the country, the whole process takes like two to three weeks. If, you choose to expedite it. Some of you may be wondering why didn't you just get married in like Mexico or Indonesia where you spend a lot of your time?
And the answer is, eventually we do want to apply for Ragz Green card for America. And what happens when you get married in another country that's neither of your nationalities is it can be flagged as what they call a sham marriage. At least here in the UK there's a lot of sham marriages and the application process is so strict. So we just wanted to make sure that we had everything set up so it wouldn't be sketchy at all. But obviously If, you guys are the same nationalities. You're not worried about application processes, then you can elope, you can get married in other countries and it shouldn't be an issue.
Apply For A Marriage Visa
So after you confirm a country to get married in, what you then want to do is apply for a marriage visa, if you need one. If you are legally getting married in your home country, but then you're just having a reception in another country. You don't need a marriage visa. Well also depends on the country, but most of the time you don't need one. If it's just a ceremony or a party.
Pick A Date
The next step that's really going to help you expedite your getting engaged to getting married process is to decide on a date that is within three months time. Even if you have no idea how it's going to work out. I promise you that just by having a date set, you are going to make it happen. People can plan weddings in three years time and they can also plan weddings in three months time.
Because we were legally getting married on September 20th, that was the first date they had available at the registrar office here in the uk. We decided to have our reception and our party the same day that we legally got married, which happened to be on a Wednesday and we didn't know it at the time yet, but it made this wedding planning process so much easier by having it in the middle of the week. Most vendors that I wanted my top choices, they were all available because very few people have weddings in the middle of the week. And the other thing that I secretly love about this process is because the wedding was so soon, I had zero expectations that a hundred percent of my guest list could make it.
Coupled with the fact that it was in the middle of the week, I really started with zero expectations. I was like, my parents are going to meet Ragz parents they've never met before. They're coming from New York. And that would be it. Anyone else that comes, it's going to be such a huge bonus. And lo and behold, we have 40 people attending. These are obviously my family and closest friends who are making the effort all the way who are traveling and taking time off work. So personally, I preferred it over having a wedding in three years time and you have so much time to plan it and you have a really large guest list and then your expectations are just really, really high.
And then if it rains or if anything happens, I don't know, I would at least get really discouraged if that were to happen. So those were the things that really helped set a solid foundation for success of wedding planning in three months time.
Event Logistics
Next we move on to the logistics. How are you going to manage the guest list, the budget and all of that? I used knot.com, and this is where I kept track of the guest list. I kept track of the budget, I kept track of vendors. I was able to make a wedding website that everyone can access as well as a registry and things to do in the area, places to stay, all of that.
So it's a really, really handy tool. I know some of my friends have also used Zola, but getting yourself onto one of these platforms is going to make it so much easier. I also did not send out save the dates because it was basically just even such short notice for an invitation. I went the paperless route, did not send physical invitations and sent digital invitations using paperlessposts.com. By the way, this isn't sponsored. This is literally just how I was able to find everything and do everything really efficiently. And I'm sharing with you all of the tools that I used. Paperless posts has such cute invitations and it sync's with the knot.
So anyone who RSVPs, you can direct them to the wedding website and then everything is tracked there. At that point, I had no idea where I was even going to have the wedding, as in which venue, but I knew we were going to have it somewhere in England. So I was trying to figure out which, which venues were available, how many people were coming. And in this space it's kind of hard because you don't know how big it will be, which is why Ragz and I decided to throw our wedding party in his parents' garden. His parents have a lot of land and we thought, Hey, why don't we just buy a marquee and we can set everything up here because we have a lot of resources, they have a lot of connections and this made it so much easier to mentally prepare for a backyard wedding where I didn't need to confirm headcount, I didn't need to have exact numbers for catering and estimates.
So that made it a lot easier. And If, you are able to host the wedding at a venue that you are familiar with, whether it's at your house, at a friend's house, at a relative's house, it will take so much stress off.
Pick A Budget
It's also very important to talk to your partner about a wedding budget because the next steps that I'm going to be listing, it's all going to obviously be coming from the wedding budget. And personally, this is just the type of person I am. When I have a vision, I execute it fully and I will always spend money on things that will save me time and or if my heart is set on it.
We had a rough idea of around what the range that we wanted to stay within was. But I will say we went over simply because of the mentality. You only get married once and towards the end it just became like, let's just buy everything that we think we might need. But it's really important to be on the same page about finances and budget.
Buy A Wedding Dress – And Leave Time For Alterations!
Next, what I did was get a wedding dress and book in my alterations. So this part actually surprised me because wedding dresses If, you want a custom one. It takes usually at least six months for someone to make you a custom wedding dress. Because of that, I found a dress off the shelf. So If, you go into a wedding boutique, you are usually able to just try on sizes that they have in stock, what they call on the shelf, and you can walk out with it right away. Alterations in terms of, you know, getting it tighter, making it fit, getting it shorter, that takes longer than I expected.
I wasn't doing anything major to my wedding dress, I was just getting it shortened because it was too long on me. And that whole process took around one and a half months because I needed to go in three different times in order to make sure that it was the right length. Granted that my dress also has seven layers, so it was a little complicated, but definitely get your alterations booked in as soon as possible. While all of that is going on, I was shopping for rings. You need a wedding band for you and a wedding band for your future husband.
Find Your Vendors
And then I started my mission and hunt on looking for a photographer in the local Cornwall area who really vibed with my aesthetic. And I'm very picky about photographers. So that took a while. But you basically just want to call, you want to send lots of emails and get quotes from everyone. So photographer, hair, makeup bouquet, food, catering cake, sound system, entertainment, all of these things are going to need to be planned using the, not as like a resource, but you do need to send out just so, so many quotes for each of these vendors to find which one aligns with your vibe and what kind of experience you want for your guests. Because we are having a garden marquee.
The dress code is British formal, so think royal ascott with head pieces. Yeah, it's in the garden. So we're having like afternoon tea. What we're also doing is having lots and lots of meat. I think I mentioned one of my previous episodes, but I'm just so excited for the barbecues that the barbecues that we're going to have in place and all of the steaks, the lambs, the chicken, the like, someone's actually bringing a full lamb because Ragz has friends who are farmers. Anyway, it's going to be really fun, really unique. And I think that was the whole vibe that we were going for since the beginning.
We really wanted it to be representative of both of our lives. So after you send out all of those requests for quotes, then you get to choose who you want to work with. And to me, this is so easy because I just choose who I love the most. For hair and makeup, you get the option to book a trial, which I didn't know was a thing until I started talking to some hair and makeup artists. And you get to have your hair and makeup done before your big day. So it's like they know exactly what you want and it's not a surprise. There's no like, 'Oh my God, I hate this' On your wedding day. The bouquet, the flowers, that was also easy because I don't have a bridal party, so I didn't need to get bouquets for everyone.
That made it really easy to coordinate with my wedding dress and you get to have it all delivered to your wedding venue the day of. So that is easy and taken care of. The main thing that I've heard my friends and also people I've talked to struggle with the most is the food and catering. Like how, who do we hire? How do we wanna do it? Is it going to be a sit down dinner? Is it going to be served? Is it going to be buffet style? All of that, honestly, do what you want to do. I've loved weddings that had buffet style. I've loved weddings that have had servers and it really like doesn't matter because as long as there's good company and good vibes and good drinks, I think weddings are just so, so much fun.
Do What YOU Want, Not What Others Tell You To Want
And that's really the essence of it because you are celebrating you marriage and the beginning of the rest of your lives together. And I really don't think that wedding planning should overshadow that. Like let's not forget about the true essence and why you are embarking on this together in the first place, right? So design it around yourselves. All of the drinks. So the mixers, the alcohol. I am just doing a shop like from our local grocery store and they're delivering everything or they have been delivering everything just to our doorstep. All of our other vendors are coming to the house the day of.
So there's really no running around. And the last thing that I'm going to add in here just for you to consider, we aren't doing a pre-wedding rehearsal dinner or anything the day before, but what we are doing is I rented a mini bus for everyone who is staying and we're going to take a tour around Cornwall to like the really cute coastal towns, go to some pubs and then we have dinner reservations after. So instead of doing something the day before, we're taking people around afterwards. And that just worked better with our schedule because we're probably going to be decorating and the families are gonna be meeting the day before. So we kind of like flipped it around.
There it is. That's what I have been up to for the past few weeks. And I will be getting married on Wednesday, which is insane. So this is the last podcast episode of me as a fiancé and not married, which is wow, monumental. But life is amazing. Life is so exciting and it gets to be exactly what you want it to be. So I hope if there's one thing you take away from this episode is If, you wanted to do things your way and plan a wedding in three months time, this is exactly how you can do it as well. Sending love to all of you. See you guys when I am a wifey!
Share On Pinterest!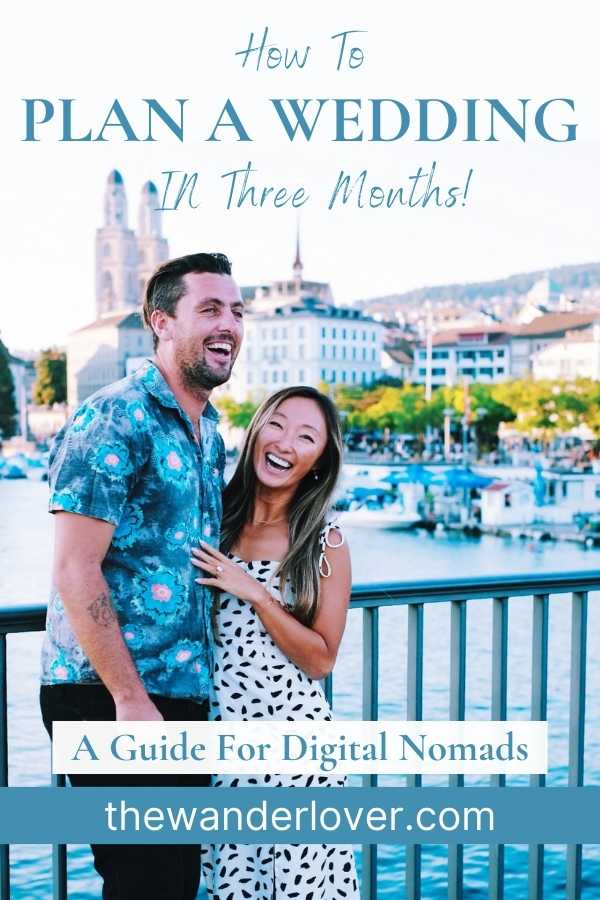 If you've enjoyed this episode, it would mean so much if you could leave a review on Apple Podcasts. This helps us spread The Wanderlover mission to those who need a dose of inspiration today.