Are you ready to level up your business strategy in 2023? And want to do it in one short day? Let me show you how!
✧ DM me "VIP Day" on Instagram
✧ Enroll in Wanderlover Business Academy 2.0
✧ Momentum Mastermind Spring 2023 Waitlist
✧ Free Class: How to Build a Successful Online Business that Allows You to Travel the World
✧ Download My 0 to 6-Figures Case Study
Prefer to read? Here's the blog version…
Returning to New York and Beating Jet Lag
Recently, I returned to New York after spending over 40 hours traveling from Batukaras, Indonesia. It was a long journey, but I've become an expert at defeating jet lag. In fact, I start adjusting my body and mind to the local time zone even before I board my first flight.
As a result, I'm completely over jet lag now and feeling ready to fly to Miami for the next week to visit my business partner. We have a lot of shows and Christmas markets planned for Anda, and I'm grateful to be able to dedicate my life to the things I'm passionate about, including travel and business.
Seeing the changes
Every time I come back to New York, I'm amazed at how much my life can change in such a short amount of time. Have you ever experienced that? You come back to the same place after a few months or years, and everything has changed. The place may look the same, but you've changed internally – your mind, body, and spirituality are all different.
For me, I've always wanted to be the type of person who can live on a tropical island for part of the year and then come back home to New York with a first-class ticket to Miami in hand for a week later. And I'm happy to say that all of these things have come true for me, which just goes to show that if you set your mind to something and take the necessary steps, you can make it a reality. Your life can look significantly different in just one, two, or five years' time if you take action in the present moment.
But it wasn't always easy
That's not to say that every step of this journey has been easy. There have been many times when I've doubted myself and questioned my path. It can be tough when no one around you is doing the same thing, but I found online communities of business owners and digital nomads around the world and made it work for me.
Now, when I come back to New York, none of my friends are doing this. They can't even imagine what a digital nomad lifestyle looks like. They're still bound by their work schedules and the typical 15 vacation days a year. When we plan meetups, it always has to be around their work schedule, and it can feel foreign to me now.
That's why I'm looking forward to heading to Miami, where I'll be back in warm weather and surrounded by the people and experiences that inspire me. I'll be meeting up with old friends and coworkers from finance, as well as friends I've met through my travels who are now living in Miami. I always love seeing the wealth and energy of the Miami lifestyle and the marinas and yachts. It's something that inspires me every time I go.
So my advice to you is to surround yourself with people and experiences that activate your creativity, confidence, and the desire to live a different and greater life.
"Achieving the Next Level in Business in Just One Day"
I'm excited to share my latest offer with you – the opportunity to work privately with me on your business strategy and growth. Imagine being able to access the next level of business ownership and success in just one day. Sounds amazing, right? That's exactly what my new VIP Days are designed to do.
I launched this offer on Black Friday, and I recently completed my first VIP Day with a dear friend who lives in San Francisco. We had an incredible time visualizing what 2023 would look like for her and developing a plan to achieve $500,000 in annual revenue by the end of 2023. We also planned trips to Capri, Bali, and Tahiti, all while focusing on her business growth. It was such a fun and inspiring day!
That's what I love about my coaching – it's like a map that shows you all the different pathways to your destination. But a map only works if you know where you want to go and have clear directions. Many people go through life with a vague idea of where they want to end up, but they don't know for sure and they don't know how to get there. They either waste time or money trying to reach their destination, if they even try at all.
That's why I always encourage my clients to take the shortest road possible. I value my time more than anything, so if I can pay to get there faster, I will. I don't understand people who add an extra layover to their flights just to save a few hundred dollars. Think about all the time you could save by not waiting at the airport or boarding an extra flight. You could be home by now or working on your business for longer and making more money.
If you share this mindset and value your time, then my VIP Days might be perfect for you. Keep listening (or reading) for more information on this exciting offer.
How We Level Up Your Business in Just One Day
If you're interested in working one-on-one with me for a full day to access the next level in your life and business, I'm going to share with you what you can expect in a VIP Day. And if you book yours by the end of the year for 2023, I'll also include a one-night stay at a local hotel so you can experience the VIP Day in a new setting. My goal is to create a safe space for you to dream bigger and make your biggest goals a reality.
Before we get started, I'll send you an in-depth questionnaire to gauge where you are in your life and business and what you want to change. I'll also have directed questions to help you think about what you want to achieve in this lifetime and the legacy you want to leave. My coaching is about more than just business – I also incorporate aspects of life coaching to help you design a lifestyle that aligns with your personality and desires while making an impact with your work.
Once we have the day of your VIP Day chosen and you're settled into your luxurious accommodation, that's when we'll get to work. We'll start with a one hour goal mapping and mindset reframe session to get rid of those limiting beliefs holding you back. Focusing on your business strategy and growth, including how to scale your impact internationally and create a self-sustaining brand that's about more than just yourself. We'll also work on any other areas of your life that you want to change, like your relationships, health, or personal development.
We'll then move on to goal setting, determining exactly what you want to accomplish in 2023 and how to get there. I've seen firsthand the transformative power of this process – during my last VIP Day, one of my clients signed a $15,000 contract within just 48 hours!
But the VIP Day experience is about more than just goal setting. We'll also have two, two hour deep dives focused on the specific areas of your business or career that need the most attention. This could include building your first evergreen funnel, setting up your first ad campaign, or hiring your first team member.
Throughout the day, we'll set clear goals and action steps to help you achieve your vision. I'll also share any resources or tools that can help you along the way. And of course, we'll take breaks to enjoy some luxurious experiences and treat ourselves to expensive dinners or fly first class. It's all about living in the next level and enjoying the journey as we work towards our goals, and to celebrate your achievements, we'll cap off the day with a bottle of champagne.
Ready to achieve Next-Level Success in Just One Day? The Ultimate VIP Day 
The VIP Day experience is an investment in your future, but the returns can be significant. My first client saw a threefold return on their investment within just 48 hours. And with the VIP Day experience, you'll have the support and guidance of someone who has already been where you want to go. So why wait? Take control of your future and sign up for a VIP Day today. The investment is just $5,000 for a virtual VIP Day, but this offer won't last forever. DM me on Instagram with the keyword "VIP Day" to learn more and reserve your spot. Let's make your business or career dreams a reality.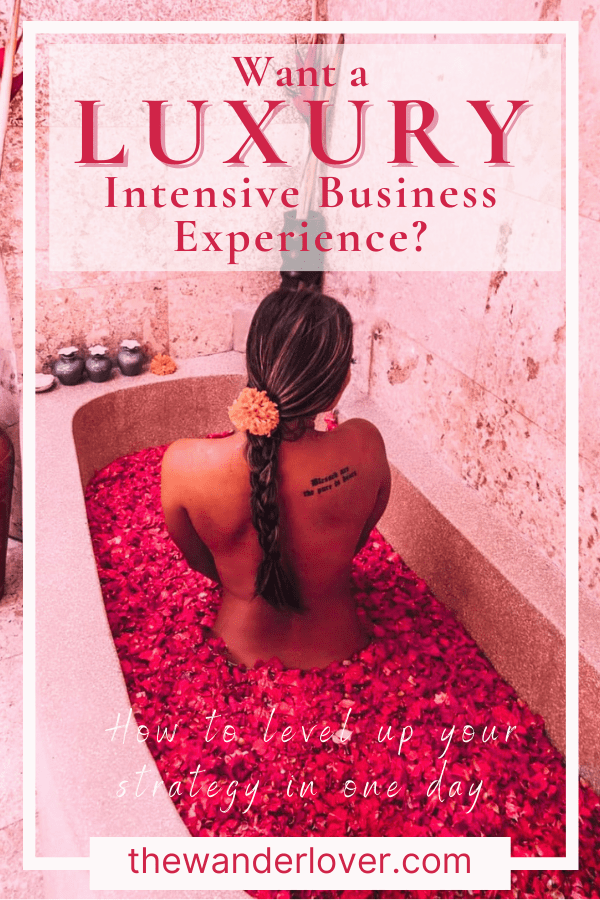 ~~~
If you've enjoyed this episode, it would mean so much if you could leave a review on Apple Podcasts. This helps us spread The Wanderlover mission to those who need a dose of inspiration today.