This year I will return to NYC for the Christmas holidays and I can't wait! My family absolutely love this time of year so I always make an effort to get home for it. Having an online business with automated systems allows me to work from anywhere in the world which is awesome, cause I can head home for christmas and not have to worry about what's happening. I get to take some time off when I want to, knowing my systems will continue to work. And that's not just a unique situation for me, it can be the same for you too!
My plan is to spend a few days in Miami to meet with my business partner for our jewelry line ANDA Brand, Annie, before one of out trunk shows in Soho, Manhattan at Flying Solo. I have a podcast episode where Annie and I talk about starting our jewelry line together, alongside our other businesses. Once that's done, though, it'll be time to relax and catch up with the family.
It sounds cliche but, for me, New York is a magical Christmas destination. Wintry landscapes, twinkling lights, ice skating at Rockefeller, the list goes on. There's a reason the city features in so many Christmas movies and that's because it's just simply irresistible at this time of year. So, if you're tempted to join me on my festive getaway, here's my list of things to do in the Big Apple at Christmas, with some additional tips to enhance your trip.
Top tips for Christmas in New York
Before you arrive in this iconic city, it's time to get organized. From packing the right clothes to beating the crowds, here's everything you need to know for a stress-free holiday.
Pack for cold
While there's no doubt that New York is a picture perfect destination at this time of year, it's important to be realistic when it comes to the weather. This city is seriously cold in winter. Think snowfall, icy evenings and windy afternoons. As long as you pack for the weather, there's no need to let that put you off. If you're coming from a warm climate like me, you will want to invest in a winter wardrobe to get you through. A good winter jacket, boots and plenty of layers will get you off to a comfortable start. Gloves, hand warmers, woolen socks and chapsticks are all handy essentials. Of course, in a city like New York, you can always boost your wardrobe with a spot of retail therapy.
Get up early to beat the crowds
It's no secret that New York is a fabulous Christmas destination. Every year, travelers from around the world flock to the city for a bit of festive cheer. If you want to experience the city at its finest, the trick is to get up early. Not only will you beat the queues at the most popular attractions but you will also get to experience the city like a local. Grab a coffee in a nearby cafe and watch the city wake up for a truly special way to start your day.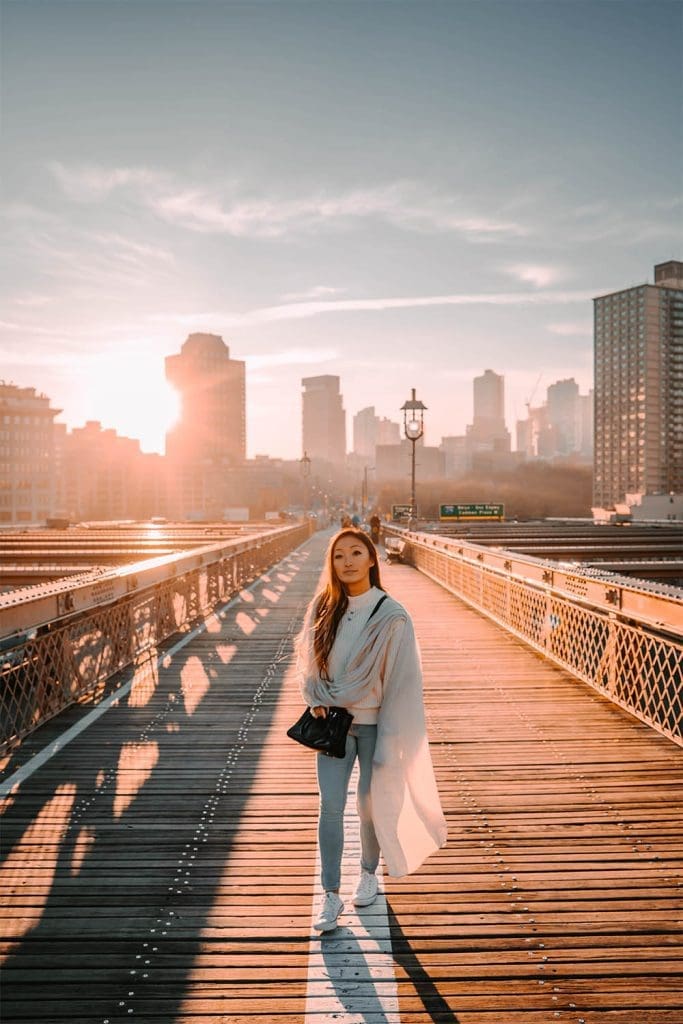 Pace yourself
When you're in a place like New York, it's easy to want to cram in as much as possible. Even well-seasoned travelers often fall into the trap of trying to "do it all". The thing is that you'll end up finishing your vacation feeling even more exhausted than you started out. If you're an entrepreneur like me, chances are you'll be in need of a break. Take care of yourself and take a step back. Don't feel like you have to see and do everything. Pick some things that appeal to you and allow some time to enjoy them. Not only will you feel more relaxed, but you might also make some unexpected memories along the way.
Get off the beaten path
This is something I say about every destination and New York is no different. While you may well want to visit the Empire State Building and Statue of Liberty, there is way more to this city than Times Square and Midtown. Discover the authenticity of Brooklyn, the diversity of the Lower East Side and the creativity of Greenwich Village. New York is brimming with innovative eateries, chic bars, art exhibitions and one-off events. All you've got to do is find them.
This article however, is going to focus on some of the bigger more well known events, because if you haven't seen them before, they are just so iconic of Christmas in New York, and are things you absolutely must do at least once in your life.
Things to see and do in New York this Christmas
Once you're in the city, it'll be time to start exploring. From ice skating to show stopping productions, here's how to make the most of the holiday season in NYC.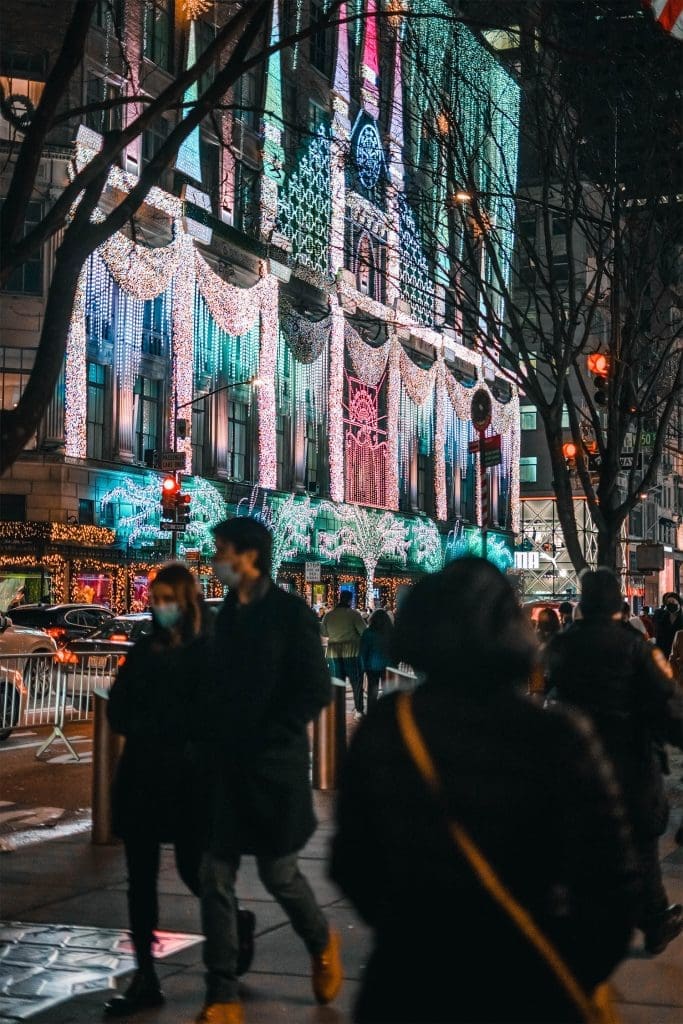 Walk down Fifth Avenue
Known for its boutique designer shops and expansive department stores, Fifth Avenue is a go-to destination for all things shopping. At Christmas time, the street comes to life with twinkling lights and fabulous window displays. Even if you haven't got money to spend on shopping, Fifth Avenue is a great place to soak up the festive spirit. Check out the renowned window display at Saks which includes a mind blowing light show accompanied by an Elton John holiday medley. You can't get more Christmassy than that!
Ice skating at Rockefeller
You simply can't do Christmas in New York City without hitting the ice at the Rockefeller Centre. This idyllic must-do will get you in the festive mood in no time. Glide around beneath the iconic golden statue before heading up to the Top of the Rock for 360 degree views of the city. The Christmas tree sets the scene for this quintessential NYC tradition.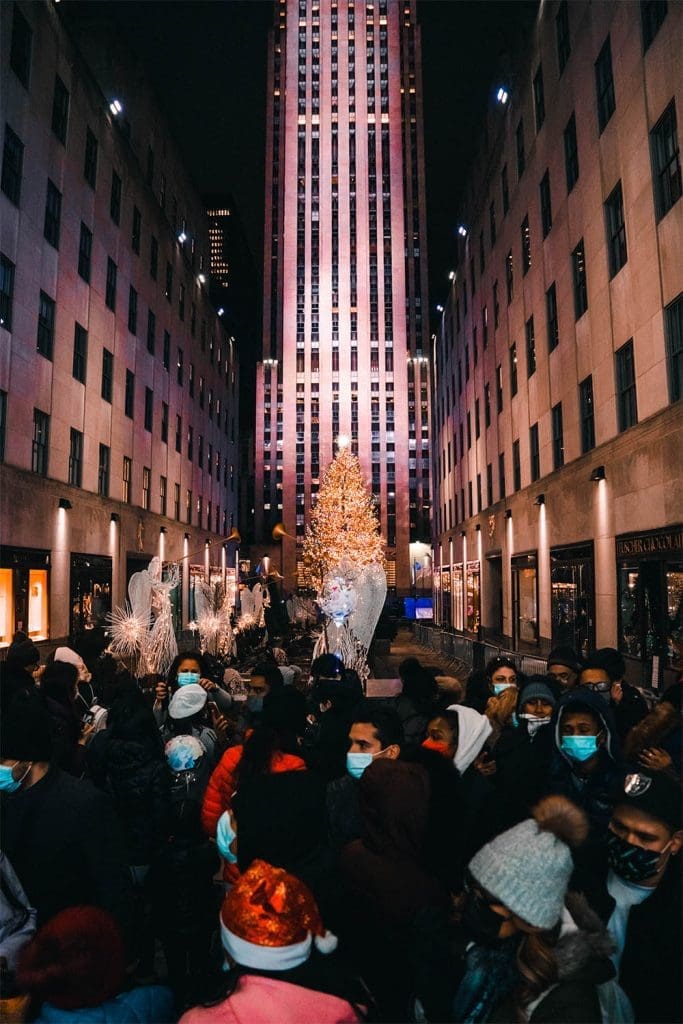 Rockefeller Christmas Tree
Ice skating at the Rockefeller wouldn't be the same without its world famous Christmas tree. The tree's annual lighting ceremony sets off the season with a world class concert at the end of November. It stays alight for 24 hours a day meaning that you can escape the crowds and opt for a late night trip. The Rockefeller Christmas tree is a longstanding tradition that first started in 1931. At 82 ft tall and 50 ft wide, the tree has become a landmark in its own right.
Bank of America Winter Village Bryant Park
Soak up the city's unique Christmas atmosphere at this wonderful family friendly event complete with free ice skating, live entertainment, great food and an open-air European market. Each year, Bryant Park is transformed into a winter wonderland where visitors can savour traditional festive treats, Christmas themed cocktails and more. Get your hands on some handcrafted gifts and souvenirs before skating beneath the stars at the rink.
Dinner at Rolfs
For the ultimate festive feast, Rolfs is an exceptional German restaurant with Christmas decorations all year round. Situated close to Gramercy Park at 22nd Street and 3rd Avenue, this beloved restaurant certainly knows how to do Christmas. Thousands of baubles and lights dangle over your head as you tuck into authentic German and Bavarian cuisine. Fill up on schnitzel, sauerbraten and potato pancakes followed by a wholesome apple strudel for dessert.
Decorations in Dyker Heights, Brooklyn
For an over the top, all American Christmas, look no further than Dyker Heights. Located in Brooklyn, this trendy neighbourhood has become known for its spectacular light displays. Almost every household becomes awash with giant santas, snowmen, sleighs and dazzling lights. The best place to witness the displays are between 11th and 13th Avenues and 83rd to 86th Street.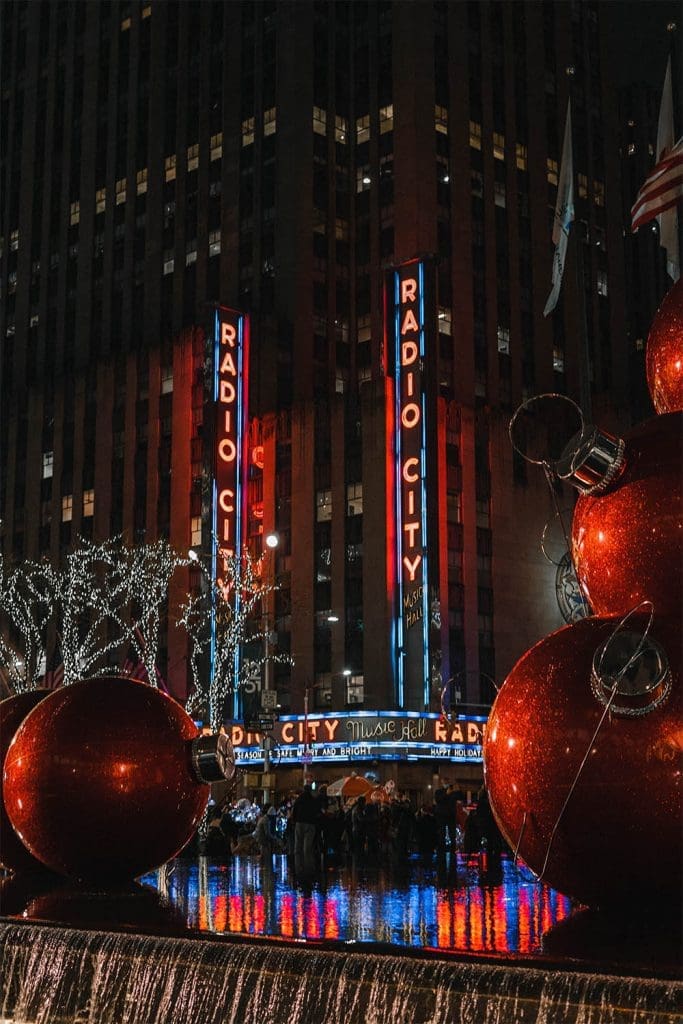 Christmas Spectacular Radio City Rockettes
Having been around for almost a Century, it's safe to say that the Radio City Rockettes are something of an icon. If you're in the mood for a full scale Christmas show, this production ticks all the boxes. Bop along to Christmas tunes as the world famous dance troupe takes to the stage for jaw dropping performance at the Radio City Hall. It's not called the Christmas Spectacular for no reason!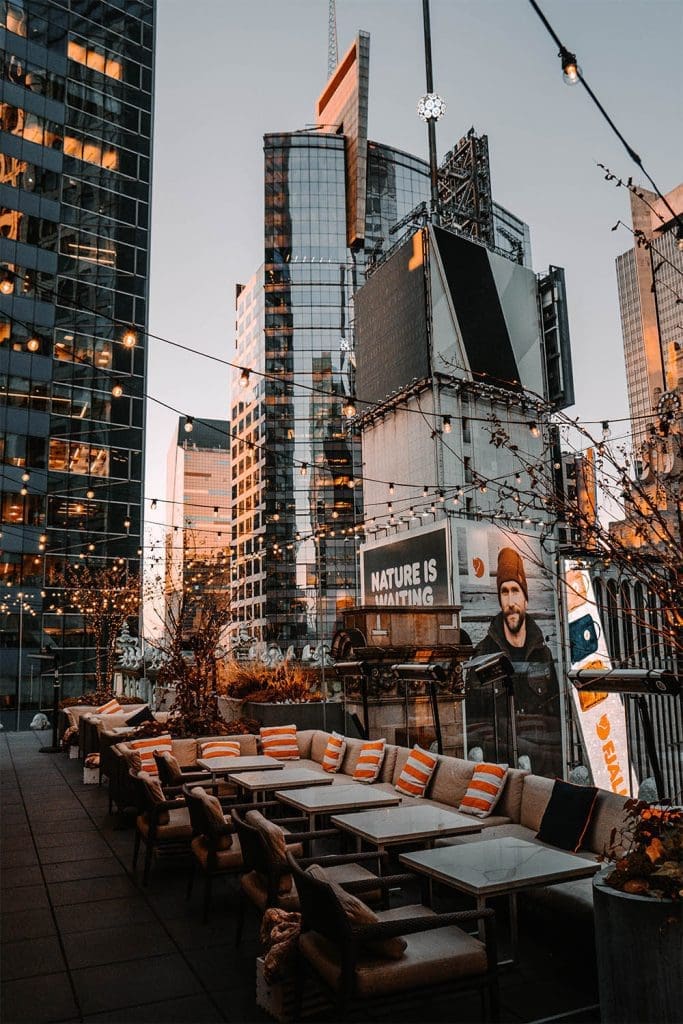 The Knickerbocker Hotel in Times Square
If you're staying in the city over New Year's Eve, this is my number one hotel recommendation. The Knicker Hotel in Times Square offers five star accommodation right in the heart of the action. More than just a roof over your head, guests can expect luxury interiors and a soothing ambience from start to finish. When it comes to New Year's Eve, the hotel offers the closest live view of the ball drop in the world. Situated just 150 ft below the ball lies the hotel's exclusive rooftop bar, where you can witness the celebration in style. Book tickets to join the Rooftop Party or choose a room with a view for the ultimate stay.
Now that you have the list, it's time to start planning your trip to NYC! Christmas in New York is particularly special because it conjures up so many memories of sitting around with nibbles and watching festive films with the family. But even if you don't find yourself in the city this holiday season, be sure to give yourself a break. As entrepreneurs we need to be kind to ourselves and Christmas is the perfect opportunity. Even if it's just for a few days, put the laptop down and treat yourself to some time out.
Share on Pinterest