Are you ready to transcend your brand to the next level? After 5 years of running The Wanderlover and hitting 6 figures, these are my four tips I share with my clients on how to make their brand unforgettable!
Quick Links!
✧ Join the Digital Nomad Society for just $7/month
✧ Follow The Wanderlover Podcast on Instagram
Prefer to read? Here's the blog version…
Behind The Scenes Is Never Perfect!
Hi everyone. Welcome back to the podcast. I'm going to apologize in advance because I'm actually recording in the car. So the audio quality may not be perfect. There also might be people that you can hear talking around me, but like we always say, done is better than perfect. The only reason why I am in the car is because there was a huge storm a few days ago and I had mistakenly left my longboard outside and it actually got so beaten up that I had to get a lot of dings repaired.
So as the board is getting repaired, we're currently at a beach, but I can't surf. So I was like, you know what, I'm going to record a podcast. And here we are. And the first idea that came to my mind and what I felt like I really wanted to speak about today is how to build a brand that stands out online. And I had the idea to record this because as we have been traveling northern Spain, people have been finding me online, people have been commenting on my online presence and they're like, wow, this is so amazing. Like how do you get yourself to look like this online? And these questions kind of like take me aback sometimes because to me it's just been so many years of practicing this and it almost comes intuitively, but I understand how it can seem a certain way online that you have everything put together.
And it's in moments like these where I'm in the car recording where I was like, I can't believe people are admiring me because behind the scenes it's not always glamorous, it's not always sexy. So if you want to also build a brand that stands out online knowing that it doesn't have to be perfect all the time. It doesn't have to be in beautiful studio that you can do it and make it work, then this episode is for you. I also wanna preface by saying that all the information I am sharing with you today is in the Wanderlover Business Academy. It is my online course teaching you how to start your online business. If you are a new or aspiring coach or creative doors are currently closed, but I would love to invite you inside.
So sign up for the Waitlist for the Business Academy. We talk a lot about branding and actually go into depth how you can create your own personal brand. But In this episode, I just wanted to give a few quick tips that you can implement right now.
Make Your Brand Cohesive
The first thing that makes such a big difference, a bigger difference than I think you think it might is to have a cohesive online brand. And this comes down to your brand colors, your brand fonts and your brand voice. The sooner that you can get all of these cohesive, the easier and faster it will be for you to start creating content that is already on brand and cohesive.
So every single piece of content you put out, whether it be on your Blog, on your podcast, on your Instagram going forward, it's already going to be contributing to your brand online, even if you don't know exactly what that is yet. Just choose and stick to it for at least a few months so that you have a batch of content that is cohesive on brand, that people know what to expect from you. They know what kind of voice, whether you use emojis, you just want it to be cohesive. And I've heard this before, but as soon as you land on my Instagram or my website, you'll notice that I use a lot of colors, I use a lot of tropical light and fun playful copy.
But also my whole energy is just about freedom and vibrance, right? And you can really see that from my online brand even before meeting me. And that is the kind of style that the Wanderlover that I want the Wanderlover to radiate and if you join the Academy, I actually give you a brand guide template that you can create for your own business and work off of. And so for example, the Wanderlover keywords that represent the brand online freedom, travel, adventure, the essence of the brand is colorful, happy, and bright from surfing in the tropics to working on your laptop, building a wildly successful business with a coconut in your hand.
We use many tropical colors and a variety of bold fonts. We inspire people to design their dream lives and want our branding to reflect that. So just imagine having this brand guide for yourself and having your brand fonts, your brand voice, the photos, a mood board, the colors, and being able to share that with your team or with other people helping you. Just think about the impact that's going to have on your business online, right? So that is the first key if you don't have that already.
I encourage you to really take some time, either hire a brand manager, use free resources online. If you don't have brand colors you can use, you can go on an Instagram called coolers.co and pick out your own template. They're basically like pre picked out for you and you just have to choose one and go.
Create Unique Content
Once you have that, the next really important thing to keep in mind is that you need to create content on every platform that you're active on that transcends the noise of all the other content on those platforms. And what I mean by this is like think about the number of Instagram accounts there are online, more than half of them are personal accounts and only a fraction of them are business accounts, right? But you are still competing with all the other accounts on Instagram. So how do you make yourself stand out? And that's something that you really need to focus on and make sure that you are putting in the effort and the energy to learn how to create really good, really memorable, really valuable content on each of these platforms. Not only Instagram.
So you need to learn and invest time and energy to practicing and also improving, not just going about what comes naturally to you and posting a photo that you think should be posted, but learning how the platform works so that your message is carried across so that people can see you and remember you and be like, wait, I really want to follow them. Obviously having your brand guide down and your brand colors and your brand voice is going to help with that. But you also need to think how can I add the most value to my audience? How do I represent my business in a way where people are going to want to work with me? And depending on what your niche is, this is going to be different for everyone.
It can be in the form of longer posts, more value add, maybe YouTube videos where you are educating on a subject for 20 minutes or even a podcast episode like this one where people are getting value from it, but they also want to continue learning from you. And the second part of this tip is to be consistent. So creating your workflow as a business owner, I have a content calendar that I share with my community (join our FREE community here) where you plan out in advance, like a month in advance, what you are going to post for the month so you can trust you and your business to stay consistent and have a sustainable posting schedule so your audience knows that they can rely on you for information that you're not just going to ghost them.
Managing how you put yourself out there and having a workflow that works for you is really going to enhance your brand and help make it stand out online. And just imagine if you are creating content that transcends the noise and you're doing it consistently. How much more is your brand going to grow? Right? And that's what's helped me because now I'm at a point where people check out my podcast and they're like, oh my god, you have over like 160 episodes. And that's because I have a consistent posting schedule and a sustainable workflow that works for me even when I am traveling. (If you want to start a podcast, here is my simple guide). But I have a feeling that if I posted three episodes and then people who I'm meeting check out my Podcasts and there's only three episodes on, they're probably going to think differently. But it's because of all of this time invested over time that has helped me get the Wanderlover to where it is today.
Business Is A Marathon Not A Sprint
And that brings me to my third point, which is you need to give your business time. It is a marathon, not a sprint. And I think building an aligned business that really resonates true to every fiber of your being, like in terms of the products you offer, the posts you post, the people you work with, that is going to take time. It's really impractical to think in the first year of being an entrepreneur, you're gonna have everything figured out.
It just doesn't work that way. Like life doesn't work that way. And in many things, not only entrepreneurship, you need to give it time and you need to be patient. And as you are learning and being okay with being a beginner, you need to be okay with changing what is not working, being open to feedback, being receptive to other people's suggestions and learning from other people who have been there. Because it's also important to note that if you're just starting out, you're probably not gonna know what you need to know to be successful. So be open to receiving feedback in the first few months, in the first few years and give it time.
Need to Be Seen
So if you take everything that I said In this episode.Having a cohesive online brand, creating content that transcends a noise, giving your business the time it needs to succeed. The fourth and last thing that is going to bring it all together and exponentially grow your business is that you need to be seen. You need to have the marketing vehicles in place to exponentially grow because it is a numbers game. Business is about how many leads you can generate and keep in mind leads does not mean followers. It's a numbers game of how many people you can bring to your website. How many people read your Blog? How many people listen and download your podcast? How many people watch your videos?
You need to make sure the content you are creating that is on brand is reaching as many people as it possibly can. Of course, with a consistent posting strategy over time, it's inevitably going to grow if you give anything that you are posting co consistently on five years, 10 years, it's going to grow. However, if you are just starting out, it is so important to invest in advertising, to speed up that growth if you want to see results faster. So if you are actually starting from zero audience across all platforms. I actually encourage you to start an email list to drive traffic, use paid advertising to grow your audience, and then with that audience you can then distribute all of the content.
So not only are you posting on Instagram, but you have an email list and every time you have a new podcast episode, a new post, you can share it with your subscribers. Of course, on top of this, feel free to follow a reels strategy. That's also something that I encourage because reels get you seen outside of whoever is already following you. Feel free to incorporate a Pinterest strategy as well so that you can grow on all platforms and incorporate paid and organic marketing strategies so that all of your content can be seen. This is just a really quick summary of what we cover in the Wanderlover Business Academy doors are currently closed, but we might be opening them really soon.
So if you are not on Waitlist yet and you want to join us, you can sign up here. Head over to the link in the episode description. We have a community Facebook group where we have live trainings, live Q&A's every month, and we are here to support you on your online business journey. Let me know if you have any questions, and I will see you in the next episode.
Share On Pinterest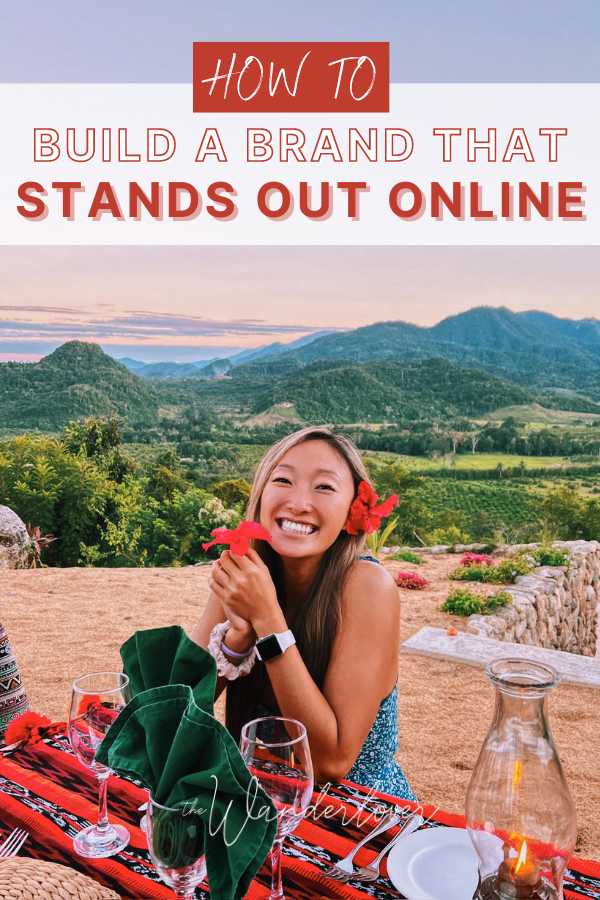 If you've enjoyed this episode, it would mean so much if you could leave a review on Apple Podcasts. This helps us spread The Wanderlover mission to those who need a dose of inspiration today.