Have a love/ hate relationship with social media? This week I chat with Maddy Newton George who is here to give us the low down on how to strategically run your businesses social media accounts in 2023.
Connect with Maddy: maddynewtongeorge.com
Instagram: https://www.instagram.com/maddynewton/
5 Steps to Become More Consistent Online
✧ New YouTube Videos Every 2 Weeks!
✧ Free Class: How to Build a Successful Online Business that Allows You to Travel the World
✧ Download My 0 to 6-Figures Case Study
✧ Enroll in Wanderlover Business Academy 2.0
✧ Momentum Mastermind Spring 2023 Waitlist
Prefer to read? Here's the blog version…
Introducing Social Media Strategist, Maddy Newton George
Dani:
We have special guest Maddy Newton George on the show today. Maddy is a content creator, musician, and social media strategist based in Nashville, Tennessee. Hi Maddy.
Maddy:
Hi.
Dani:
Thank you so much for being here.
Maddy:
I am so excited to be here. This is gonna be so fun.
Dani:
Yes, we are very lucky to have you. As many of our listeners have a love hate relationship with social media. Why do you think that is?
Maddy:
I think we consume and potentially work on social media, so it's both like something that's fun and something we can escape in. But then if it's tied to having a brand or being a creator, you have to tow that line of like, is this something that's professional for me or something I can just veg with? So it's hard to find that line and create boundaries so that you have a healthy relationship with social media.
Dani:
Oh for sure. Sometimes I'm like, I shouldn't be scrolling on reels or scrolling on TikTok, but here, yeah. So you've been growing, nurturing and cultivating your own social media presence across multiple platforms for what, like 12 years now?
Maddy:
Yeah.
Dani :
Wow. And now you've turned that into a business where you help creatives and business owners all around the world to elevate their online presence. Right.
Maddy:
Yeah, it's been super fun to take it from my own brand as an artist and a creator and then realize that, oh, there's some skills that I've gained from this that I can actually help other people with that might not know, even though it feels like common sense or second nature for me, there's actually a lot I can share with people. So it's been really fun.
Dani:
What would you say are common things that people struggle with if they didn't grow up with social media, if this is their first time creating a brand? I know you do account audits and you really tell people what they're doing wrong. Are there any common mistakes or common ways people use social media and it doesn't translate as effectively?
Maddy:
Yeah, so a lot of the times clients, they have either no time to really put the time into what they know needs to be done on social media. So they just, they hear like, oh, be consistent. So they start posting once a day just to get something out there, but the quality isn't actually there and you have to be researching what the updates are, what the algorithm changes are to stay on top of what's actually going on. Because there was a time where you just wanted to have a post up every day because you wanted to get in front of people every day. And now it's way more about the kind of quality that you're posting.
Maddy:
So even if it's twice a week, but it's great content that is way more effective than posting five times a week because if people see your post and don't engage with it, it tells Instagram, oh, they don't like your posts, so then they don't show it to them again. So it's, it's a lot of staying up to date on what's happening and also clients that wanna know like how can I up level what I have going on? I really like to make sure that what the brand desires to present themselves as is actually what is being translated online because they might want to be presented as this relatable fun account, but if they're not having any subjects in their content, like there's no human interaction on there, no one's gonna relate to that.
Maddy :
So yeah, I come in and I help them take what they want to be presented as and kind of bridge that gap and then show them how to make that happen.
Dani:
For sure. And I feel like this is something only an expert or someone who has grown up with social media can really tell you, right? Because you might think a certain way but then other people perceive it and consume it differently. So understanding how the nature of Instagram of YouTube works, a lot of my clients get referrals, new customers in person, but sometimes it doesn't translate the same online and they're like, what is wrong? And it's when you go onto their page, it's nothing like what they are like in person or on Zoom calls. Right. And I feel like that is the key when someone like you can help them really bring their authentic self online, it's so much easier to convert, to connect and just grow your personal brand authentically.
Maddy:
Definitely. And so much of it is just having somebody else look at your brand, like having other sets of eyes that aren't as attached to it. Even if, if the bio looks great, things just need to be moved around a little bit. Which you know that definitely it's just nice to have somebody else come in and be invested in what you're working on.
How Maddy Created her Digital Brand and Business
Dani:
Can you actually give a little background on what your brand is presented as online, what you've been doing for the past 12 years?
Maddy:
Definitely. So I was originally entered into the whole world of content when I was 13 years old. I decided I wanted to start making beauty videos on YouTube so I had no idea what I was doing with makeup and started posting videos cause I loved Beauty Gurus and I was like, oh I wanna do cool Eyes like that. And so I loved doing that. My parents said I could post videos and I started working in iMovie, loved editing. Like I thought that was so fun filming the whole process. And ever since I was little, I was a singer. I loved writing songs and knew that I wanted to be that one day.
Maddy:
Like that was my main, I was gonna be Hillary Duff, I was gonna be Taylor Swift, Miley Cyrus, all of that. And so my family moved to Nashville and music has always been a huge thing and I was making these beauty videos on the side and then realized, oh I should share my music cuz I'm starting to get a little bit of an audience. I have a couple thousand followers on YouTube, I'm gonna start even if I'm just gonna start with posting covers. And I had been a songwriter but I felt like I couldn't share that with the world yet. So I just grew more of an audience and started sharing my music and started getting a lot of traction there. And there was so much that is different now than it was then.
Maddy :
Like you could build an audience very quickly back then because the whole landscape of social media was the wild west and anybody that could do it could grow pretty much. So through all of that I pursued a career in music and I still do music and love it. I have just been really focusing on the content creation side because I love creating content for brands and then also being able to, like I said before, take the tools that I learned and constantly staying up to date and researching. I love researching trends and all of those things so I do it so that other people don't have to and I get to help them grow their brands and it doesn't look the same but it's always evolving, which keeps it interesting.
Maddy:
And so I got into working with other social media clients when I was, I think I was 19 and I had one of my music mentors, I was working at Nordstrom at the time for like six months and he was like, stop working there, come work for me, you can run my social media. And he used to be the manager of Taylor Swift and was connected to a lot of record labels in town. And so I was able to start doing social media for them and a bunch of different clients and was like really learning the landscape of it. And then was branching out into meeting people myself and taking on their socials, helping them create content.
Maddy:
So now we're here and I'm 27 and it's crazy to see how long I've been doing this, but it's all stayed really fun and I've been able to really impact other people with my own brand and through theirs. So it's been really cool.
Dani:
What I love about your brand is you have so many passions. I know you love traveling, you love singing and every area is represented online and I think that's a breath of fresh air to many people who think that if they are this one kind of coach or this one kind of creator, that's all they can create and post about. But that's often not the case. People relate to your content more if you have your hobbies on there, if they learn another side of you, right.
To Curate Feeds Or Not To Curate Feeds
It's really refreshing to see that it's actually a human on the other side and not this perfect kind of curated feed. Do you have any thoughts on that?
Maddy:
I know that you and I have talked through this a lot because it has been a struggle for so long. I was 100% only wanted to be identified as being a musician, being a singer songwriter. And it was like Taylor Swift or bust and that was gonna be what I was and I was doing this social media thing on the side, but it was kind of like, you know, being a bartender somewhere or a server, like it's just my day job while I pursue my thing. And I started finding fulfillment in it but felt like I couldn't let it be part of my identity. And so a lot of what the process has had to be for me is finding a way to be clear online with, if I'm trying to grow this business then I have to show up as that online because that's where my audience is and they're not just gonna reach out to me and go, oh do you happen to do social media?
Maddy:
So I have to present that and be confident in it, but you also don't wanna just be salesy and pushing your services all day long. So I feel like I found what my content pillars are and that's something that I try to help brands understand because once you can know what your main topics are that you share online, it makes content so much easier. And you know these are your different categories and I don't ever claim to be a food creator so I don't like cook online and I am not super into plants. Like I know the lanes that I don't touch and I know what I focus on. And so that's what I've tried to do.
Starting or Re-invigorating Your Social Media Accounts
Dani:
Yeah. And that brings us into the overall social media strategy, right? Like you said before, some people are just posting every day because they think that's what they need to do, but when you do hit publish it's like does it work towards your bigger online goal? So would you say if someone is starting from scratch to start with the strategy first and then kind of fill in the content and the types of content afterwards?
Maddy:
Starting from scratch is hard because there is so much information out there of polarizing opinions of just start creating and see what you like or start with a strategy, know exactly who you are so that when someone shows up on your page, like it's clear. And I typically work with brands that have somewhat of a presence. It's not like a big audience, but they have been on social media but they need a lot adjusted to elevate what when you show up to the page. And so when I start working with them, I do like to identify what those three to five content pillars are right from the bat so that we know when we create a content calendar, whether it's two post a week, three post a week, five post a week, we're gonna alternate what these main topics are and really build trust with our audience that this is what we're gonna be sharing about.
Maddy:
And one thing that I know a lot of people want is to go viral and if you post all these reels, you might eventually have one go viral. But what happens to so many people is if they don't have a clear page, like their content isn't clear, it's hard for somebody to wanna follow you after you get the view. So what I like to help is make sure that someone's platform is exactly who they wanna show up as. It's very clear to those eyeballs that come to your page cuz if you have something blow up, you want them to stay there and not just show up and go oh this person doesn't know who she is.
Maddy:
So I feel like if you are starting a new account or you wanna do an entire overhaul, I think having clarity from the beginning on who you wanna show up as is really important.
Dani:
Yeah, for sure. Because like you said, so many times I'll see a great video and if the other videos or posts don't align with what I am looking for, I'll click away.
Maddy:
Me too. I do the same thing and I have to watch myself too because I am multi-passionate and I think that makes people exciting when they have different passions but it has to be clear enough what the different passions are and that they come around after every few posts or something. So it's not just out of left field, but once you get a strategy in place, it's easy to follow.
Dani:
Exactly. Strategy with being multi-passionate. Yes. Can work if done properly.
Maddy:
Correct.
Why Digital Audiences Are Important
Dani:
What would you say are the main reasons why your clients want to build up their social media channels in the first place?
Maddy:
I think it's pretty obvious at this point that we are in a digital age and even if you are a brick and mortar shop, depending on who your audience is that you want coming into the shop, a lot of your target audience might be on social media. And so I don't know about you but I just about every time I'm gonna try somewhere new, I look them up on social media first. Yeah. And so it comes back to what we were saying before. We wanna make sure that as a business you who you want to be is being translated online. So as much authority as you can build online is just gonna add to the appeal.
Maddy:
And it feels a little shallow sometimes and we're like, oh why can't my product just stand alone? And it can and it can reach more people and maybe more of the target audience that you want. If we can find a way to translate that feeling they get in your store online. It is important to be present and I don't think you have to be some massive account across all these different platforms, but you need to know where your target audience is hanging out and make sure that you're on those.
Dani:
Yeah and it's just in general so powerful and what I think a lot of people and business owners take for granted is you can get started for free right before this day and age, like you had to actually go physically go somewhere to connect with other people or you had to pay thousands of dollars to get an ad up. But now it's like you create a page and if done correctly it can scale, it can reach the masses, you want a strategy in place, but ultimately it's like a marketing vehicle that costs next to nothing to start. So why not give it a shot?
Maddy:
Absolutely.
Dani:
It's so crazy. Like sometimes I'm just in bed scrolling and I'm like, I can't believe I'm learning about this random new business.
Maddy (18m 30s):
It's like we can reach so many people around the world and if you feel like you don't have the time to create that content so you can get in front of people, it's okay to ask for help. That's how we grow. And so taking somebody else on is just gonna help you focus on what you do best and then you can have somebody else manage that part or put things in place that make it easier to batch your content, schedule your content, all of that.
Working With Clients & Managing Their Socials
Dani:
Yeah. And what you mentioned off air is you actually go in to local businesses and help create content for them in Nashville, right?
Maddy:
Yes. I have a couple different ways that I work with clients. Some is more in a consulting capacity, so I'll get on calls with them and talk with them through their strategy, what their goals are, how to optimize where they are, and then they go do the work. And then I have full service packages where I some where I'm more hands-on and some where it's not as hands-on, but what I've been loving doing is for local clients I will go in and create the content for them. So if they are super busy or they don't even know what kind of content to stay relevant online, I can go in and I have a photographer that I work with as well.
Maddy:
And so we both will come in and we'll do shoots and sometimes it's 30 minutes, sometimes it's a few hours and we'll get the content that we need and then I take all that content and do with it what it needs to. And it's been really fun to be able to be creative in that way and really provide a lot of value to brands who just need somebody else to think about that for them.
Dani:
Yeah, it's, it can be really time consuming.
Maddy:
Oh for sure. But it's a lot of fun.
Scheduling Recommendations
Dani:
Do you use any tools to schedule your own posts or do you have a workflow how you go from creation to then editing to them posting?
Maddy (20m 37s):
I feel like I'm always assessing my workflow and I've already gotten better with it than I was a year ago. More organized than before. But I actually actually have recently discovered Metricool. I don't know if you've heard of it, but I really like it because it is, it's a platform. You can have a bunch of different brands in there. So I've put all of my clients in Metricool and then you can put all of their accounts in the platform and schedule all the content from the one.
Dani:
Wow.
Maddy:
And they give you reports, you can pull monthly reports within the platform for whatever. Oh my god. Like if you wanna pull a report for Facebook and Instagram, it'll create a whole PDF for you. So I love going in and looking at analytics to be able to give that to my clients and be like, this is the progress we're making or let's tweak this because this is what the results are saying. And so you can do all of that within the platform. So that's something I've been really liking. Wow. And still learning about, but so far so good. But that is great for the scheduling side of it and I love to plan, honestly I do a lot in Google Sheets still because I can have people part of that sheet and have all of the different platforms in there.
Maddy:
I've also loved Click Up, that's more so for my own content because I can show all of my different platforms and get a little more visual and creative with it. But those are kind of my main ones.
Dani:
Do you also work with your clients off of Instagram? So on other platforms, I know you had just mentioned Facebook.
Maddy:
Yes. So I can do multiple platforms for somebody or just one. I pretty much do Instagram with everybody, but Twitter, Facebook, YouTube, TikTok, all of those can be added. But Instagram is just what most of my clients have loved working with specifically. But you can also add on different platforms and we'll create a different strategy for each platform because they don't all work the same. So yeah, you have to speak the language of the platform you're on.
Dani:
Exactly. And repurposing helps if you are a solo creator but really understand the environment because we don't wanna be posting something that's optimized for Instagram like on YouTube unless it's like a short right. It just, the rates are off, people are gonna look at it the same way. So again, speaking to Maddy will really help with that cuz she is an expert.
Maddy:
Well thank you. And it really doesn't have to be super complicated it you can take the same video and use something on InShot that is one app that I love using to edit my videos for short form. And you can change the dimensions right there. You can save it as one, save it as another and then go disperse it where it needs to go. But it can be the same video but then just add different text the way that the text is most preferred within that platform. But you can take the same piece of content and tweak it. You don't have to go film something new like you can repurpose but repurpose with intention.
Dani:
Yes, repurpose with intention, trademark that.
Maddy:
Okay, I'll make a shirt.
Social Media App Recommendations & Youtube
Dani:
Any other apps that you recommend?
Maddy:
I mean for photo editing I love Tesa if I'm not doing like Lightroom, but Tesa's great for photos and creating story templates. But one thing I will say is I would not sleep on YouTube. And you know this because you are newly renovating your channel, but YouTube is for sure back this year I think a lot of people thought it wasn't as relevant anymore and it's ma making a major comeback. And if you were somebody who was regretting that you didn't jump on TikTok sooner, YouTube shorts are what TikTok was like.
Maddy:
They are blowing random content up right now. So if you can find a way to work YouTube shorts into your strategy, you're gonna get a bunch of new eyeballs.
Dani:
Wow. I actually do not have that in my strategy and I just made a note. Yeah, YouTube is one platform. I've been dabbling, like I think I started started four or five years ago was not consistent cuz I had no idea how to be consistent, what the strategy was. Right. And you definitely want to have a bigger picture so that you can stay motivated even when you don't feel like creating. And that was something I lacked. When you have the expectation of just going viral within the first few weeks or months and you give up, when that doesn't happen, it's going to inevitably lead to failure, right?
Dani :
We never wanna introduce another platform just solely reliant on going viral, think bigger picture with YouTube, your videos can be searchable. It doesn't have to be something that you keep up with on a daily basis to create content to post stories as long as it is optimized and it works with your brand holistically. I think it's just so powerful when people can see your personality, your face really get to know you and nothing is misinterpreted when they see your videos because it's just you
Maddy:
Definitely. And I think to what you said about not adding more pl more to your plate just for the sake of adding it. Like you don't wanna just jump on a on an account and then burn yourself out because you're like, oh I'm gonna post every day and blow up. Like I kind of got into shorts in a lazy way. Like I was taking all of these Instagram reels that I had made and just posting them on tick or on shorts just to see how they would do. And some of those that just had the text from reels got some of my most views. So even if you're starting by dabbling with completely repurposed content, if that's what you have to do to stay sane, to balance your different platforms, then do that.
Maddy:
But having some sort of a presence there I think is gonna be valuable in this peak time.
Dani:
Yeah, for sure. Like find what works for you, feel like you have 90% of a grasp on it and then go dabble in others. I feel like some of our listeners might be overwhelmed, they're like YouTube and now there's shorts, like what wrap their heads around like TikTok show. But there is a lot, right? And the point is if you don't know, ask for help because help is available to you every year. There's a new app, a new platform, and as online business owners, you really have to be ahead of the curve if you want to succeed.
Maddy:
Definitely. And it comes down to what your goals are too. I think certain platforms thrive in different areas like Instagram. A lot of people say it might not be as relevant, but I still think that Instagram is the best platform to create a stronger community just with the dms and the types of communication style you can do on there. I think it's really great for that. And so if you wanna just build trust with your audience and relate to them and cultivate your community, then you might just wanna focus there. And if you wanna grow then you wanna keep your ears on the hunt for what platforms are growing accounts and yeah, just take it slow and steady like you were saying, but just stay on top of what new updates are happening and see how you can fit it into what your goals
Social Media Tips for 2023
Dani:
Ah yeah, for sure. Okay, my last question is 2023, your best tips for maybe someone has an Instagram setup connected to their Facebook page. What kind of modifications or intentions should our listeners set for this year and what are the best ways to kind of repurpose in the most manageable efficient way?
Maddy:
If you have your Instagram set up to Facebook, maybe don't do that if you're just having it automatically post there. One thing that you can do within the Meta business suite, which is inside Facebook, is you can have it directly schedule a post out to both Instagram and Facebook. So that way both platforms think you're organically posting, which is just gonna help it even better even though they're both under meta, which the whole concept is kind of meta anyway, but it's, it's just gonna help as much as you can post organically on these platforms while still obviously we have to schedule because we don't wanna be on our phones all the time.
Maddy:
But that is just one tip that I would suggest so that it's not just posted from Instagram, you can schedule it out for both. But I think what we were saying before of even just adjusting if a video is vertical and you're gonna post it to Facebook and it might look better horizontal, do that and do it in the way of the best user experience for that platform. If right, the platform desires more text, then maybe write a little more of a thought out text if you should have co captions on another video because they might not listen with audio. Like just knowing the language of that platform and then optimizing it there will help that content thrive most.
Dani:
Yeah,
Maddy:
I think figuring out your audience and again, where your target audience hangs out, if it's TikTok or if it's YouTube shorts because video is king right now, we all know that. So I think we're not gonna be able to run away from it at this point. So even if you enjoy having quotes and you don't wanna be talking in video all the time, having a subject in your content in general is just gonna help the audience connect to it. So if you have a video of you walking down a path, you could put a quote on there, but it at least helps the viewer connect with that in a new way.
Maddy:
And those kinds of things you can post on Instagram and then you can go back in Instagram and you can look at all your videos, save them and you can go to another platform like YouTube shorts and schedule those out so you don't have to think about them again and test it out like 2023. It's a new year. You can try new things without overwhelming yourself. Yeah, and try, if you already have all this content, you don't have to go like batch a bunch more, take the content and try scheduling out one short a day and see how they go. And then you can see which ones worked and maybe see what the platform likes most.
Maddy:
You don't have to go out and make all this new content yet if it's a brand new platform, cuz that platform hasn't seen that content yet. So yeah, if you've already been making these short form videos since we've been told that that is the best thing to do, then you might already have a content bank. And so I would say start there and repurpose and try things out. Try new things and that's how we all figure it out.
Dani:
Yeah, I love that. Just the fact that if you create something once, it doesn't end there, you have the opportunity to just use the same piece of content on multiple platforms and who knows, maybe like one does significantly better than the other, but you won't know until you
Maddy:
Try even on the same platform. If you post something a year ago, you probably have a new audience or your current audience doesn't even remember that you posted it so you can go back and see what worked and hear it again. Yeah,
Dani :
I never thought of that. I love that.
Connecting with Maddy
Dani:
Where can our audience find you Maddy
Maddy:
You can find me. Well, I actually have a little freebie if you're looking to be more consistent online, you can get that at my website, which is maddiynewtongeorge.com. You can go over and say hi.
Dani:
I will link all of those in the episode description. Go give Maddy a follow. I can't recommend her enough for your social media strategy. And Maddy, thank you so much for being on the show.
Maddy:
You are so sweet. Thank you so much for asking. This was such a fun time and you were the best
Dani:
Right back at you. See you guys in the next episode.
Share On Pinterest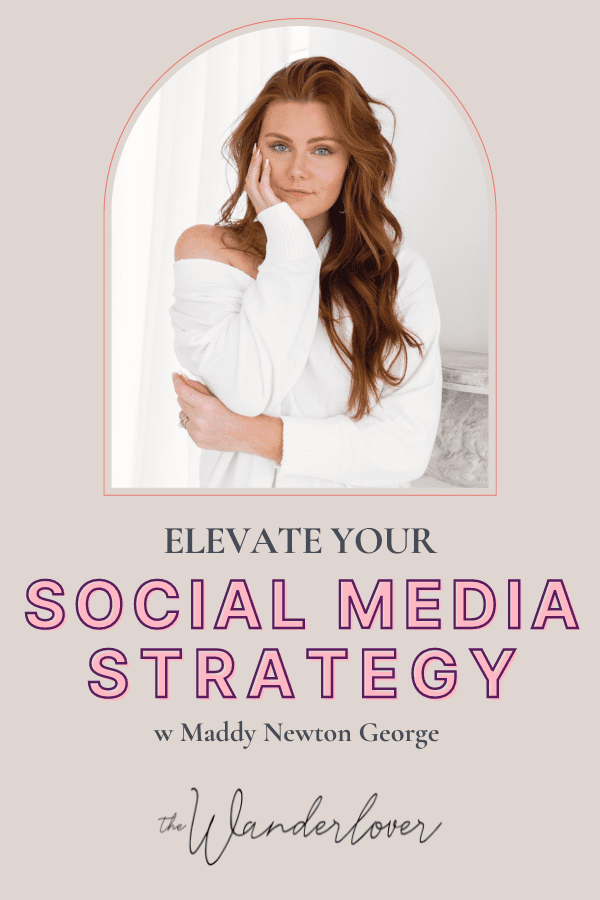 If you've enjoyed this episode, it would mean so much if you could leave a review on Apple Podcasts. This helps us spread The Wanderlover mission to those who need a dose of inspiration today.