Known as Las Vegas of the East, Macau is a vibrant city rich with history and luxury casino hotels. Macau is located just a short ferry ride away from Hong Kong and is a popular destination for international travelers and deserves a spot on everyone's bucket list. I instantly fell in love with its culture and nightlife. The lights are spectacular, the architecture is breathtaking, and it just makes you feel so alive!
Quick Facts about Macau
Local currency is Macau Patacas (MOP) but Hong Kong Dollar (HKD) is widely accepted everywhere. The same is not true though when it comes to using MOP in Hong Kong, as it is not accepted anywhere.
Macau was ruled by the Portuguese for 447 years.
The official languages of Macau are Portuguese and Chinese. It was so interesting seeing street signs in both languages!
It is the only place in China where gambling is legal.
Macau is warm year-round, the coldest month is January where temperatures will dip to 15 Degrees Celsius/60 Degrees Fahrenheit.
Macau is the second richest territory in the world.
6 Must-Sees in Macau
My friends and I had the pleasure of staying at the Bella Deluxe Suite at the Venetian Macao. The 10,500,000 square foot Venetian here houses the largest casino in the world and is modeled after its sister hotel in Vegas. It is an impeccable luxury resort; room service was very quick to respond and the staff was incredibly polite and attentive. The Venetian Macao itself could take a day to explore entirely! Even if you are not a guest I highly recommend walking through and seeing the canals, beautiful decorations, and shops.
2. Macau Tower
The Macau Tower is a must to see the city streets from above. It has a delicious rotating restaurant 66 floors up where you can see panoramic views of the city! It also is home to the tallest bungee jump off a tower in the world! I wasn't brave enough to do it myself, but please let me know if you would dare!
3. Ruins of St. Paul's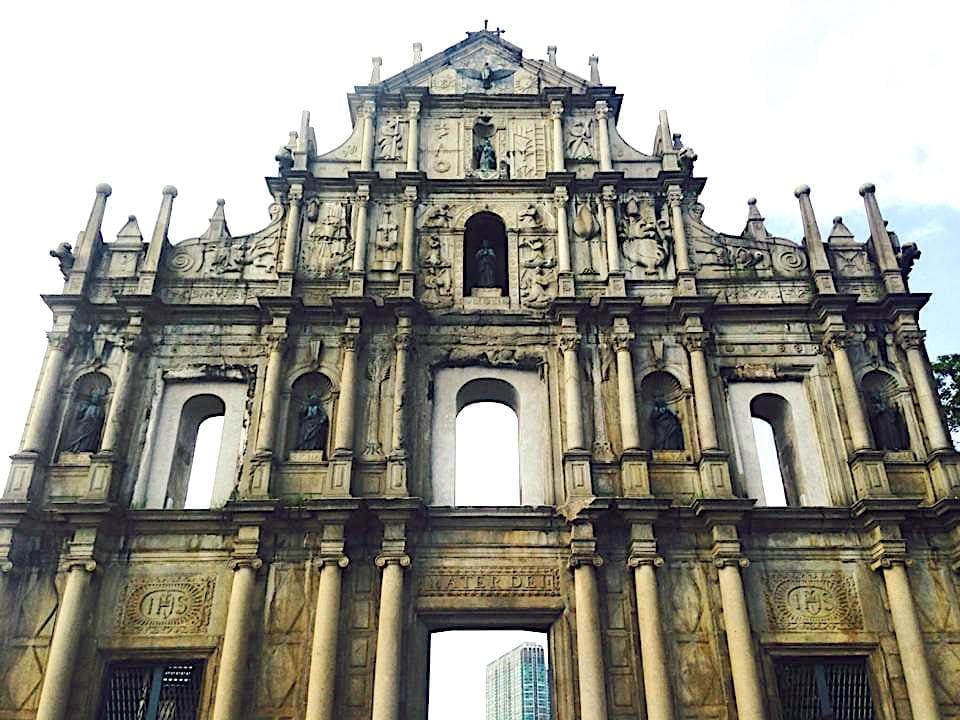 One of Macau's most famous landmarks, the Ruins of St. Paul's is the remains of a beautiful old church dedicated to Saint Paul the Apostle. It was the largest church in Asia at the time and known as the "Vatican of the East," and burned down in a fire in 1835. What remains is a gorgeous facade, and you can only imagine what it looked like in its glory days!
4. Largo do Senado (Senado Square)
Part of the UNESCO Historic Centre of Macau World Heritage Site, Senado Square is bustling with activities, shops, and beautiful architecture. My first visit was during China's Mid-Autumn Festival and the streets lit up with decorations.
5. A-Ma Temple
The A-Ma Temple is a temple to the Chinese sea-goddess Mazu and is one of the oldest in Macau. You will find many people burning incense for good luck, and many come here to pray.
6. Club Cubic
If you're looking to explore the nightlife in Macau, go to Club Cubic located in City of Dreams. There are five VIP rooms and international DJs regularly make live appearances. We celebrated here for a friend's birthday and had such a fun night!
Macau is an underrated Asian city of history, lights, and entertainment. It is just as luxurious, exciting, and alive at night as Vegas, if not more. Try your luck and see which city is better for yourself! If you liked this post, please pin or share! Have any questions about visiting Macau? Let me know in the comments below!