Welcome to my comprehensive review of ThriveCart. This article does contains affiliate links, which means that if you click on any of the mentioned links and make a purchase, I earn a commission (at no cost to you)! I use ThriveCart daily to run my online business — I only promote products or services that I genuinely believe will be beneficial and relevant to you!
So, what is Thrivecart anyway?
ThriveCart is a powerful and versatile shopping cart solution designed to streamline and help you make sales online. It offers tools and functionalities to create high-converting checkout pages, manage your products, track sales, and automate your Marketing. Whether you're a solopreneur just getting started, or you are established with a large customer base, ThriveCart caters to all.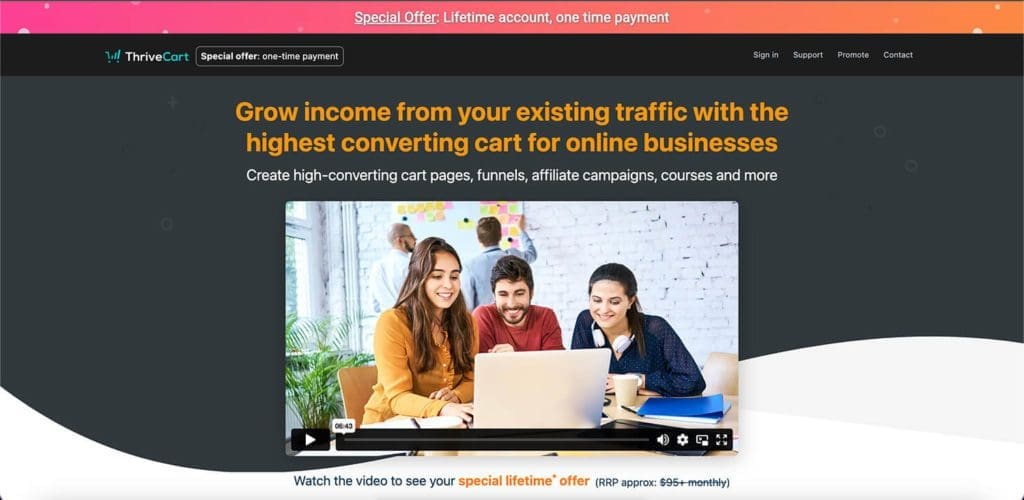 When I created my first digital product, The Travel Influencer Handbook, I initially signed up for SendOwl. It was user-friendly, affordable, and easy to navigate as a new entrepreneur. If you are just starting out and don't want to fully commit to your business just yet, it could be a great option. However, as my business grew, I quickly started to hit limitations soon enough I needed to upgrade my systems, branding, and level of support.
With SendOwl, I was lacking and needed more support with:
Customization of sales pages and checkout carts to be on-brand (Over time, SendOwl felt like something you would see in the early 2000s in terms of a checkout cart and I feel like it lost trust with potential customers).
Order bumps and upsells were not converting
Affiliate tracking was lacking
The monthly fee did not justify what I was spending vs. what I was getting
SendOwl lacked many features I needed to scale efficiently.
Then when I launched my first online business course, I had to have a whole other platform to host my course on, with another monthly fee to pay. So there I was paying all these monthly fees, managing all the different parts of my business in different places, losing track of things, and just trying to make it all work together, missing opportunities, losing potential clients, and missing out on earning opportunities.
Something had to change! And that's when I found ThriveCart.
Suddenly I had a platform with a one-time fee, and that could handle all my digital products, my online course (ThriveLearn), affiliate program, online payments, upsells, bumps, down sells, taxes, integrated seamlessly with my WordPress website, and ActiveCampaign. AAAAHHHHH!
I have now used ThriveCart for years now and it's been one of the best decisions I made. I made back my entire investment of $690 for the Pro version within the first month of signing up, and my sales have just continued to increase every month since.
So when it comes to building a successful business with Thrivecart, and unlike a lot of articles out there that just compare software to others without any experience using them, I actually use ThriveCart to drive consistent multiple 5-figure passive income months.
In this article we aren't going to talk about other platforms, because I don't use them. ThriveCart single-handedly deals with everything I need and more for my particular business model, so you are not going to be hearing about LearnDash, ClickFunnels, Teachable or Kajabi or anything. This isn't a "ThriveCart is better than …… because…. Article"
Simply a ThriveCart is amazing article and here's why.
Oh yeah, and did I mention I also run and manage my online course on ThriveCart using ThriveCart: Learn?! As if it wasn't already good enough, you get ThriveCart: Learn, a super powerful online course builder, included in the ThriveCart one-time fee. There are two versions of Learn available.
Learn (included for free as part of your ThriveCart account)
Learn+ (a paid advanced version containing a number of extra-powerful features, which is what I have)
Both versions allow for unlimited courses, unlimited modules, unlimited lessons, and unlimited students. ThriveCart: Learn deserves its own article which I will write soon. But for now, let's talk about ThriveCart.
Why I love Thrivecart?
Value for money
Remember a while ago I wrote an article on the top reasons entrepreneurs fail? Well, underestimating the amount of capital needed was definitely up on that list. Entrepreneurs completely underestimate how much it takes to start and launch a new business or product. So this one-time payment option is a MASSIVE advantage over other options as it's a one-time fee that is completely predictable and can save you thousands of dollars over time, instead of a monthly recurring subscription.
We will go into costs a little more later in the article, but to put it briefly, ThriveCart is a steal.
Intuitive Checkout and Cart Page Builder
I love ThriveCart's user-friendly checkout page builder that empowers you to design visually appealing and conversion-optimized checkout pages with ease. With a wide range of customization options, you can create a seamless brand experience for your customers, increasing their trust and likelihood of completing their purchase.
ThriveCart has templates you can use to help simplify the process of setting everything up, and then you can customize and tweak the steps for the best results. To help you out, I've tried and tested, and now I'm sharing my highest-converting digital product checkout template page (the one I actually use for my own ebooks), available for you to copy. All you need is your own ThriveCart account set up, then you are ready to copy the template and start selling.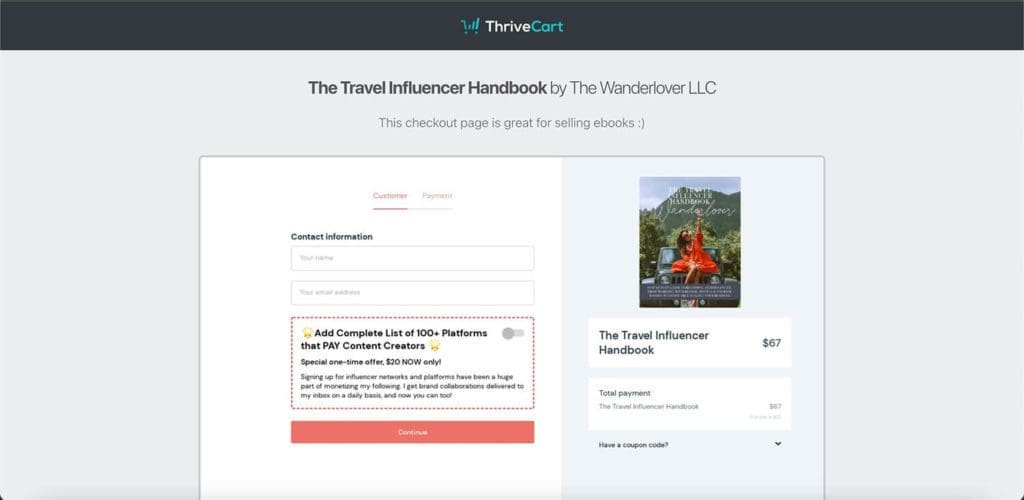 Easy One-Click Upsells and Order Bumps
You can increase your average order value with ThriveCart's one-click upsell and order bump features. These functionalities allow you to offer relevant add-ons and complementary products during the checkout process, enticing customers to make additional purchases. For example, on my Travel Influencer Handbook checkout, it was so easy for me to add an order bump where it encourages people to spend a little extra and get my 100+ list of platforms that pay content creators. Having the ability to add these bumps and upsells to a checkout process is so amazing and the results speak for themselves.
Payment Processing
Handling payments online can be a pain sometimes. But ThriveCart integrates easily with various payment gateways, enabling businesses to accept payments from customers using credit/debit cards, PayPal, Apple Pay, Google Pay, and other payment methods. These payment options are integrated seamlessly through your user journey, so there are no awkward steps in the checkout flow. I cannot stress how important this is, as extra steps = lower conversions. 
Learn more about ThriveCarts Payment Gateways here.
Abandoned Cart Recovery
It has built-in features to help recover potentially lost sales by sending automated follow-up emails to customers who abandon their shopping carts.
Powerful Affiliate Management
If you have thought about running an affiliate program, you have probably also realized that tracking your affiliate sales is a headache on its own. But ThriveCart simplifies affiliate management, making it easy for you to collaborate with affiliates and boost your sales. The platform provides real-time tracking and detailed analytics, ensuring you can track and reward your affiliates accurately and keep those sales coming.
Subscription Management
The platform can handle subscription-based products or services, enabling businesses to set up recurring billing and manage customer subscriptions easily. Not only that, but you can stay on top of subscription churn with ThriveCart's subscription saver feature. It automatically follows up with customers whose subscriptions are at risk of cancellation, giving you a chance to address their concerns and retain their business.
Digital Product Delivery
For businesses selling digital products (e.gebooks, software, online courses), ThriveCart automates the delivery process by providing download links or granting access to the purchased content.
Integrations Galore
ThriveCart seamlessly integrates with a wide range of third-party applications, including email marketing platforms like Active Campaign, CRM software, and payment gateways. This enables you to create a tailored tech stack that perfectly aligns with your business needs. For me it was crucial that the platform I chose integrated seamlessly with my WordPress website, and Active Campaign which ThriveCart does perfectly.
What are the differences between ThriveCart and some competitors?
While there are several shopping cart solutions available in the market, ThriveCart stands out due to its exceptional features and ease of use. Let's briefly look at the differences of ThriveCart with some of its main competitors:
ThriveCart vs. Shopify
While Shopify is a popular e-commerce platform, ThriveCart focuses specifically on checkout optimization and simplifying the buying process. Unlike Shopify, ThriveCart doesn't require you to build an entire online store, making it a more lightweight and conversion-focused option.
ThriveCart vs. ClickFunnels
ClickFunnels emphasizes sales funnels, but its checkout process is not as customizable and intuitive as ThriveCart. Additionally, ThriveCart's subscription saver feature is a unique selling point not found in ClickFunnels.
ThriveCart vs. SamCart
SamCart and ThriveCart share some similarities, but ThriveCart's A/B testing capabilities and advanced affiliate management make it a superior choice for businesses looking to optimize their sales processes
ThriveCart Payment Gateways:
ThriveCart integrates with a wide array of payment gateways, giving you the flexibility to choose the one that best suits your business and your customers. From the well-known to the specialized, they've curated a selection that spans the globe, ensuring that your customers can complete transactions using their preferred methods.
Major Credit and Debit Cards
ThriveCart seamlessly connects with major credit and debit card processors. Whether your customers prefer Visa, Mastercard, American Express, Discover, or other popular cards, ThriveCart's payment gateways support a smooth transaction process, enhancing convenience and user satisfaction.
PayPal Integration
For those who prefer using PayPal, ThriveCart seamlessly integrates with this widely recognized and trusted payment method. PayPal integration allows your customers to complete purchases using their PayPal accounts, offering an additional layer of convenience and security.
Stripe Integration
Stripe is a favorite among online businesses, known for its user-friendly interface and robust security measures. ThriveCart offers seamless integration with Stripe, allowing you to accept payments from your customers directly on your website and is what I use personally to process my online payments. This option is ideal for enhancing user experience and increasing trust during the checkout process.
Apple Pay and Google Pay
In today's mobile-driven world, offering convenient mobile payment options is essential. ThriveCart integrates with Apple Pay and Google Pay, enabling customers to make purchases swiftly and securely through their mobile devices. This feature is perfect for enhancing the mobile shopping experience and driving conversions.
Custom Payment Plans and Subscriptions:
ThriveCart allows you to offer custom payment plans and subscription options to your customers. Whether you want to provide a one-time payment, split payments, or recurring subscriptions, the platform gives you the flexibility to tailor payment structures according to your product offerings and customer preferences.
The Ultimate Verdict – Is ThriveCart worth it?
When it comes to shopping carts for digital products like courses, eBooks, memberships, or coaching packages, ThriveCart reigns supreme. With its ease of use and unbelievably affordable pricing, this tool is a game-changer that can effortlessly boost your bottom line.
A lot of people might hate on ThriveCart for online stores, but it is more than capable of running and growing your digital business, especially when integrated with email tools like ActiveCampaign or Mailchimp. And with its integrated payment gateways, its really easy to get set up and earning money online.
For a one-time payment of $690 or $495 if you decide against gettin pro, you'll get a tool that outperforms competitors like SamCart and offers a superior course platform compared to Kartra. It's an all-in-one package that equips you with everything you need to hit the ground running and start making serious money right away.
Is it right for everyone though? No. If you are hoping to build community based courses or you are dealing with complex physical products, ThriveCart might not be for you. If you find yourself in that category, alternatives like Kajabi, Clickfunnels, or e-commerce platforms like Shopify, WooCommerce, might suit your needs better.
As you know, I am all about digital products and spo for the vast majority of my readers and followers, ThriveCart is totally capable of transforming your business forever! And with the one time fee, it's kind of a no brainer.
So, if you're ready to step into the world of e-commerce success, ThriveCart is your gateway. Embrace it, and witness your digital business flourish beyond your wildest dreams – just as it did for me.