Welcome to my first face-to-face interview on the podcast! In this episode I am talking with creative director Lenya Bass, about how she turned a creative agency from a traditionally location based business into a fully remote and scalable online enterprise! From how to work with a large team all across the globe (15:50), to create scale beyond the two founders (20:42), this episode explores what it's like to be a remote business owner.
Check out Island Studios Website
Follow Island Studios on Instagram
Connect with Lenya on LinkedIn
✧ Download My 0 to 6-Figures Case Study
✧ How to Build a Successful Online Business that Allows You to Travel the World
✧ Enroll in Wanderlover Business Academy 2.0
✧ 10% off Passion Planner w/ code DANIELLEH868
Share on Pinterest or Instagram!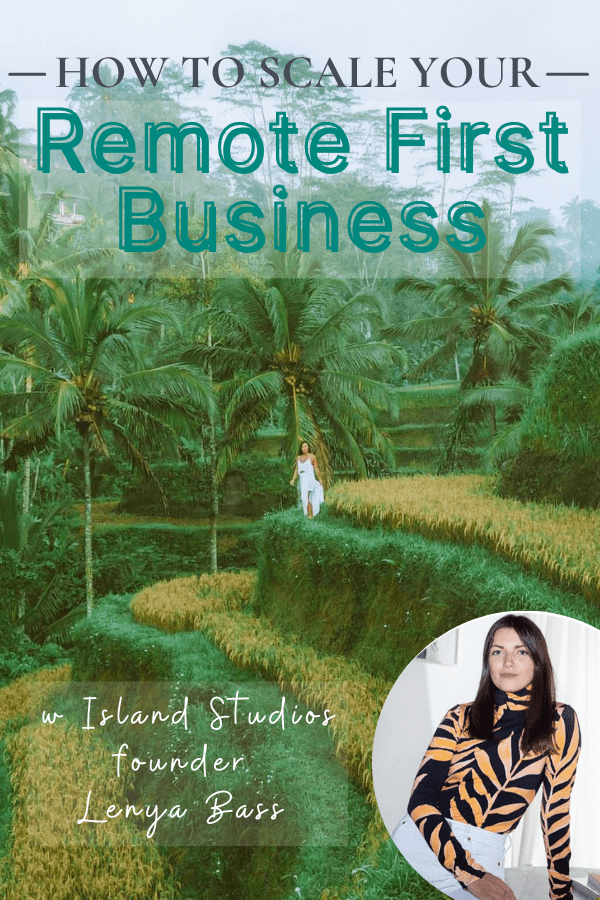 Prefer to read? Here's the blog version…
Introducing Lenya Bass, the co-founder of Island Studios
Dani:
Hi, my loves. Welcome back to the Wanderlover podcast, where we help you grow your business and live your dream life. I'm your host, Danielle who, and with us on the show today is special guests, Lenya Bass originally from Berlin, Germany and co-founder of Island Studios. She is a dear friend who I've connected with here in Batukaras, Indonesia and runs her agency remote first, while raising her two year old son. So excited to dive deeper into this remote first strategy today. Welcome to the show.
Lenya:
Thanks for having me!
Dani:
Now it's funny because off air we were saying, how both of us run our businesses remote, but we're having this in-person interview. Would you like to describe this room that we're having the interview just to give our listeners an idea?
Lenya:
So we are actually in a little bungalow, which is part of in my husband's business here, House of Sawa and we are sitting on the floor with a view onto rice the rice paddies.
Dani:
And it's another topic I really want to dive into this episode because your husband is also really entrepreneurial and you've been traveling. You've been remote first, really embodying this lifestyle for like a lot of your life. So I love to hear about your story and what got you started with this.
Lenya's journey towards founding a creative agency
Lenya:
Okay. Yeah. I met my husband around seven years ago in Bali and I've been between Berlin and Bali all my life since I was a little baby, which I'm trying to do with my child now as well. But I've been working remotie first while, finishing my studies and I've been working remotley between two countries. That's how I, how I set up my own business. And my husband has been doing the same as a photographer.
But yeah, as I just mentioned, we've got the surf stay here in Batukaras now and restaurant, which obviously ties you a little bit more to a location, which is beautiful though.
Dani:
I'd love to hear about island studios. How did you get started with that? And what do you to remotely it while you're here?
Lenya:
Yeah. Yeah. It's funny actually, because when people come here to the surf stay they just kind of, no one asked me, oh, what do you do here? They see me with a child. Like no one would assume that I'm sitting every day above the restaurant, running a creative agency. So that's always something that I noticed, no, one's really asking, asking me, what do you do.
Yeah. So Island Studios was born in 2020, before that I was freelancing as designer graphic design on brand designer did a master's again in brand strategy, creative direction, human centered design. And yeah, I mean, I always had the vision of kind of either setting up my own brands or product, or maybe even turning this freelance service into an actual offering. So as I share with the team and agencies or studio, I mean, those are also two very different things I had to make a decision. And yeah. So I think a lot of people's thought their entry from your story, that's only two years ago.
So it happened, what do I do now? But yeah, I just had to spend more time in Berlin digital agency concept that we had. I was born from a situation where I had to be in the same place as someone that I then found that my agency with to say that the situation or the environment had to be local to then say, Hey, we're doing this, this concept that's localized. But it is my friends from uni from my first degree that I did, I met her and she is also a designer, but she went into web design websites, apps, et cetera
And I did creative campaigns, concepts advertising for a little bit. And we did a few projects together during the pandemic projects because we were lucky enough in our, in the street. So yeah, we were getting jobs and being able to share them. Yeah. We know each other, there's so much trust and we realized that we compliment each other in our skills. So let's try and find an agency, other designers as well, because we wanted to, the aim was to design less and do more creative direction and like actually do the graphic design.
Lenya:
And we always knew I would go back to Bali, but Berlin is my, I was born there, it's my home. So she's there. She's not somewhere completely different. I go off and live my life and she lives there.
What is a remote first company?
Dani:
Yeah. And so for our listeners who maybe hearing this term remote first for the first time, right. It's a very familiar concept for us, but for our listeners, what exactly is remote for us? And what do you mean by that?
Lenya:
That is a core value of Islands, I think it's reinventing your organization. You don't have to have an office on headquarter, but it doesn't mean that no one sees each other. It's completely out of touch. And only works when you have a solid company, then you can go with working remotely means that you have different locations, that you can work in different time zones, zones that you worked through, and that you are able to manage that and that you have an effective communications, but remote first also means that yes, that's your strategy, but it doesn't mean that you can't manifest your work in a location at all, can still, it just enhances it, which is really great.
Lenya:
So if you have to manifest that on demand like meetings, or if you have to get your team together, like you can do that on demand because you, which is, you know, that can really beautiful balance. And I think that's, that's what it is to be able to do that to scale. And you know, like that's what we were talking about to scale your business. Without first, you need to have a team where you facilitate. And especially as a leader where you're trying to facilitate trust and people trust each other, I'm a hundred percent trust and understanding, you know, you are able to work flexible and remote first strategy.
What it takes to create a remote first business
Dani:
Flexibility is like the number one thing you want to achieve. And so when you decided that you were going to integrate this organizational strategy into your business, did you run into any complications? Were there any boundaries you had to set? What does the process of establishing something like this?
Lenya:
Look like that's a good question. And I think the number one kind of question, ask yourself, if you decide to go first or not, is what kind of company do I want to achieve? Cause that's also the criteria of what kind of talent you want to reach out to and what kind of like we are actually yes, when we market first, we want to kind of run this agency with a core team, you know, so it's not just two founders.
Lenya:
And then it's two founders, maybe a core team of one, two or three people that know the business, know what they're doing. And I think if you have that, it's, it's easy to scale because then it's also a noxious, the company doesn't work without the fondness scale. When we like it's clear what this fully functioning organization with its own mission and vision and talents and freelances to work with because it's crystal clear what other studios is and what they're looking for.
Dani:
Yeah. I love that. And it's such a distinction between having full-time employees versus just having a team of freelancers. And I think you mentioned this the other day, like when you hire someone and you see how excited they are to your business, you can see how having someone like that would help your business scale bigger than what it is. Just the founders.
Lenya:
Yeah, exactly. And what I actually learned from design thinking and co-creation mindset in yoga is a certain sense of success because that's their success. And to kind of facilitate that mindset, then you facilitate the trust that you need for them to really work without you trying to control any that's beautiful.
Dani:
And I think another topic I wanted to touch on is like, when people think about this digital nomad lifestyle, there might be some perception that, you know, it's just a one man show or like a two person show. And the ability to scale above a certain threshold is already limited because of, you know, differences in time zones and work structure and communication or whatever. But what you are proving is that's just a limiting belief. It's very far from the truth that you can't scale as efficiently and as effectively as many other agencies with a physical location, when you structure it and set your boundaries and communicate in a way that works for your team.
Lenya:
Yeah, yeah, exactly. Those are the things like, know what you want to be, you know, what you don't want to be set the goals to that set the goal for your company culture, which is very, yeah. Which is fun because you know, a lot of big companies into being remote culture because that's what you have to do. And that's also how to attract people, you know, as it applies to jobs or whatever, cause that's like what people want now, but it doesn't always work. Like you have to backtrack to be like, what kind of company am I and what kind of company culture have, and then see, okay, like who can be remote first?
Adopting the best of corporate and shaping it into a remote business
Dani:
And I know you worked for an agency before starting this one, so what similarities do you have in terms of workflow with that company where it wasn't remote first, right? You had a centralized location versus your current business.
Lenya:
I think that that was a very personal matters. Or maybe you also have to look inside, try it out because the agency that I worked for, it was a great agency, product innovation agency in Berlin, you know, word of mouth credit portfolio, like someplace to work with really, really great place to work with relationship with founders, especially being creative.
Lenya:
I mean the values like balance of extremes, like when someone gives me full freedom and that's what I want to also, and that was not really possible because I had to be there. Sometimes I went home and that's when the magic happened. And I started to brainstorm, waiting for this to take off and had some nice team lunches. But you know, like just didn't really want to me, whereas other people maybe really flower and that kind of environment, but for me, creativity and having a creative agency, I know that it's kind of the future of work.
Lenya:
That's how you get the best out of people. I mean, you really observed that a lot too when working with people that try to go that way, just discovering sides of yourself that maybe before were able to come up.
Dani:
Yeah. And with your team, with your new team, everyone shares the same values. So there is no, you know, like when I was in corporate, there was a lot of butting heads and you don't see eye to eye and outside of just work, it was more of like what you value in life. And when you open up this pool of people to be international, it's easier for you. Like we were saying off air, we connect with people who share similar lifestyles around the world. And when you can attract that talent into your business and it's so much easier to grow.
Lenya:
Yeah. And that's another thing with interviewing the people you might want to hire, don't go off that track, ask them what's important for them in their lives. Yeah. That's me a question you should ask me, like, what are your values where you want to get to the lifestyle and see if that if you, as a company can benefit from that they, as a person can benefit from your work environment, thereby give you more commitment.
Systems & technologies for remote first companies
Dani:
Yeah. Okay. So now my next question for you, what systems do you have in place in terms of organization and communication?
Lenya:
How do you manage everything from a technical point of view as well? So we have project management tools place. We have certain jewel fixes of as these certain meetings that we have a week. I mean, besides calling ourselves digital first as well, like on board, I mean, we have some people in the team that insecure about certain project management tools or whatever, but it's like really important to get everyone on board on how to use the app set. What's important to you in, in your communication. Like I don't require everyone to work every day for two hours so that I know what they're doing.
Lenya:
Like they can really find themselves working five hours on Thursday, really getting work done because that deadlines as well, of course projects. But we have an app at the app Monday. So project management, because it really works well with other teams and you can even set little time zones, you know, like you can see that clock, you can integrate different apps, different sheets, different documents, even you can have written documents and then you can have all sorts of things. So it's really, our hub is our business.
Lenya:
What I would really suggest is if you don't have, or if your headquarters is in the cloud, like in some sort of format where you meet kind of where you see what everyone's doing and then slack, just to replace and email communication, but also in certain channels and just in client channels with maybe the project manager, just someone who's kind of managing it's on their side. Yeah. Just instant communication with them. That's such a good idea. If it's a project manager or creative, like if they have their own designer, which he loves people have their own designers as well, then we can kind of just exchange them on bits and pieces for sure.
Lenya:
Or else you're just like digging through, what did they say?
Dani:
And what about calendars?
Lenya:
Yeah, we have, well, we do everything on Google. So Google drive. So we have like one to two calls a week. We have every Friday we have a calendar update. It's like a document where everyone puts everyone has at the moment it's, but it's visible to everyone. And it's just like, literally, instead of having a meeting where we speak about everything and everyone has five to 10 minutes and they present what their goal was for the week.
Lenya:
And then if they've achieved it or not. And then like one key learning share that summarizes their mood of the three goals for the next week. And then you like, it forces you to keep it short, like to the most important bits and pieces. Otherwise you again have like a meeting of two hours talking about stuff and then you don't really know what you're going to do next week. So there's always laughs and smiles. Cause you know, we always choose a funny GIF.
How to scale a remote first business
Dani:
Beautiful. Amazing. And I love like just this reframe because it sounds like you only started two years ago, but you've structured your business where you're already thinking about how to scale, how to grow and not starting off as just like a solopreneur or just like with your founder. You're really thinking what is the most solid foundation having this group of people that share our vision. And that is like the baseline that we're going to work off of, which is already in miles ahead of people who are just doing everything themselves, not really seeing how to grow and delegate tasks.
Lenya:
Yeah we had a business coach ask us a really important question at the beginning. Do you want to be a lifestyle business or do you want to be a scalable business lifestyle business? You know, like sustaining certain lifestyle that's enough for us doesn't mean that you don't have any money. You can still like make a lot of revenue, but your goal is to just sustain a certain lifestyle. And that's kind of what we wanted at the beginning. Cause we were like, you know, we just want to have an agency or like a studio at the beginning that works. And that gives us a good life. And you know, that's, that's the goal.
Lenya:
And then we pretty quickly noticed when we prototype those for like a few months. And when you have your first little success stories that you want to grow, how can you do that? Like you want to combine that. Why do you have to decide to either have a good life or work your butt off? Yeah. Structure helps structure help. See what other people do. That's the thing I think like sometimes we don't structure because we, we don't really have the perfect structure. So we just go on and on and on until we kind of, someone gives us a template, like set up the structure, test it for three to six months, see what works, what doesn't work and then change it.
Lenya:
But yeah, that's, that's, that's a good place to start to like take everything that you've learned. You don't have to work for 10 years, somewhere else to start something. What works for you personally, everyone has little strategies in life, you know, even the little workflow, how you approach things, you know, personally, as well as just set up some sort of structure testing.
Dani:
Yeah. I love that point of, do you want to be a lifestyle business or scalable one? And I think another kind of refrain is when you have a business, are you treating yourself as like the sole creator or the person running it or do you own this business and you can outsource and delegate and pass on all your tasks to your team.
Dani:
So when you kind of exit the, I am the living, breathing or of my business, instead of seeing yourself in a position to manage it, it gives you a lot more time back, a lot more freedom and you have the scalability.
Lenya:
Yeah. It doesn't mean that your character is not supposed to be part of your business, brand yourself, the way you do things. Cause I mean, some people are designer, but it's like how, how you appear as a designer, you know, what is your mindset? What is your way of working that people can relate to on work with you? So yeah, trying to be scalable in the sense that the business would work without, but we can still, you know, be the face of it.
Lenya:
Don't be scared of doing that. Like do it, you know, brand yourself with your business. Like it always helps people, people buy into people, not into business books do that, but you can still scale and set up your business the way that you can, after five, 10 years you can sell it.
The future of Island Studios
Dani:
So where do you see island studios in five to 10 years?
Lenya:
It's important to ask yourself that, I guess. Yeah. You mentioned I have that. I have a child. Who's like, I want more kids. I don't want to think like, oh my God, I can't like do my career if I have another child, no, I want to like grow my family while I grow my business as possible because my husband is also doesn't have jobs. Yeah. I think where do we see ourselves still? Not in one place. I think my, my partner will, she's looking into kind of moving from Berlin into a warmer place. So then you can see yourself doing that.
Lenya:
And then did she surf, she doesn't, she had like a really nice surf experience, but just not living first to surf, I guess she, yeah, she's getting back into skating. She took that. So spirit and the new skateboards, urban surfing, but yeah, we definitely see ourselves as being in different positions. So we have the readiness right now to have several hats that you need at the beginning. And you also have to be happy with doing work again that you maybe don't want to do. Like at the beginning we said, we created this agency cause you were like, oh, I don't, you know, as a freelancer, you have to do so much yourself.
Lenya:
Maybe you don't want to do that. You just wanna like kind of be a creative director and tell people what to do. That's like the very honest, but yeah, starting off again, like even after 10 years of experience under your belt, you kind of have to be a bit of everything. So in five years you really want to get certain roles that we set ourselves in the business. I know what she wants to be in. She knows what she kind of wants to go a little bit into this islands two years as a brand with much more of like a community aspect to it.
Lenya:
And also not being that much focused on web design anymore. Like I can train people for that. The stepping away from the screen a little bit, you know, pushing on us studios as a lifestyle brand with the community. And then I, I want to go more into the educational aspect. I want to teach design. I want to obviously still like to create a direction of island studios, but then like allowing more people to own the style of what these studios designs.
Dani:
I had no idea that's so cool.
Lenya:
It can be in five or 10 years. We know what the passion of the other person is and whether they want to get to be important as well to communicate that because there's also the way they see the business side. You can have your vision of the business. And what about your partner, even though you're aligned now? Like what are their dreams.
Dani:
I love the overall communication. That's when you go from there, I feel like not only do you compliment each other, but you teach each other so much about how to run a business in accordance with your lifestyle, goals and dreams. And so I think that's a really key takeaway. If you work with anyone, if you work with a team, like communication is just so key and sharing what you want without any fear of like, what if it doesn't align with what they want. Right. But in your case, like, it just sounds like you have a family, you have these boundaries that everyone knows and everyone respects that and everyone's in it 110% wants to see it grow and that's how you're going to end up, you know, scaling your business overtime.
Lenya:
And even if that's different from your friends, thats a beautiful observation from your side.
Dani:
Thank you so much for sharing. I feel like we started off with, you know, scaling, but then also learned about just so many other things in running a business. I learned so many things when you're getting to pick your brain. Is there anything else you would like to share with our audience about running a business or else?
Lenya:
Yeah. To be fair. This that's too short not too. And people have your back. Yeah. Like there are many times where I suddenly learned things about my partner that I didn't know, even though we know each other, you know, such a long time and yeah, patience is a really big thing. The design industry can be really hectic obviously, but living here plays like he's got this weird, weird, like opposite of being in such a tranquil or like, I don't know, just kind of finding the beauty in opposites as well. I think that's really what I always used to identify with one job. It's beautiful if there's a variety of it.
Lenya:
My partner works very different from me and I send them. Patients is really the key observations, communication and trust. I had to trust that that's the way she does it.
Dani:
Yea honoring each person's different ways. Think we said yesterday everyone's different, but they all made it out like, okay, we just have to trust that it's for the best.
Lenya:
And don't keep your thoughts to yourself or your fears. So many people want to do, you know what I wanted to do by myself with my lifestyle kind of always been between two countries. Cause my parents that's the way my parents did it. They travel the radio as well. I'm not the one who's doing that job, that internship, but yeah, just trust the process. Trust the people you work with. Talk to them, honor your truth. And maybe you'll be recording podcast episodes in a rice Patty!
Dani:
I love that. So if our listeners would like to connect with you, if you want to know more about the business itself, those in the episode description, thank you so much for coming on the show. This is such a lovely conversation and I know the listeners have many, many takeaways and then action steps to execute on.
Lenya:
Well, I hope so. That's the reason we're here. Thank you so much.
Dani:
Have an amazing week guys. See you in our next episode.
~~~
If you've enjoyed this episode, it would mean so much if you could leave a review on Apple Podcasts. This helps us spread The Wanderlover mission to those who need a dose of inspiration today.