When silly season hits it can be easy to feel like you're being pulled in all directions – family, friends, business, sale… it's all happening! The best way to keep your cool and watch your business benefit is to create solid self-care practices so that your cup is full and you can give your all to the holidays.
Quick Links!
🎉 *DOORS OPEN* Enroll in the Wanderlover Business Academy
🖤 Grab the Black Friday Bundle https://thewanderlover.com/black-friday-bundle/
🔗 Resources and Links:
✧ Join the Digital Nomad Society for just $7/month
✧ Follow The Wanderlover Podcast on Instagram
Prefer to read? Here's the blog version…
How To Prepare your Business For Black Friday Sales
Hi guys! Welcome back to the podcast. I've been getting a few questions as Black Friday is right around the corner. As a business owner, how do I prepare for Black Friday and what do I do? So usually I spend a bit of time, like at least a month, preparing my Black Friday offers. But if you are a little tight on time. I have a Black Friday Bundle for you. So it basically is everything you need to have your most successful Black Friday, yet I give you all of the templates and all of the tools so that you can just introduce your offers and use my templates that I've used for the past few years.
So in this Bundle, you get over a hundred professionally designed Black Friday social media post story and reel templates, Black Friday email sequences so you can launch your offers with ease, black Friday caption copy for social media posts, as well as a high converting sales cart template for your offers. And so if this is something that you want to participate in, I definitely recommend grabbing the Bundle. You also have the option to add on a Black Friday training so that I can walk you through exactly how to price launch and sell all of your offers. I'll link this in the episode description and I hope it helps. Let me know, if you have any questions.
Self-Care Is Even More Important During Holiday Season
And with that being said, let's dive into today's episode all about self-care. So seven self-care Practices for Online Business Owners. This is so important, especially as we are nearing a really exciting time of year, the holiday season with so much going on Thanksgiving, Christmas, buying sales like it's all happening, right? And as a business owner, we want to fully enjoy all of our time and also be productive and make a lot of money in our business during this time, especially if you're also a digital nomad and traveling like me, your schedules are a little unpredictable and hectic like I am going from Spain to England to New York to Miami, all within a few weeks of each other.
And so how do we take care of ourselves so that we can be the most productive? I'm going to share these seven practices that I've been practicing for so long and it's always served me. Whenever I feel a little overwhelmed, I come back to these practices.
1. Tracking Your Period (If You Have One!)
The first is understanding and tracking your period cycle. if you have a uterus and you get a period and scheduling things out in your business around your cycle. Ever since I started doing this, it literally has been night and day. I know exactly what tasks to do and what tasks to have my assistant assign me in four different weeks of the month because I know when I am the most organized.
I know when I have the most brain fog and I can't think I know when I am the most creative and outgoing and I know when I just want to, you know, do nothing and curl up into a ball and eat chocolate If. You can sink your cycle with your business. You will be so much more productive and obviously this isn't going to happen immediately, but the sooner you take notice of it and the sooner you kind of shift what is working for you and align them with the weeks, it will make such a big difference. This has been extremely helpful in terms of content creation because there's only kind of like a window of the month where I feel like actually being in front of the camera and if I can just get all of my content in that week of me talking of me going out and doing my makeup or getting, you know, dolled up, it makes such a big difference and you're going to have an easier time.
We're all about taking weights off of your shoulders. We're all about not doing things when you don't wanna do them. So that means when you do wanna do them, that is when we do them. I use an app, a free app called Life that I track my period. It's so easy to use. I'm sure there are many others out there. I literally could do a whole episode on this and how I structure my months around my cycle. But in the meantime if you don't track, start tracking.
2. Create A Morning Routine
Next self-care practice is to have a morning routine. And I use the word routine very lightly because as I'm constantly on the move and traveling it is hard, but holding yourself to even an ounce of normal life and a routine makes a big, big difference.
And so for me, my morning quote unquote routine is tea. So having a cup of tea, it used to be coffee by stop drinking coffee and practicing gratitude and journaling for the day. I do this most days of the week, like whenever I can. I think I definitely have tea mostly every morning if I can. Next year when I go back to Asia, I'll probably switch back to coffee. But you get the point, right? You start the morning off on the right foot, you feel empowered, you are grateful, and you just operate from a higher vibration. So whatever is sustainable for you, introduce a morning ritual or morning routine. 
3. (Actually) Treat Yourself
The third self-care practice for online business owners is to treat yourself often. Make yourself feel like the most special person in the world and unconditionally love yourself. This for me looks like getting my nails done, having a glass of champagne on a Tuesday in the middle of the day because I can and I'm worth it. It can obviously mean treating yourself to a holiday or a vacation or taking time off, but it doesn't even have to be monetary. You can just give yourself compliments in the mirror every day. What I mean by this practice is to get into the habit of treating yourself the way you deserve to be treated. Don't hold back personally. I've really had to allow myself to do this because growing up and in Asian American household it wasn't really common. Like I felt like I had this need to make it harder on myself than it needs to be like adding a lot of pressure or doing a lot of work.
So giving yourself permission to take a step back, fully recognize yourself for all the amazing things that you are doing, complimenting yourself, saying really nice things to yourself. This also helps change the subconscious, the inner dialogue, the inner mean girl. Does that sound familiar? So practice treating yourself the way you deserve to be treated. And I'd love to hear ways that come to mind for you on how you plan to make yourself feel special. So If you have any ideas, please dm me. I would love to hear them.
4. Find Your Work Life Balance
The next self-care practice I have is to have a healthy balance between work and life. As an online business owner, sometimes you know, the two are interchangeable and I totally respect that.
I totally understand. But you also need to have at least some kind of gauge as to how much time you're spending in your business and how much time you are living. Sometimes I've definitely experienced living too much, you know, not working in my business at all. And then other times I'm working way too much and burning myself out in the business. I include a work life balance time tracker in the Digital Nomad Society. So if you come join us, you'll get access to all of our trainings in all of our resources to help you find balance in work and life. And so if you take note, take inventory of how much time you're spending, living the life you've built for yourself versus how much time you are spending in the business. Having a healthy grasp and sense on that at all times is going to make you a lot happier. 
5. Stay Hydrated (However Is Easiest For YOU)
The next self-care practice is to stay hydrated. I ignored this for way too many years in my life and what I've found to be so life-changing is simply having a water bottle with a straw. The straw makes all the difference because for some reason, I don't know if I'm lazy or I just don't want to flip a water bottle upside down, I mindlessly sip on my water bottle and go through so many bottles of water simply because the straw is there and I'm just sipping on it all day. It makes such a big difference.
Your skin will improve. Like drinking water has so many health benefits and for me, I just don't feel bloated. I don't feel like I'm clogged up and I feel like I'm taking good care of myself. I'm flushing out all of the toxins. I promise you like I just got my water bottle on Amazon. It makes such a big difference. And if you're not drinking enough water, definitely find one with a straw, preferably a straw that is like easy to open, no twists off or anything. Mine just kind of like pops open. So the easier it is to access that straw while you are doing other things, the more water you'll drink and the better you will feel. I guarantee you.
6. Move Your Body
Okay, the sixth self-care practice I have here that I have Incorporated into my life over the past few years as an online business owner and as a digital nomad is to move my body every single day. Obviously if I am at a surf destination with waves outside (find my top digital nomad surfing destinations here), I will go surfing every day, but if not, I'll find a reason to go outside, take a walk, go on a hike, sometimes go to the gym. I personally prefer to be outdoors, but sometimes there will be a really cool class at the gym or I'll take a Pilates class or like a pole class. And it's really fun to move your body and I really think it's important to take care of your body the same way it is to take care of your mental health, your business, and every other aspect of your life.
7. Water Your (Figurative..Or Real) Plants
And going off of that, the last self-care practice that I recommend incorporating as you enter this holiday season is to water your plants. And what I mean by that is now that you're taking care of yourself and you should have a full cup, it is time for you to water all other parts of your life. Call your family, nurture your relationships, tell your partner you love them. Tell your friends that you really care about them and you love them. Tell your business that you love it. Compliment your business. Even check in on clients. Make sure you are going above and beyond with delivery and just make sure every aspect of whatever you touch gets like a golden touch by you because you're taking good care of yourself. You've Incorporated these practices and now we want the effects to feel known to not only yourself, but those around you.
I totally understand running an online business is a whole matter on its own. Like it's stressful, it's a lot of time, it's a lot of energy, it's a lot of work. But sometimes when you go out of your way to check in on a friend, to check in on a family member, it makes you feel good, right? You're like almost taking care of yourself in a way that boosts your serotonin and then you're also helping someone else through their day. And so if you incorporate this to keep in mind. It's not just about you and your business, but it's the relationships in your life, the relationship with your clients and customers and members.
It will make such a big difference in all other areas as well. So as the holidays are approaching, I know it's a lot going on if you ever need an ear or have any questions, you know where to find me. My dms are always open. Have an amazing week, my loves. See you in the next episode!
Share On Pinterest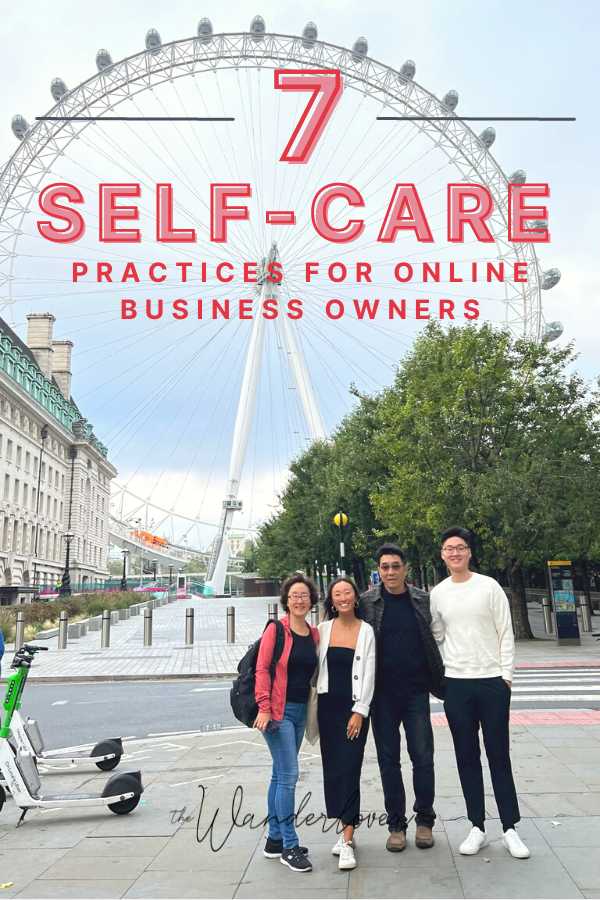 If you've enjoyed this episode, it would mean so much if you could leave a review on Apple Podcasts. This helps us spread The Wanderlover mission to those who need a dose of inspiration today.